At home in Bushwick
Zoe Walker visits the stylish apartments of creative New Zealander Karie Higgins.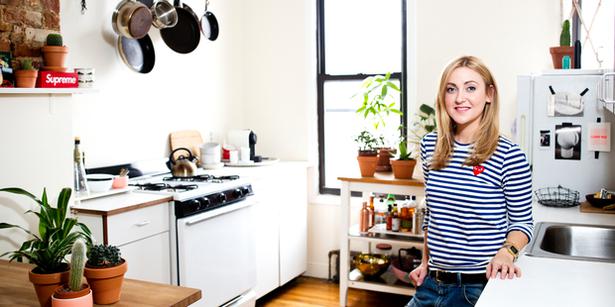 Friday Feb. 28, 2014
On the gritty street below, it's traffic, graffiti and rubbish, but beyond a black-painted door plastered with the word "Presidential" is the orderly calm of jeweller Karie Higgins' Bushwick apartment. It is railroad style - long and narrow with windows at either end.
Entry is via a small kitchen that looks out to the outdoor area of a cocktail bar below. Lush plants sit against wooden floors and a red-brick wall is a feature in the kitchen and bedroom, with skulls, scented candles and jewellery popping up throughout the apartment.
There are also pieces that showcase a sense of humour: framed artwork by 7-year-old Seattle artist Yung Lenox, who draws rappers, a watercolour of PBR beer by Higgins' partner Lee Gibson, a framed Damien Hirst print sitting on the wooden floor, a "birdhouse bookshelf" by Thing Industries, a company founded by Higgins' friends and fellow Kiwis Bridie Picot and Matt Smith.
In the small lounge area in the middle of the apartment, a piece made by Gibson for Higgins' birthday with the words "Always be Knolling", a reference to the New York artist Tom Sachs' manifesto in which he tells his workers to put away everything that isn't in use, group all "like" objects, and align or square all objects to the surface they rest on.
In other words: be neat and organised.
Higgins, who launched the jewellery label D-Luxe in Wellington before moving to New York to work as creative director of jewellery brand Bing Bang, moved into the apartment with Gibson about a year ago. Before that they were in Williamsburg, and before that, Manhattan's Lower East Side.
"We've moved out and out and out to get bigger places," explains Higgins, who remembers their entire apartment on Manhattan's LES being not much bigger than the bedroom they have now in Bushwick.
She is looking forward to an even bigger place soon: Gibson recently relocated to Portland, Oregon, to start a dream job designing sneakers at Nike, and she will soon join him, with plans to commute between the two cities.
Share this: