Five of the best body oils
Bring a healthy post-shower sheen to your limbs with Janetta Mackay's roundup of plant based oils.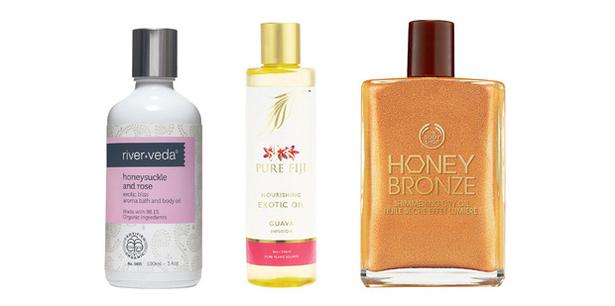 Friday Nov. 15, 2013
Nothing beats well-chosen plant oils for hydrating skin. The right ones soak in splendidly. Better yet when they are infused with an inviting aroma that speaks of summer.
Mineral oils are cheaper to produce (although that doesn't factor in the long-term environmental costs of relying on fossil fuels) and they can provide good skin barrier protection, but plant oils better match our own sebum, allowing for easier, less greasy absorption and antioxidant activity. Naturally, they're Viva's first choice.
To make the most of a post-shower application, press oil into receptive warm, damp skin.

River Veda 100ml Honeysuckle and Rose Exotic Bliss Body Oil $43
This reminds me of the intoxicating smell of a warm evening, spent sitting under a veranda bedecked with old-fashioned climbers. The organic oils used include skin-matching jojoba extract, plus sunflower, sesame and olive,
with essentials including honeysuckle, jasmine, and ylang ylang for aroma.
A few drops will turn a bath into dream-time or rub into skin on emerging from water with the eco bamboo handcloth each bottle is sold with. www.riverveda.com

Pure Fiji 240ml Guava Nourishing Exotic Oil $46
Summer in a bottle. The new guava fragrance from Pure Fiji is infused into its skin-conditioning body oil mix of coconut, macadamia and other plant oils, including the native dilo tree. Can also be used for massage or as a bath or scalp oil. If you prefer a body lotion to an oil, guava has also been added to that line-up, alongside Pure Fiji's other 10 tropical aromas. From selected spas, ph 0800 7873 3454 or online at www.purefiji.com

The Body Shop Honey Bronze Shimmering Dry Oil $45
This mixes the cosmetic with the conditioning, using reflective mica and titanium pigments in a brazil and avocado oil base, giving skin a glistening appearance that shows up best in sunlight. If you like the light honey perfume, check out the new Honeymania Moisture body range, including shower gels, bubble bath melt and body butters or choose from a range of other beautifying oils, including brazil nut ($30), reintroduced for a limited time. At The Body Shop stores.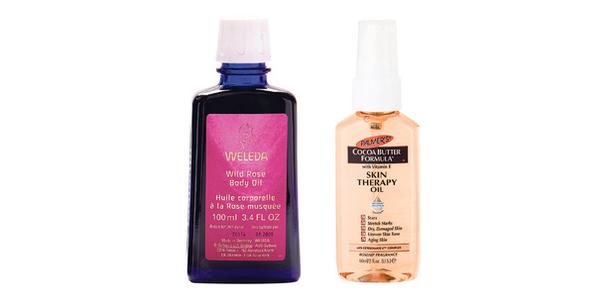 Weleda 100ml Wild Rose Body Oil $39.90
Skin feels as velvety as a rose petal and smells as good after applying this luscious oil. Jojoba and almond oil help skin's elasticity, with this process given an added boost from antioxidant and essential fatty acid-rich rosehip oil. Available from selected health food stores and pharmacies, for stockists see www.weleda.co.nz

Palmers 60ml Skin Therapy Oil $12.99
This is a good, everyday, non-greasy buy with a light rosy fragrance, rather than the chocolatey smell of Palmer's Moisturizing Body Oil. Both contain cocoa seed butter extract and vitamin E, but this one also has good old rosehip oil, meaning it helps not just with general hydration, but also in targeting skin imperfections, including stretch marks. Unlike many at a similar price, this has a mostly plant oil base, including sesame. This seed oil also features in another mass market choice: Neutrogena's Body Oil Light Sesame Formula. From selected pharmacies and department stores.
Share this:
More Beauty & Wellbeing / How To