Get the Look: Kate Upton for Bobbi Brown Cosmetics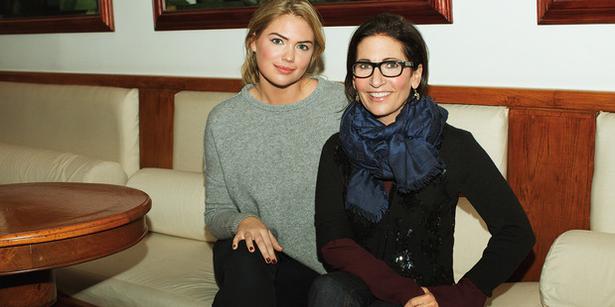 Wednesday March 26, 2014
Bobbi Brown Cosmetics has announced Kate Upton will be its new celebrity face, following last year's inaugural spokesperson, Katie Holmes. The cosmetics giant was drawn to the natural beauty of the 21-year-old model, actress, world champion equestrian, social media star and last year's Model of the Year (at the Style Awards).
"I was drawn to Kate because not only is she incredibly beautiful, she is healthy, comfortable in her own skin, has such positive energy, and is a woman who creates her own rules," says Brown, pictured above with Upton, whose first appearance for the brand will be in the Surf & Sand collection, available in stores this August.

Here, Brown shares how to get Upton's look featured below: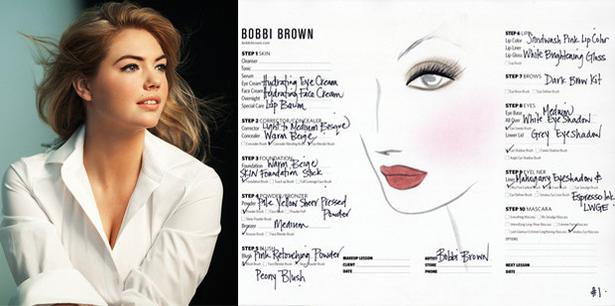 Step 1: Moisturiser
Moisturiser is the key to keeping skin both hydrated and fresh. It also ensures a smooth and even makeup application.
I began by using a Foundation Brush to apply Hydrating Face Cream and then used my hands to massage the cream onto her skin. Then I gently patted Hydrating Eye Cream around the eye area - not on the eyelid as this will cause makeup to crease.

Step 2: Concealer & Corrector
Using a Concealer Blending Brush, I applied Corrector in Light to Medium Bisque to brighten and neutralise any under eye darkness. I applied as close as possible to the lash line, and also on the innermost corner of the eyes, and then gently blended with my finger. Next, I layered Creamy Concealer in Warm Beige directly over the Corrector. Using an Eye Blender Brush, I then set the Corrector/Concealer with Pale Yellow Sheer Pressed Powder.

Step 3: Foundation
Using the Foundation Brush, I applied Skin Foundation Stick in Warm Beige only where needed to cover any redness or unevenness. To get the right foundation shade/colour, I swiped several different shades across the side of Kate's face; the perfect match should disappear. I checked her reflection in natural light to make sure that the shade flawlessly matches her skin.

Step 4: Powder
To set the foundation, I used a Powder Brush to apply Sheer Finish Loose Powder in Pale Yellow Sheer Pressed Powder where there was shine in the T-zone.

Step 5: Bronzer & Blush
To give Kate's skin a sun kissed glow, I used a Bronzer Brush to apply Medium Bronzer over her cheeks, forehead, nose, chin and neck. For a subtle flush, I then used a Sheer Powder Brush to apply Pink Retouching Powder onto her cheeks. I first blended the colour up towards the hairline, and then down to soften the edges. Next, I used a Blush Brush to apply Peony Blush just to the apples for a pretty pop of colour.

Step 6: Lipstick
First, I used a Lip Brush to apply Lip Balm on to her lips to moisturise and prime before adding colour. Then I applied Sandwash Pink Lip Color on to her lips, followed by a layer of White Brightening Gloss. This combination is the perfect complement to Kate's natural lip colour.

Step 7: Brows
Kate's eyebrows are a beautiful contrast to her lighter blonde hair. Using an Eye Brow Brush, I defined her eyebrows with the Saddle and Mahogany shades from the Dark Brow Kit, which matched her natural brow shade.

Step 8: Eye Shadow
I applied a thin layer of Long Wear Eye Base in Medium on her eyelid to give her makeup extra staying power, from the lash line to the crease, and then gently blended with my finger. I then used an Eye Sweep Brush to apply White Eye Shadow from the lash line to the brow bone. Next, I used an Eye Shadow Brush to layer Grey Eye Shadow from the lash line to the crease.

Step 9: Eyeliner
For added definition, I used an Ultra Fine Eyeliner Brush to line her eyes with Espresso Ink Long Wear Gel Eyeliner. To softly define her lower lash line, I used the Eye Liner brush to apply Mahogany Eye Shadow.

Step 10: Mascara
And last but not least, to give Kate's eyes an extra pop, I applied three coats of Smokey Eye Mascara onto the lashes. True black mascara makes the most impact.
Share this:
More Beauty & Wellbeing / How To