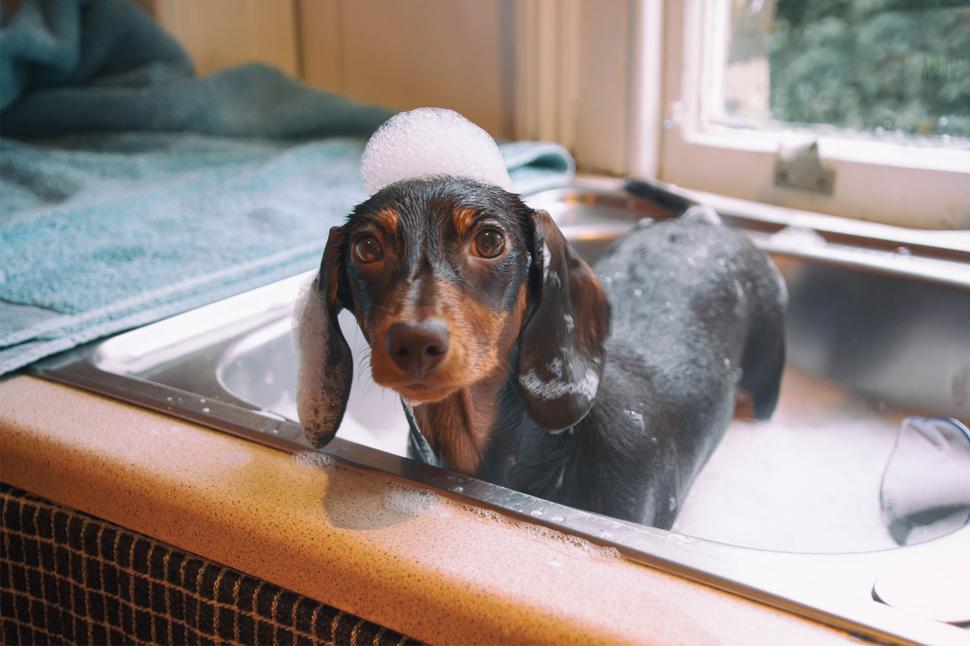 The Best Dog Washes & Cleansers To Pamper Your Pooch
Did somebody say bath time? Here's our pick of eight great grooming products to spoil your pup
Saturday Aug. 11, 2018
The way we anthropomorphise our pets, it's no wonder their bathing routines are starting to resemble our own liking for spa-style indulgence.
Splurging on pet beauty products is nicer for us than necessary for them but using a reputable purpose-designed dog shampoo is a good idea. (That's because their pH-balanced cleansing needs are different from ours.)
If you have to resort to using household products designed for humans on your dog, avoid dishwashing detergents and use only mild shampoos or soaps.
For animals with sensitive skins seek expert advice to ensure you are not exposing them to anything irritating.
While it's futile obsessing about dog cleanliness — after all, nothing makes a dog happier than a good sniff in places humans fear to tread — a decent clean-up from time to time makes cohabitating more companionable.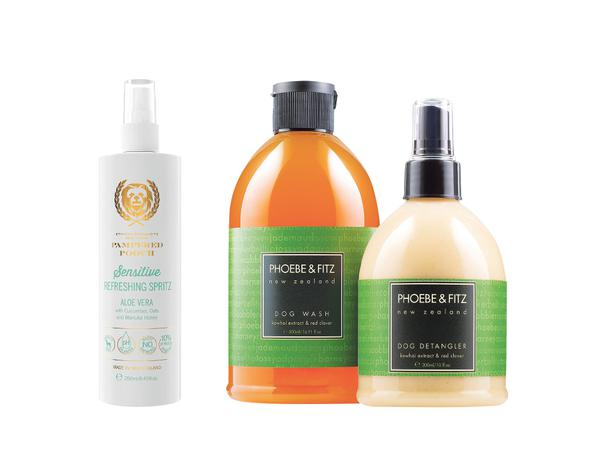 1. Pampered Pooch Refreshing Spritz $28
From a Christchurch-based family company with a well-rounded "no nasties" range of dog cleansing and grooming products. Pampered Pooch includes a Deep Cleansing line to clarify coats and a Sensitive line designed to soothe troubled skins, from which this spritz is drawn. It lightly conditions the coat between washes or can be used on whiffy patches if a bath isn't in the immediate offing.
The spritz contains aloe vera, witch hazel, cucumber, oats and sandalwood. There's also Puppy shampoo, a paw balm and a detangling serum, plus $10 starter kits to allow owners to try trial sizes. The company donates 10 per cent of its profits to the Chained Dog Awareness group to help New Zealand animals who don't come from loving homes. Pamperedpooch.nz
2. Phoebe & Fitz Dog Wash & Detangler, each $29
Made by hand in Auckland, there's plenty of love packed into every bottle of this low-sudsing natural shampoo and leave-in mist, with the names of dogs belonging to the two families behind Phoebe & Fitz memorialised in the brand name and ghosted on its labels.
The pH-balanced products use an eco-certified preservative and none of the usual suspects, instead choosing soothing extracts known for their anti-irritant, anti-inflammatory and calming properties. Among them are aloe vera, honey, kowhai and red clover. Fresh-smelling essential oils have also been chosen as a flea deterrent. Find Phoebe & Fitz on the parent company's website, Nellietier.co.nz.
3. Santa Maria Novella Foam Cleanser $55
This souffle of a rinse-free shampoo from an Italian heritage skincare brand claims to be for both cats and dogs. Not sure my SPCA rescue cat would be keen to go under the pump but it's possibly one for show ponies, so to speak.
The rose-scented foam is designed to refresh your animal's coat as needed or to be used between baths in water. Santa Maria Novella also makes a dog deodorant spritz, with a musky scent dogs are said to be drawn to. From World beauty stores, see Worldbrand.co.nz.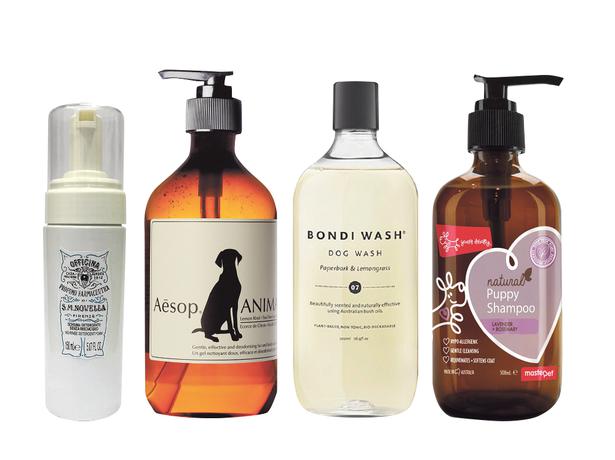 4. Aesop Animal $47
This shampoo deodorises as it gently washes, with the sort of aromatic appeal Aesop is known for. In this case lemon rind, tea tree leaf and spearmint essential oils offer a minty freshness. But three years since I last looked at the ingredient list for this shampoo, I'm surprised to see it still contains the foaming agent sodium laureth sulphate.
Upmarket human hair brands continue to move on from using SLSs because they can irritate and have become a clarion call for campaigners. While many people (and dogs) won't be bothered by the inclusion, sensitive types should keep an eye out for reactions.
5. Bondi Wash Dog Wash (sold as a boxed duo with conditioner) $79
The woman behind this brand, Belinda Everingham, lives in Bondi with her family and a sooky spoodle nicknamed "Princess" Roger. Having started her business making botanically based, biodegradable household cleaning and (human) body products, dog shampoo seemed a natural extension.
The Paperback and Lemongrass shampoo is suitable for sensitive types and includes Australian bush oils. The formula contains calming natural fragrance and extracts to help repel insects. From Superette stores or online at Superette.co.nz.

6. Yours Droolly Puppy Shampoo $28
From a distributor with a long pedigree in pet products, the Yours Droolly range is one that is free of sulphates, parabens, dyes and synthetic chemicals. It includes this lemony fresh specialty puppy shampoo with Australian lemon myrtle essentials oils and extracts and another for adult dogs with soothing oatmeal.
A separate Inspiration line inspired by on-trend human hair ingredients includes the likes of coconut and hemp seed oils and manuka in shampoos, conditioners, colognes and detangling sprays, including an oil-infused one for longer-haired dogs whose coats tend to knot and require combing.
There's even a Shear Magic Stain Remover, for a bleach-free way to deal with the reddish staining caused by excessive eye-watering. Think of it as concealer for the canine with a white coat. From Animates, Petstock and selected other pet and vet stores or see Pet.co.nz.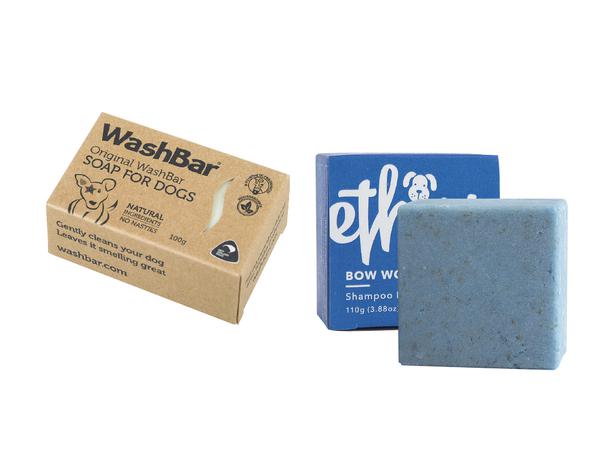 ECO WASH
Avoid plastic waste and pamper your pooch with a long-lasting natural cleansing option, specially designed for dogs and made in New Zealand
7. WashBar Original soap $12
The bar is said to contain the equivalent washes of half a litre of liquid shampoo. It has a fresh, non-synthetic lemon scent and includes neem oil (used in Ayurvedic medicine to deter insects) and skin-soothing botanicals, making it kind both on dogs and on their owner's hands. (Keen gardeners have apparently been known to use the product.)
The WashBar cleansing range includes a mini-sized Travel Fresh Cedarwood Spritzer, $15, to ensure post-walkies car rides are companionable. Available from Animates stores and online at Pet.co.nz.
8. Ethique Bow Wow Bar $20
Forget fiddling with lids and pumps and seeing runny shampoo wash down the drain, this pH-balanced bar is an easy way to get at your pet's undersides. It contains oatmeal and coconut oil to condition skin, plus neem, tea tree and lavender oils.
Like all products from the Christchurch solid beauty bar exporter, this one is vegan and palm oil free. (It rates well feedback-wise among Ethique's large community of followers.) Ethique founder Brianne West, a keen rider, uses the bar on horses as well. Ethiquebeauty.co.nz
Share this:
More Beauty & Wellbeing / Features & Profiles