A world of flavours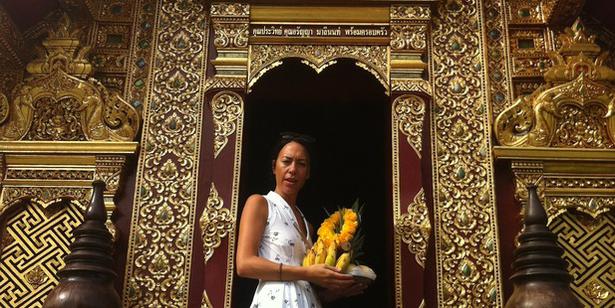 Monday Sept. 9, 2013
There's a saying about travelling that likens it to a kite, that is to say you don't know what it will bring back; a new life, a new friend, a new love, a new country. If your passion in life is food, then it's likely you will bring back memories of wild new flavours, dishes that impressed you so much you hastily scribbled down the recipe, of meals shared with strangers who became friends, of colourful marketplaces crammed full of scrumptious produce, and restaurants that nourished you with their warm, hospitable embrace. We caught up with Damaris Coulter, who with her sister Renee owns the bustling restaurant Coco's Cantina on K Rd, fresh from a month of travelling, to ask what inspired her most.
What did your itinerary look like?
Mad. In just a few weeks I managed to fit in Hong Kong, Paris, Caen, Perpignan, Finestret, Barcelona, Sardinia, Turin, Roma, Umbria, Sperlonga, Bangkok and Chiang Mai.
What were you hoping to find?
Mostly I was looking for restaurants and eateries I could take inspiration from. I was looking for food and service done with love and care, simple and classic.
I was looking for established eateries that had been handed down through generations of families and communities, where the people still loved what they did after many years and were driven by passion rather than profit.
And the standouts? 
Valentino's in Rome has always inspired me. The same two men on the floor and the same two women in the kitchen, five nights and four lunches a week. The decor, service and food has evolved rather than been designed. The menu is simple salads, bistecca, bruschetta and scamorza, usually with just one dessert special. And a true highlight was recognising the simplicity of the Asian food carts. I love their ability to do so much, so well, on wheels and make a family living off it.
What were your five most surprising finds?
1. A friend's dad cooking fish in the living-room fireplace, which was tricky as it was 35C outside.
2. A fine-dining restaurant in Rome that was doing an amazing buffet lunch.
3. Getting our blood pressure checked over breakfast in Sardinia (Italians are resourceful). How you can fall in love with bread, butter and jam when in France and corn in a salad when you're in Italy!
4. Ten fillings (for my teeth) for $200 in Bangkok.
5. Lastly, being pleasantly reminded just how many amazing, generous, interesting and kind people there are in the world.
And your food highlights?
1. Definitely Matteo's mum and dad's cooking. For four days' breakfast, lunch and dinner, eating their amazing traditional, seasonal and regional Italian food. We had seafood, pasta, peasant food, local and traditional. They were true Italian hosts and spared no expense.
2. Stonefruit in Finestret and cured meat in Barcelona with our friend Johnny was also a favourite.
3. Fresh fish in banana leaves in Bangkok; the most amazing king prawn wonton noodle soup in Hong Kong (had twice that day); lobster linguine by the seaside in Sperlonga.
Food low-light?
A really crap noodle soup in Chiang Mai of what seemed like warm water with scrambled egg and clear noodles. I nearly turned vegetarian after a visit to a midnight market in Bangkok, watching dozens of young girls pulling out guts from truckloads of skeletal oily chickens and throwing them on to dirty tables.
What can we expect to see on the menu of Coco's Cantina as a result of your recent trip?
1. More focus on quality of produce over quantity and more support for our smaller and dedicated suppliers.
2. Italian buffet-style trattoria Friday lunch.
3. Change-of-seasons Sunday community breakfast.
4. Campari and seasonal fresh citrus. (I will do anything for one of those citrus cut-and-squeeze rotating machines that are in all the Italian cafes.)
5. Lemon sorbet in a lemon. (I need a local person for spray-free, old-school lemons.)
6. Sardinian-style ricotta and lemon cakes; they are amazing and not too sweet, perfect for after dinner.
7. Seadas: Sardinian pudding, pastry stuffed with cheese, fried then drizzled with honey, very sweet but delicious.
Share this:
More Culture & Travel / > International