Debbie Harry: My life in looks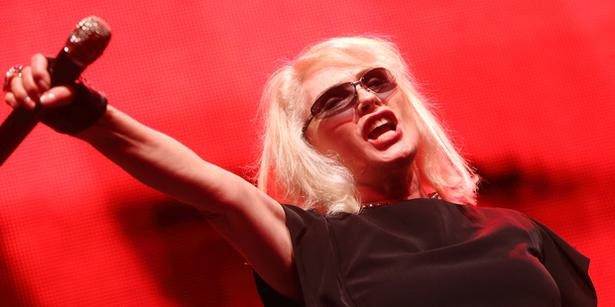 Tuesday Aug. 12, 2014
'Style icon' is a phrase that's bandied about far too readily, but it's hard to think of a more suitable turn of phrase to describe Debbie Harry.
The Blondie singer - and sometime actress - has mesmerised audiences for 40 years - a fact celebrated with a new album and world tour. But more than just her abilities as a performer, Harry is known for her Cupid's bow lips, enviable bone structure and perfectly arched eyebrows famously captured and coloured by her friend Andy Warhol. Her physical features may be hard to imitate, but her sense of style and eagerness to experiment and play dress-up make her a perennial source of inspiration to those in the fashion world. As do her platinum locks and the rebel spirit that remain, despite turning 69 last month.
Harry may have relinquished the leopard-print catsuits, but rather than disappearing into the drab, demure and dull clothing of some women her age, she remains as confident as ever - perhaps because she couldn't care less. Here, she talks us through some of her finest moments.

"I have all my old stage costumes, unless they rotted or fell apart.
But I don't sit in my closet, deep in the dark of night, and take out my old costumes."
"I have a bunch of different approaches when I get dressed to perform, but mostly it has to be very functional and should look as good as possible."
"The look I really loved the image of was thigh-high boots, the black silk matte jersey mini-dress with the very feminine neckline, and the black trench coat and the black beret. That was a really great look for me. It's just carried through the years, you can see it everywhere. It's now, it's then, it's eternal."
"I think when I was under the influence of Stephen Sprouse, that was probably my most stylish period, and somehow or other that reputation from those early days has stuck with me."
"Fashion is all about recycling, but with a little twist or a fabric change, that's the beauty of it. It's a building process, and it's the same with music. Music is something which recycles and reenergises itself, and I think fashion is very much like that."
"Some women truly are stylish, and that style is their life. Anna Wintour, Donatella Versace and Franca Sozzani of Italian Vogue - these women, their lives are dedicated to style and fashion and they really are style icons."
"I like clothes but I don't think I'm a particularly stylish person, I'm kind of anti-style at this stage. I think it's absurd that I'm still celebrated as a style icon - I'm really not very stylish."
"Sometimes I think, 'My God, you can't wear a mini at your age', but then I like to wear a mini and my legs are OK. If you don't look good in it - don't wear it."
"I think if you really look at me, I make a lot of mistakes. Sometimes mistakes work, sometimes they don't."
Share this:
More Culture & Travel / Features & Profiles