SPONSORED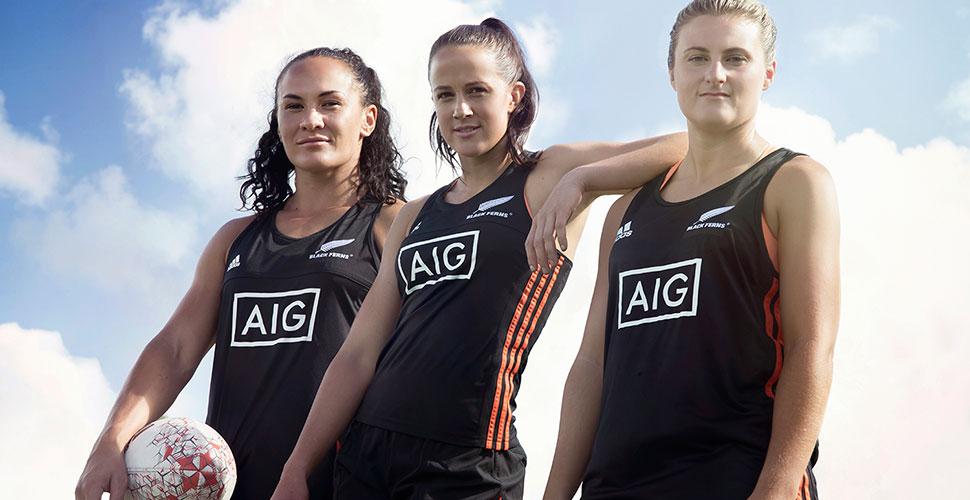 Here To Create
The Black Ferns are not just world champions, they are powerful role models who show to be at the top of your game is a clever mix of imagination, innovation and sheer determination
Wednesday March 7, 2018
It's a bright, late-afternoon at College Rifles rugby ground in Remuera and cars are delivering children from all over Auckland for after-school training. The field is scattered with parents, coaches (including a mother in full corporate gear and bare feet) and eagerly enthusiastic children outnumbering the few who are too tired, hot, hungry or over it to participate freely.
Suddenly a ripple appears to make its way around the field like a Mexican wave bringing news of celebrity. And, just as it would be for any Kiwi legend, a crowd forms around the three Black Ferns gathered here for this adidas photo shoot.
Portia Woodman, Charmaine Smith and Hazel Tubic are looked upon in awe. Surreptitious selfies are snapped, scraps of hastily foraged paper are presented, and the women are gazed at by the gathered young girls — and boys — with the kind of adoration usually reserved for pop stars.
The success of the Black Ferns on the world stage — they are holders of the Rugby World Cup and World Rugby Team of the Year title — has catapulted the team and its players into the global spotlight and giving women's rugby its highest ever profile.
"Recently a young girl came up to meet me at the National Sevens tournament and I gave her my playing jersey," recalls Hazel. "The smile on her face made me so happy. It makes you want to help young girls achieve their dream of representing New Zealand too."
Portia, 2017's World Rugby Players of the Year, says, 'It's pretty mind-blowing when little girls come up to me and are excited to meet me". The former netballer, who cites Temepara George as a role model, adds, "I think, 'but I'm just me, I'm not special'. It makes me want to work harder so my team-mates and I leave rugby in a better place for them.
"It's really special that young girls have Black Ferns as role models," agrees Charmaine, who balances her rugby career with work as a police officer. "Being a role model was something I never expected. When I was growing up the only female sports you saw on TV were tennis or netball. Little girls can now see a pathway for themselves in rugby, it's really special."
So what is their secret, what is it that's elevated them to the world champions they are today? The love of rugby surely plays a part but it is hard work and creativity that really sets the Black Ferns apart.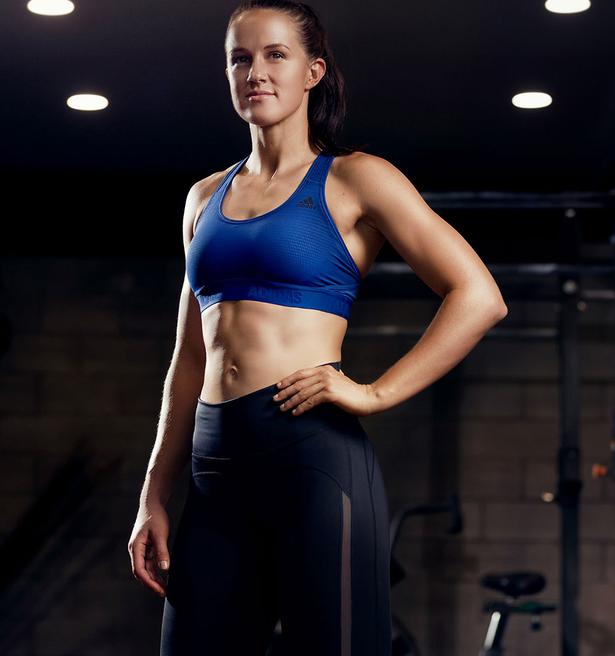 Charmaine wears adidas Alphaskin Sport padded bra, $45, and Believe This high-rise mesh tights $90. Available from all adidas performance stores and adidas.co.nz

The team has a formidable commitment to training, both at team sessions and on their own time, and the rigorous regime has meant they have a level of fitness that empowers them to explore their creativity out on the field. Rather than relying on sheer strength, the players' nimble minds can create new ways to pass and step and to open up innovative ways to defend and charge. It's this mix of hard work and creativity that really gives the Black Ferns their winning edge.

The concept of unleashing your creativity builds on adidas' belief that hard work gets you only so far. The rest, that extra, is what really takes the elite to the very top. Often however, the legwork for that something special needs to be put in before game day.

"The hard work has been done before you arrive on the field," says Hazel. "During a game, if things aren't working and you need more points, you need to be able to change it up. You know what you're capable of, it's about working out what's happening in the game and visualising what we need to do and playing it out in your head. Then you can execute it."

Portia agrees. "We know we've put in the work and we all have the skills, so when we go out on the field it's time to unleash our creativity. Creativity is our special skill, our weapon."

Charmaine equates this creativity with freedom. "You can express yourself because your team-mates have your back. You've done all the hard work and you now have the freedom to be creative on the field."

These remarkable women have put blood, sweat, tears and a heavily disciplined work ethic into their sports careers. Portia, for example, trains six days a week. "On each of those days I do running, rugby skills, strength and conditioning, then a two-hour break followed by gym work in the afternoon."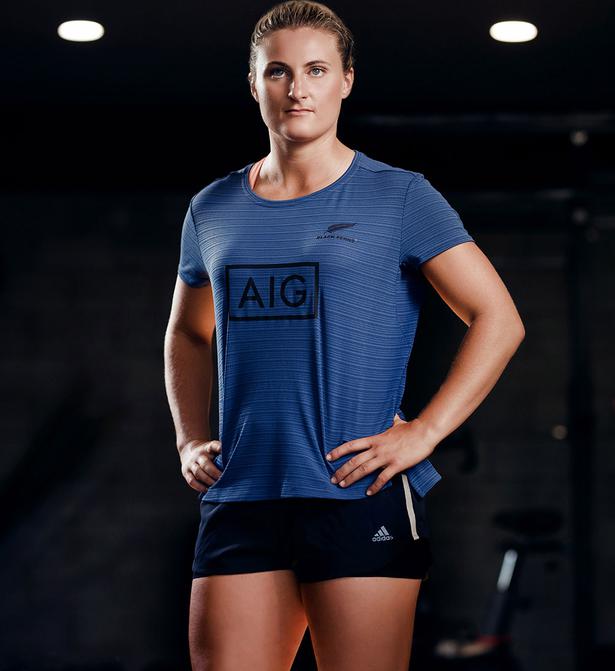 Hazel works at a similarly cracking pace. "I do two to three gym sessions a week and everything else is conditioning. On top of that I do rugby skills on my own."
Charmaine has to fit training around her work as a police officer, meaning she often has to combine gym sessions with conditioning work and skills training into one long gruelling workout.
Many women look to holistic practices to help support themselves when their bodies are often pushed to the limits. "I get regular physio and a bit of acupuncture and I always do icing after runs," says Charmaine. "I also use the foam roller and recovery compression boots." Hazel is also a fan of the foam roller, which she uses for self-massage "and when it's rugby season I'll do recovery sessions in the pool". Portia is a fan of trying new skills. "I'm learning to surf and being out in the water is great recovery." She advocates taking protein after every training and a diet high in wholefoods — meat, good carbs and fresh vegetables.
The life of a professional athlete is clearly extremely disciplined and while their training schedules are indeed gruelling, there is also team culture at play that adds to this alchemy of excellence. As Portia explains, "we focus a lot on physical fitness, but when we come together as a team we tap into the four dimensions of wellbeing — body, mental, spiritual and whanau. They all need to be in a good space in order for us to play well".
Hazel agrees balance plays an important part in the team's success. "When the team is together we make sure we find time to do things outside of rugby, to keep us happy and mentally fit," she says.
Family fits in with that. "We include our families in the Black Ferns and make sure people are connected to their families when we're away and playing at home," says Hazel. And the atmosphere of family extends to the whole team. "We come from different cultures," explains Portia. "We encourage each other to bring their culture with them into the team and to get involve."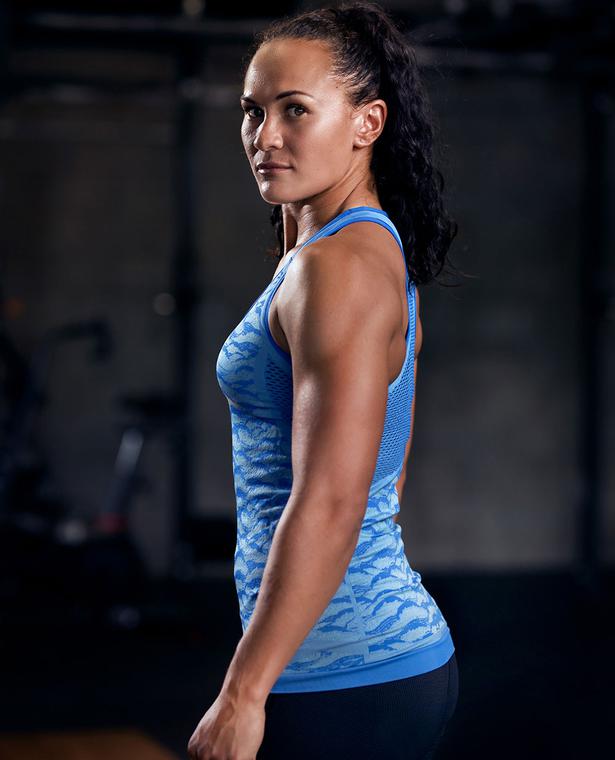 "Before every Test Match we have a little church service," reveals Charmaine, who includes straightening her hair and painting her nails among her pre-match rituals. "Anyone is welcome and we talk about what we are thankful for and what's on our minds. People show their vulnerable side and you see people in a different light, which makes us closer."
Portia always knew she wanted a career in sport. "I used to think my talent would get me through and that I was the best I could ever be," she recalls. "But since becoming a professional athlete I've realised there are no limits. I can be even better; stronger, faster, more powerful and fitter."
"I want to be a better player every chance I get," asserts Charmaine. "I'm open to learning new things and always want to be better and improve myself." She cites her work in the police force as being a contributing factor to her success. "It's taught me to back myself in my work; make decisions and be confident."
And to those young girls and boys, watching from the sidelines, dreaming of success? What advice do the superstars of world rugby today have for those coveting it tomorrow?
"Don't be afraid to try something new or something that isn't seen as the norm just because you don't know where it can take you," says Hazel. "Through rugby I've been put in situations that have challenged me, that I've been able to grow from. It's also helped me build life skills like goal setting, planning, confidence, mental toughness, courage and resilience."
Charmaine insists she was never the most gifted player in the team but hard work and perseverance saw her reach her goals. "Just keep going," she advises. "Don't lose sight of where you want to go and don't let a setback or the opinion of one person stop you from what you want to do."
"Follow your dreams', Portia says simply. 'If you really want something and you really believe it, it will happen."
Join the conversation at #HereToCreate
To celebrate International Women's Day watch these players showcase creativity tomorrow on Instagram @adidasNZ and @adidasrugby
Share this: