SPONSORED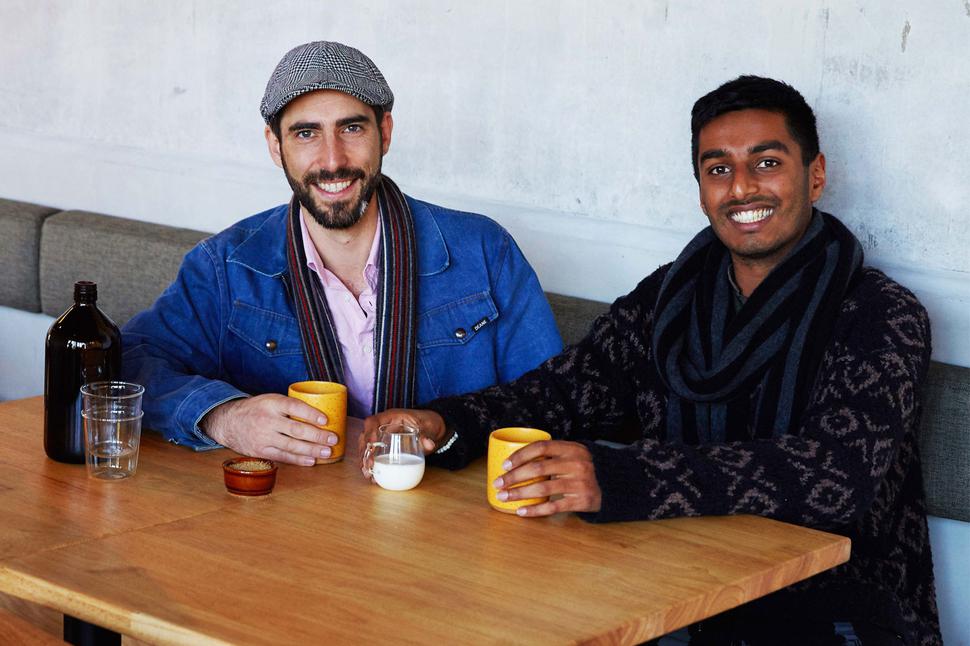 In Conversation With Social Entrepreneurs Kiran Patel & Alex Karasulas
Meet the dynamic duo behind Auckland's newest youth initiative, MoveSpace
Thursday July 12, 2018
To celebrate the art of good conversation, Dilmah Tea joins social entrepreneurs Kiran Patel and Alex Karasulas, the creative force behind youth initiative MoveSpace, as they share a cup of tea and demonstrate their ability to put each other's wellbeing at the forefront of their organisation.
When did you first cross paths?
K: We met five years ago at an event called Entrepreneurs Networking With A Twist. And to this day, we still don't know what the twist was. 
A: Before coming to that event and meeting Kiran, I didn't know about the term social entrepreneur and he introduced himself as one. Kiran presented the whole concept of social entrepreneurship, and it opened a gateway for me into a whole new world. 
If that was how you met, then how did you come to collaborate?
K: Over the years we've been working on projects individually, but it was apparent to other people first that we should collaborate. We were invited to speak at an event about our individual projects, and someone in the audience mentioned we should work together. 
A: We had our egos wrapped up in the things we were creating. We kept trying to sell to each other until we realized that actually we were on the same mission, and might as well join forces. 
What strengths do you admire in each other?
K: One thing I admire in Alex is a need to grasp the bigger picture. Not only what we're doing day-to-day but why we're doing it, and what does it mean for the world. He also has this really strong attention to detail. He can jump into people's minds quickly and empathize with them. He's great at thinking about how we can create awesome experiences for different types of people.
A: The list is incredibly long. Kiran has this unstoppable optimism, and really embodies the belief that anything is possible. Not to mention the capacity of his love and kindness, selflessness, and generosity. 
READ: In Conversation With No Beers? Who Cares! founder Claire Robbie & Social Justice Campaigner Richie Hardcore
Why do these strengths make you a good team?
K: What makes us work together really well is this deep respect and admiration for the world that we wish to create. We're at such a small stage of the organisation, but ultimately our friendship is most important thing.
A: We place a higher priority on each other's wellbeing and how we're feeling in the organisation. We have a shared trust that the greatest help to the organisation is synonymous with us being well and happy. If Kiran's got some block or some frustration, or is not feeling good about something, then I care about that with regards to him as a friend and human being.
Tell me about MoveSpace?
K: In New Zealand we don't have a lot of third places. We've got home and work, but both of those places may not be somewhere where you can express yourself. We wanted to create that third space. The concept goes beyond hot-desking; MoveSpace is a place where people feel a sense of belonging. We host events at night, and foster an environment for ideas to get bounced around in people's minds. We see it more as a community centre as well as a creative space.
What's the driving force behind this 'third space'?
K: We're both community builders in our own right. For me, MoveSpace was of consequence to the work I was doing with the Young Innovators Collective (a project-based youth initiative). I felt there was a strong need for more community, especially within in Auckland. City life is becoming synonymous with social isolation and that's a real problem.
A: MoveSpace is fuelled by our desire to create a space that enables youth to co-create the world they want to see. We want youth to feel belonging, to be seen for whom they are, respected for who they are, and to grow. 
Where has your passion for youth come from?
K: It was born out of my discomfort with people being pushed to do something they don't enjoy. In my last year of high school, I was really keen on filmmaking, but my school, parents, and peers weren't supportive of that decision. A lot of my passion came out of my own desire to be supported and encouraged to do what I love, and I didn't want that to be a reality for the next generation.
How do you take your tea?
A: With soy milk and coconut sugar.
K:I make it really strong, with a dash of soy milk, and half a teaspoon of sugar. 
Talk me through your morning ritual?
K: I wake up and put the kettle on, and drink my mug of tea while I sit at my computer. I like to get a grip on what today looks like, and set some intentions for the day.
A: I do start with a cup of tea, either sitting up in bed or sitting on an armchair. I try to resist the pressure of the world to go away from my centre – allowing myself to feel into what kind of day I want to have. Tea is very much a cornerstone for that. 
Share this: