Don't Miss: Vita Cochran at the Auckland Art Fair
Textile artist Vita Cochran creates bags influenced by fashion and art history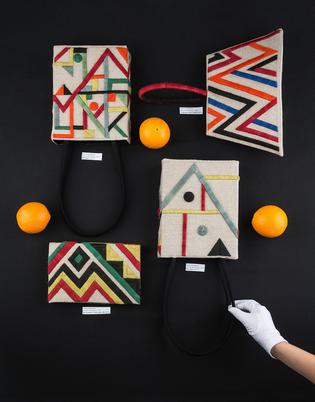 When does fashion cross the line into art, and vice-versa? Sydney-based New Zealand creator Vita Cochran has a connection with both fashion and art, but believes her work doesn't necessarily fall into either category.
"I see it as being in between art, fashion and the craft worlds — I draw on fashion history, art history and I also draw on traditional making skills," she explains of her work, which consists mainly of handmade, intricately embroidered handbags that can take her up to a week each to make.
These bags (pictured) are made using Belgian linen and New Zealand wool and were part of Cochran's exhibition Her Abstracts, shown at Anna Miles Gallery last year. She will showcase new work at the Auckland Art Fair, which is an extension of that exhibition.
Influenced by the art movements of the early 20th Century, one of Cochran's favourite artists is Sonia Delaunay, who she says wanted art to move beyond the gallery and to be used in the everyday.
"Sonia would be the one of the first artists who really was quite revolutionary in fashion, she believed the geometric abstract paintings she made could spill out beyond a 2D canvas to decorate and animate our bags, clothes and shoes, as well as be art on the wall."
Cochran studied art history and has worked in fashion creating hand-embellished garments for Marilyn Sainty. She often asks herself why it is handbags she is so drawn to making.
"I think they are very interesting objects because the bag is like the start of a story and you know I make it and I have these ideas about it and I decorate it and it becomes an object in the world — but it takes another person to pick it up, put something in it and take it somewhere — that's the second part of the story."

• Find Vita Cochran's embroidered bags at the Anna Miles Gallery booth, (C5), at the Auckland Art Fair, The Cloud May 25-29. For more info visit artfair.co.nz
Share this:
More Culture & Travel / Going Out