Bobbi Brown's tips for looking your best in specs
Makeup artist Bobbi Brown puts you in the frame in this exclusive book extract on how to look your best in specs.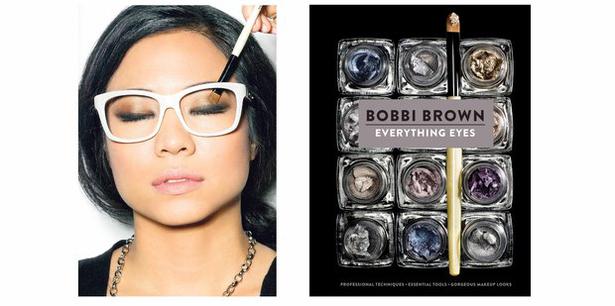 Friday July 11, 2014
Everything Eyes is Bobbi Brown's latest good sense guide to looking great. Today, we bring you an extract of the American makeup expert and long-time glass wearer's invaluable advice. Learn how to choose eyewear to suit your style and face shape and what makeup looks best through a lens. Her compact book, illustrated with photographs and drawings across its 100-plus pages, also puts you in the picture with professional tips on what makeup works best for your eye shape and colour, to what tools to use and how to craft looks from everyday easy to party pearlers.
Bobbi Brown: Everything Eyes, published by Chronicle Books, distributed by Bookreps NZ to bookstores including Paper Plus, $24.99.

YOUR PERFECT GLASSES
Glasses make an instant statement. To change up your look, you only have to change your frames. I've seen women look that much hipper, younger, and more confident just by putting on a new pair.
How to choose glasses:
Style: Do you want trendy, hipster, chic, or classic? Go for whatever style you want; this is totally up to you.
Face shape: Follow the guidelines for your face shape - oval, heart, round, or square - to find the frames that will flatter your features.
Frame thickness: Would you prefer glasses that make a statement (thick) or are more understated (thinner)?
Colour: Decide if you want frames that will brighten your face or enhance your skin tone. Do you want to go with neutral tones, nude shades, or would you prefer to add a pop of colour? Always go with a hue you love.
The secret to finding perfect glasses is to buy the ones you love. Glasses can be pricey, so take your time and try on a bunch of styles. If you're not sure which pair is for you, get another opinion. My son posted his frame choices on Facebook and his "friends" voted -- a cool way to do it.
Finding the right frames is not unlike choosing the best haircut for your face. First decide what style you like: simple, quirky, cool - there are endless options. Tear pictures from magazines or collect images on Pinterest. It helps to find frames you love on a face with a shape and colouring similar to yours.
After finding the right style and shape, think about colour. It is a little like playing with makeup. When you add colour to your face it enhances your look. Black and tortoiseshell traditionally look good on everyone, but don't stop there. Bold colour can brighten up your skin. Hues that are complementary to your eye colour will bring out your eyes. And I love nude, either on the inside of a classic black frame, as a surprise, or on the whole frame. Nude is both modern and classic and works on nearly everyone. With so many great choices out there, here are some general tips and guidelines to simplify the process.
• Eyes should be centred in each lens.
• Choose styles that are in proportion to your facial features. If you have a small nose, for example, don't overpower it with thick oversize frames.
• Frame shapes that contrast with your face shape are the most flattering. You don't want your glasses to be the same shape as your face.
• The top of your frames should follow the line of your brows. Avoid having your eyebrows too much above, or below, the frames. 

MAKEUP FOR GLASSES
Glasses can definitely make a style statement, but your eyes can get lost beneath your frames unless you adjust your makeup. Here are my favourite ways to make your eyes pop from behind the lens.
• Eyeliner is key; it really adds definition from behind your lens. (Gel liner on the top lash line. Thin line of powder liner on the lower lash line).
• Always define your brows with a shadow the same shade as your hair colour. This will ensure that your glasses don't overpower your face.
• The glasses in your frame can highlight under-eye discolouration and darkness, so corrector and concealer underneath the eye and in creases is essential.
• Waterproof mascara won't smudge on your lenses. Apply two coats. (If you have strong frames, you can get away with stronger makeup.)
• If you frames are delicate, or in a nude shade, don't let you makeup overpower your frames. Choose softer colours for shadow and create definition with a dark liner and mascara.
• The colour of your eye shadow shouldn't compete with the colour of your glasses. If you want the same colour as your frames on your eyelids, try a base hue that's a shade lighter, and go a few shades darker for the crease colour. Finish with black liner and mascara.
• For an easy look, go with a bold colour on your lips and just corrector, concealer and mascara for your eyes. Put on your glasses and you're done.
• An easy eye makeup is light base colour shadow on the entire lid, from lash line to brow bone, and a medium colour on the lower lid, from lash line to crease.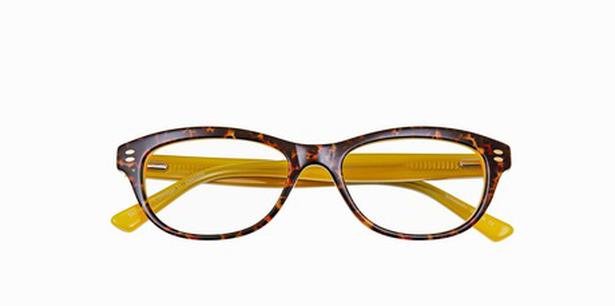 BIGGER, BOLDER, BRIGHTER
Beauty Editor Janetta Mackay upsizes her look.
My first pair of reading glasses had a touch of the Deirdre Barlows about them, being a large pair of plastic frames of the sort the Coronation St character clung to long past their use by date. I moved on to repurposing a pair of diamante studded 50s originals from an op-shop, but soon decided wire frames weren't for me.
Since those days in my late teens, I've run through a fair few pairs of designer frames fitted with increasingly strong prescriptions. Luckily, I've always liked wearing glasses and thankfully finding frames has become easier over the years. Cat's eye shapes have always appealed, with a small purple pair and a mid-sized tortoiseshell pair being particular favourites.
"Most people know what suits them," says Specsavers Newmarket optical assistant Karen Taavale, but first-timers especially benefit from being guided gently. "They go for rectangular and often say, when given something else, 'I never thought that would suit'."
Personality as much as face shape is a key determinant, she says. "I usually ask if they want 'look at me' bold or subtle." But it seems New Zealanders of all persuasions are getting more adventurous with their eyewear. Frame sizes are generally trending larger and there is more use of colour, from brightly hued plastic frames to those with contrasting colour on the inner rims and arms. Tortoiseshell and nude frames are also popular. Plastic outsells metal for women.
Metal frames continue to have a strong male following, and are becoming more expressive, with steely blue shades standing out. Coming as they do with nose pads, metal frames remain popular among people who do not have a pronounced nose bridge because they sit more securely in place. Silicone pads can be fitted to plastic frames, however, to save them sliding down the nose and as a more cushioned upgrade for metal frames.
Specsavers, now the largest prescribing chain in the country, says many customers, even those who are budget-conscious, increasingly see their frames as a style statement. Where they might once have used the company's popular buy two deal to find both a safe office hours look and a more fun leisure-time back-up, the lines between corporate and casual are blurring.
Fashion, it seems, now shapes all our choices. 
Share this:
More Fashion / Features & Profiles