Elle Macpherson's staying power
She's just turned 50, is happy in love, and her global career continues to soar. Noelle McCarthy talks to Elle Macpherson about the business of lingerie and living well.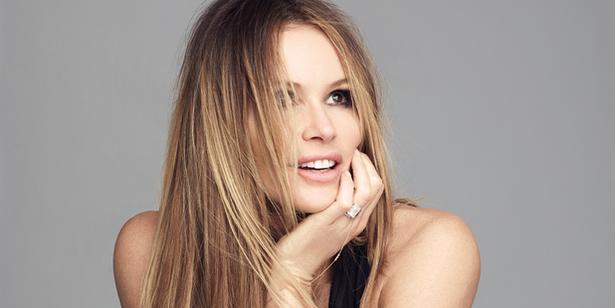 Wednesday April 16, 2014
Elle Macpherson is telling me about her knickers. In point of fact, she's telling me about her thongs.
"Funnily enough, I find, after being a real panties girl, I'm gravitating towards G-strings," she says, in that distinctive voice of hers, a weirdly polished mix of European cadences and mid-Atlantic drawl.
Elle is on the line from London, on the eve of the launch of her latest range of lingerie. It's called The Body in a nice little touch of circularity - Elle's was the body that ruled the 80s in her supermodel heyday, after all. Right now she's telling me what a body wants in terms of smalls.
"You want a real seamless fit towards the bottom when clothing is more body con and, even though I create lingerie where there's no elastic around the bottom, sometimes we're best served by a G-string," she tells me, her tone every bit as soothing and confidential as one of those matronly ladies you find in underwear department fitting rooms, the ones who can tell just by looking at you that you have the wrong size bra on.
Elle, too, could probably spot an ill-fitting bra at 50 paces, given her nearly two and a half decades in the business, but I am having difficulty absorbing her wisdom. I'm still trying get my head around the fact that one of the most famous supermodels on the planet just told me she's a real panties girl.
I'm not kidding myself. I know it's no big scoop. Elle would probably tell anyone who asked her what knickers she's wearing. She'd probably have shown them to me if we weren't doing this interview by phone.
Underwear may be a deeply personal business, but it's also Elle's business, so she's only showing good business sense by talking about her own.
All the same, I can't help liking her for it; it's hard not to warm to someone world-famous who's happy to talk about their taste in knickers almost as soon as they've picked up the phone.
Then there's her language. She went right ahead and said "panties". Big call. It's the single worst word in the English language but, somehow, the way Elle Macpherson says it, it doesn't sound too creepy at all.
Knickers, panties, undies, smalls. Call them what you will, Elle sells them, and by gosh but she sells a lot. Her line of underwear, Elle Macpherson Intimates (EMI) is a bestseller not just here in New Zealand, but also in her native Australia, the US and Britain.
If panties is a terrible word for underthings, then "Intimates" isn't great either, but the borderline-icky name hasn't stopped EMI from becoming one of the most successful brands in the world.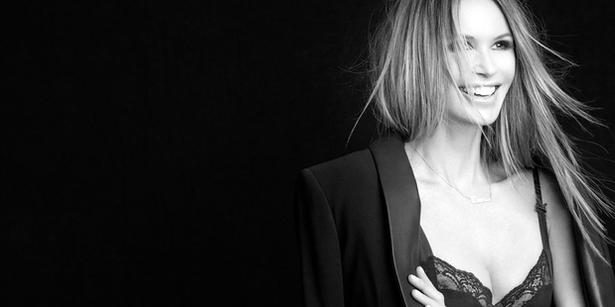 Macpherson was still modelling when the brand launched at the end of the 1980s. It was while out on modelling jobs that she first became conscious of the need for nice knickers and bras.
"As a woman, as a young girl, actually, I was often getting undressed for work. I realised having beautiful lingerie was important. I loved European lingerie, the feel of it, the look of it, the delicacy. I had this very sporty body and I found American underwear was more comfortable, but European lingerie was more beautiful, so I wanted to combine the comfort of American with the beauty of European, and give it my own Australian spin."
What she doesn't say, maybe because she's too modest, or maybe because it's a matter of record, is that it was very much her own initiative to start designing.
When Kiwi underwear company Bendon first approached her, the role was merely that of "brand ambassador". They were looking for a famous bum. Instead, she proposed a co-licensing arrangement that was unheard of at the time, and a design partnership that has endured.
No one bats an eyelid these days when models and celebrities moonlight as design consultants to make a few quid. Some stumble in their new vocations - Lindsay Lohan for Ungaro anyone? Katie Holmes for Holmes and Yang? - while others, like Posh Spice, have made the transition with more success. But Elle Macpherson was the first of the "supers" to dive headfirst into design. She made it work long before Christy Turlington thought of making high-end yoga pants.
How much of a learning curve does she remember it being, starting out?
A pause, and a great big rush of laughter comes down the phone.
"It WAS a learning curve! It's all a big ferment. I look at things, and I try things and some things work. Some things don't, too, but what I do, is I put my heart into everything I do. I don't always get it perfectly right, but I try my best. I do what's important to me, and I just stumble through and learn along the way."
Listening to this sort of thing, you might get the impression that Elle Macpherson is a slightly hippy-dippy sort of person. Certainly, when I ask about the starting points for the latest range of undies, there's a lot of talk about "true substance" and "lightness of spirit" and "being your effortless self".
I have to suppress a giggle when she mentions her "tribe" of women - it's such a Hakuna Matata way of referring to what is, after all, just the plain old customer base of EMI. They sound nice, though, the way she describes them.
"They're mothers, as well as young women, an interesting mix of women. They're independent and vivacious. What else can I tell you about my tribe?" she wonders aloud and, so genuine is her sincerity, I almost want to join them.
Suddenly, in my mind, I'm shoulder to shoulder with all my frilly-knickered sisters.
Elle's people have given me too long with her, obviously. My head's been turned by all this talk of G-strings and panties and tribes. For all her fruitiness, though, I'm sorry to say goodbye.
Elle seems genuinely nice. She's a hard-working woman with complete creative control of a multimillion-dollar global enterprise, who is set on making women happier, one set of lingerie at a time.
Sure, she's doing well out of it. But that doesn't mean she's not also making her own personal contribution to the greater good. If you think I'm overestimating her impact, consider the maternity bra. Or rather, consider the fact that there weren't any pretty ones on the market until Elle got pregnant and made some.
"The first time I was pregnant, with my son Flynn, I remember going to my design team and saying, 'I want to create a maternity bra', and everybody laughed and said, 'You can't do maternity because you're a really sexy brand, and maternity brands are not sexy!' And I was like, 'Who says maternity is not sexy! Let's create maternity bras that that are beautiful and comfortable and sexy'. And we did it. It took us six years, until my second son was born, and we are now the number one maternity brand in the world."
She sounds happy telling this story and you can see why she would be. It's a neat illustration of how she's built up a phenomenally successful business by doing something very simple - seeing to the needs of her tribe.
Ask her the secret to her success and the answer is even simpler.
"The best inspiration has been my own life, and my friends' and families' lives."

• Elle Macpherson Intimates: The Body Collection is available exclusively at Farmers from today. 
Share this:
More Fashion / Features & Profiles