Innovation wins at iD Dunedin Emerging Designer Awards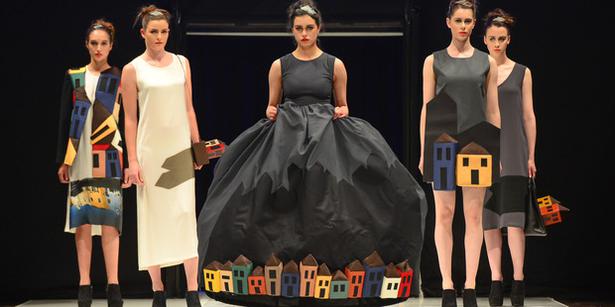 Friday April 4, 2014
Having come down to iD Dunedin Fashion Week over the years, it's always been an interesting insight into an event loved so much by the locals who get behind it as much as the next Highlander's game.
Celebrating 15 years this week, the iD Dunedin Fashion Week appears stronger than ever and its enduring success can be attributed to the relationships and the talent the event has fostered over the years.
Last night's 10th iD International Emerging Designer Awards showcased that strength, with one of the most accomplished range of collections ever shown from 26 designers from around the world.
Held at the Dunedin Town Hall (a welcome change from the previous year's venue of the Edgar Centre), the awards show was MC'd by Carol Hirschfeld and judged by fashion designers Tanya Carlson, Margi Robertson from Nom*D, Francis Hooper from World, Singapore-based fashion lecturer Lucy Jones and an international guest designer, the Paris-based Martin Grant.
A show made up of fashion students and graduates can tend to be a mixed bag, however the calibre of design was one of the best the event has seen in its 10 years.
A large portion of the collections focused on updating knitwear, laser-cutting leather and juxtaposing fabrics such as leather and wool. Innovative ideas highlighted a fresh approach to design and showcased the major strides in technology on offer to fashion students right now. 
Massey University graduate Lucilla Gray was a highlight with her collection Hyper-Florallis, winning the New Zealand Light Leathers prize. Her prize for her floral print and floral embossed neoprene pieces will be the chance develop that same embossing technique with leather.
Another stand-out collection was from a Sydney-based designer, 22-year-old Mook Attakanwong, who was awarded the prize for Most Commercial Collection. Libertine featured brightly coloured metallics embellished with Swarovski crystals on oversized sportswear separates - the perfect contrast in fabric and shape that taps into the current obsession with sportswear.
The overall winner of the night, however, was 36-year-old Mahshid Mahdian, from the Brera Academy in Milan. Taking away the $10,000 prize, an overwhelmed Mahdian thanked the judges in both Italian and English. The judges were compelled by the process the designer used to create her collection, Shadow. Comprising five outfits, the collection focused on structural dresses that featured three-dimensional, brightly coloured houses inspired by the beauty of shadows and reflections found on the island of Burano in Venice.
A special internship was also awarded by Martin Grant to 27-year-old Vaibhav Singh from New Delhi's National Institute of Fashion Technology.
"We saw so much talent in many of the finalists but for me, Vaibhav Singh really stood out for his craftsmanship and potential as a designer,'' explained Grant in a release. "I hope he is able to take up the offer of an internship in Paris.''

This year's winners are:
iD Dunedin Fashion Inc. 1st Place: Mahshid Mahdian, Brera Academy, Italy
Caffe L'affare 2nd Place: Alanna Barca, Royal Melbourne Institute of Technology, Australia
Dunedin International Airport 3rd Place: Chin Hau Tay, Royal Melbourne Institute of Technology, Australia
The Fabric Store Award for Excellence in Design: Anna-Marie Gruber, University of Technology Sydney, Australia
New Zealand Light Leathers Prize: Lucilla Gray, Massey University, New Zealand
Dunedin's Golden Centre Mall Most Commercial Collection Prize: Mook Attakanwong, University of Technology Sydney, Australia
Share this:
More Fashion / Features & Profiles