Karen Walker's Business Tips
Upon her induction into Co.of.Women's NZ Hall of Fame, Karen Walker shares her advice for achieving business success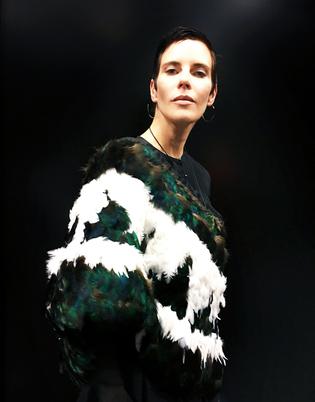 New Zealand's most internationally recognised fashion designer Karen Walker has added another string to her bow of accomplishments, receiving an induction to the Co.Of.Women Hall of Fame yesterday, for her achievements as a female business leader in her community.
As part of Women's Entrepreneur Week, the induction recognises women who have inspired other female entrepreneurs - with Karen joined by Carmel Fisher, founder and managing director of one of New Zealand's largest investment managers and KiwiSaver providers, Fisher Funds; and Audette Exel, philanthropist, corporate lawyer and founder of international development organisation Adara Group, focused on improving health and education for women, children and communities living in poverty.
"Karen receives this induction in recognition of her building a highly entrepreneurial and resilient business and brand along with her service to empowering other women," explains Tara Lorigan, CEO of Co.Of.Women. 
"It's always nice to be ackowledged and I am very grateful for that. However I have a large team of people around me who do 99 per cent of the heavy lifting and who make me look good. This is as much an acknowledgement of my team, those with me now and those who have worked with me in the past, as it is for me." 
Karen shares her business advice:
1. Surround yourself with people who get it and will support your project. For any project to work, big or small, it's best to have a team around you who support you, care as much as you do, have got your back and, perhaps most importantly, will pull you up on your own nonsense. Obviously, they also have to be people who you trust and who can bring skills to the project that you've not got. 
2. Think carefully about what you really love and really want to do. Make sure you're passionate about it. When I first started my business, at age 17, it was important to me that I went into an area that lit me up and that I truly loved and would be excited about every single day. Think about how many hours of your life you're going to be dedicating to your career and choose carefully. 
3. Patience. It takes a long, long time, a lot of mistakes and a lot of successes to achieve your goals. Success doesn't happen overnight. You have to be prepared for the long haul. 
4. Get outside of your comfort zone. There's a great quote I heard from David Bowie once, that the real creativity happens when your feet are slightly off the ground. When you're feeling slightly scared and out of control, that's usually when the magic happens. 
5. Have a good accountant. Make sure there's someone on the team who pays the taxes and sends the invoices. Without them, you're heading for disaster. 
6. Trust your instincts. Get all the info, talk to the team, have the meetings etc, but, at the end of the day, your instincts are usually right. 
7. Don't be afraid to make the call. No-one's sitting there waiting for you to show up. You've got to get over yourself and get off your arse and make the call yourself. 
Share this:
More Fashion / Features & Profiles