Polyester: No longer a dirty word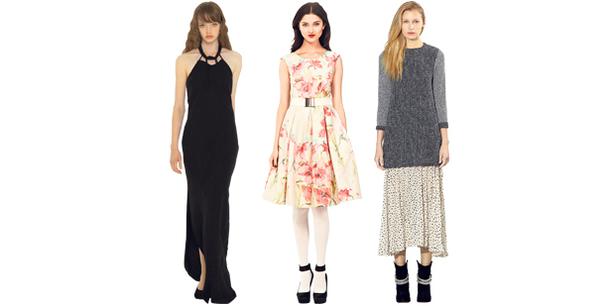 Thursday June 12, 2014
People react like you've said the F-word, says Dame Trelise Cooper, explaining how some customers recoil when she mentions polyester. Speaking in its defence, she says the P-word is popping up all over, redefining fashion fabrication.
About 10 years ago, she and fellow New Zealand designer Yvonne Bennetti got chatting to a futures trader over dinner at the China Club in Hong Kong. He told them he was investing in polyester, buying redundant mills that made the stuff and what did they think about that?
"I was lost for words," says Cooper, who describes herself as an "80s linen queen" and who made her name with colourful use of silks and other natural fibres. "We walked away thinking, oh my gosh, I can't believe he's done that."
This season her favourite fabrics are velvety-feel sequins - and polyester. "He was in futures for a reason, he knew the way it was going."
Travelling overseas often for inspiration and to source fabrics, Cooper has seen first-hand how polyester is being used in new ways. Its reputation for being cheap and nasty is now consigned to the bargain basement bins. In collections from top international designers, next-generation polyesters are to the fore, ushering in a new era in embellishment and structured shapes. This is because polyester has the ability to absorb the high heat processes needed for permanent pleating, bonding, laser cutting and over-printing. It takes jacquards and other textures and can be interwoven with metallics. It also has the strength to carry the architectural lines that designers have been exploring recently.
The sorts of heavy-duty cloths that Lanvin's Alber Elbaz and Mary Katrantzou have been pushing boundaries with are worlds away from the popular perception of polyester. Cooper says the queues at the Paris fabric fairs she regularly attends have switched from old-world suppliers to Asian innovators.
"The technology has evolved, says Liam designer Emily Miller-Sharma. "It's not an embarrassing thing."
Like many designers, she has a love of the drape and lustre of silk, but says the convenience of polyester appeals to many customers. "It doesn't fade, you can wash it and it dries quickly."
Cooper says the easy care, crease-free nature of polyester explains why it is finding a place in the wardrobes of sophisticated travellers and business people, who once would have sneered at the thought. She sells a lot of polyester suiting and finds that these days, in-the-know customers have more of an aversion to wool because they see it as less trans-seasonal and unnecessary in air-conditioned offices. That explains why Giorgio Armani is okay with it in his suits. Marc Jacobs thinks it's retro fun reworked. Check the labels inside the simple shapes and distinct shades of Stella McCartney, Chloe and even Celine.
"The All Blacks play in polyester," says World menswear designer Benny Castles, offering another insight into its new popularity. Sportswear has shown well-engineered fibres can wick and breathe. As more people work out in them, the stigma of stinky synthetic fabrics fades. Cross-over appeal is increased, thanks to the fashion trend for sports luxe looks.
"You can get some that are horrid, that would go up in flames," says Ruby designer Deanna Didovich: "But I love polyester for when it works." Pleating is an example of a process that cannot be matched in higher-maintenance silk. She points to a double-weight polyester Grecian-style gown "that looks a million bucks" in her upcoming spring-summer range.
Kate Sylvester is not averse to mixing it up, saying a staple of her range is a polyester chiffon dress that looks like silk chiffon, but can be thrown in the wash.
Miller-Sharma observes: "Polyester looks the same on the rack as after 10 washes." With many natural fibres this isn't the case.
Traditionalist Tanya Carlson, who uses fewer synthetic fabrics than we are now seeing in most New Zealand designer ranges, says people do not know how to launder clothes properly and are put off by fabrics that need extra care. But even she has dipped into polyester, generally out of Japan. Designer polyester use has a long heritage there, best illustrated by Issey Miyake's Pleats Please line and 90s counterpart Rei Kawakubo for Commes des Garcons who travelled a long way from the "bouncy, smelly static-y" polyesters Carlson loathes.
Cooper says she has discovered for herself and now wants to educate her customers that not all polyesters are like those from the decade that taste forgot, when John Travolta wore white polyester to the disco and Granny clung to her Osti dress. "Definitely we've had people go, 'I don't understand why you'd use polyester, what are you doing'?"
She picks up fabric samples in her workroom, explaining that unlike rubbish polyester, new era fabrications are complex and costly to produce. She shows me a bright fabric swatch of petalled, laser cut, bonded and printed polyester that doesn't fray. "There's three or four techniques gone in there and none of them is easy."
Securing this kind of fabric isn't easy either. Demand from international designers and mega chains like Zara soaks up supplies, meaning much of the polyester that filters through via wholesalers to distant markets like ours isn't yet cutting edge. But with more mills gearing up in Korea, Taiwan and mass-market maker China, the polyester industry is pumping. Its growth has also been driven by supply issues around natural fibres, particularly silk and cotton, which are subject to climatic vagaries. Silk prices have risen sharply in recent years, giving extra impetus to investment in synthetic fabrics and their more reliable supply chain to market.
"There's so much development put into it, they have become something you want to wear," says Miller-Sharma. Blends are also big news. Polyester can improve other synthetics such as stabilising viscose. Added to natural fibres it increases endurance as is seen in men's wool-mix suiting.
Didovich says her fabric choice comes down to what works best for the style she is designing and the use the garment will be put to. Customers might consider a polyester top practical for work, but opt for a silk version for special occasions. Generally they are drawn to natural fabrics, but if polyester is of good quality its advantages should not be ignored. "Feel" is the way to judge.
Anything that pills isn't up to scratch - and indeed may well be scratchy. These are the sorts of cut-price polyesters that the cannier chain stores are moving on from. With better polyesters, a number of designers admit to having initially thought a synthetic was actually silk.
For Cooper there is still room for both in her ranges, but, it is polyester's possibilities that excite her the most. It is perfect for the "fit and flare" look she considers has superseded her floatier fashions.
"It's all the techniques and the new ideas and sportswear coming into the market, it's just really modern," she explains. "That's the nature of fashion, it's always changing."
Share this:
More Fashion / The Latest