Butter Chicken Recipe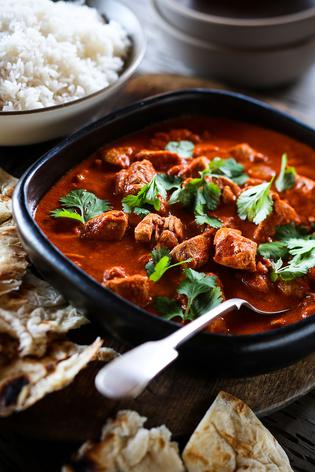 BUTTER CHICKEN
Serves 8
1 Tbsp oil
1kg chicken breast, cut into cubes
50g butter
2 Tbsp fresh ginger
2 tsp garam masala
3 tsp paprika
2 tsp coriander
1 tsp cardamom
450g tomato passata
2 tsp sugar
Salt and pepper, to taste
½ cup thick yoghurt
¼ cup cream
Juice of half a lemon
Rice and naan, for serving
1. Heat oil in a large frying pan. Add half the chicken and brown on all sides, then remove to a plate. Repeat with remainder of the chicken.
2. Add butter to the pan and melt. Add ginger, garam masala, paprika, coriander and cardamom and stir for 1-2 minutes until fragrant. Return chicken to the pan and coat in spices.
3. Add passata and sugar, stir well and cook for 10 minutes until sauce has thickened slightly and chicken is cooked. Season with salt and pepper.
4. Add yoghurt, cream and lemon juice, and bring back to a simmer for 3-5 minutes to heat through.
5. Serve hot with rice and naan bread.
Share this:
More Food & Drink / Recipes