The Unmissable ASB Classic Garden Lunch
Boh Runga and Kathryn Wilson to host a floral-themed Garden Lunch, with a special menu inspired by Peter Gordon's The Sugar Club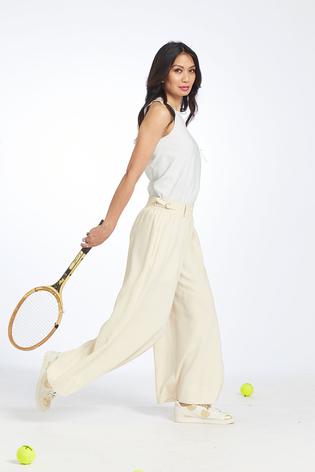 With many of the most exciting names in world tennis confirmed for January's ASB Classic, including Caroline Wozniacki and 2017 Mens Singles Champion Jack Sock, it's once again shaping up to be an unmissable tournament.
Some of the recent talent added to the line-up includes Canadian player Denis Shapovalov and Russia's Karen Khachanov, who tournament director Karl Budge has named as "the two guys to watch out for".
As well as the excitement set to take place on the court, the ASB Classic has grand plans to keep the fun going in between games too. Just before the women's semi-finals, they've announced a special Garden Lunch, hosted by musician and jeweller Boh Runga alongside footwear designer Kathryn Wilson.
The menu for the three-course lunch has been inspired by chef Peter Gordon's much-loved restaurant The Sugar Club, showcasing their knack for incredible fusion cuisine.
READ: What to Wear to the Tennis
The venue's Serve precinct will be adorned with beautiful flowers, creating the perfect setting for Boh Runga to perform some crowd favourites, before she joins Kathryn Wilson for a special Q&A session.
Kathryn says she "can't wait to see everyone arrive in their floral-inspired outfits" on January 5, adding that the tennis is an event she looks forward to every summer.
For much of Auckland, the ASB Classic is the highlight of the new year, and now there's even more reason to head along. More players, bars, restaurants, and entertainment are set to be announced for the event, so be sure to keep an eye out for updates.
• ASB Classic, 1 Tennis Lane, Parnell, January 1-13. Tickets for the Garden Lunch, on Friday January 5, are $149 per person and go on sale Thursday November 23 from Ticketek.co.nz
Share this:
More Food & Drink / Eating Out