Review: Ima, CBD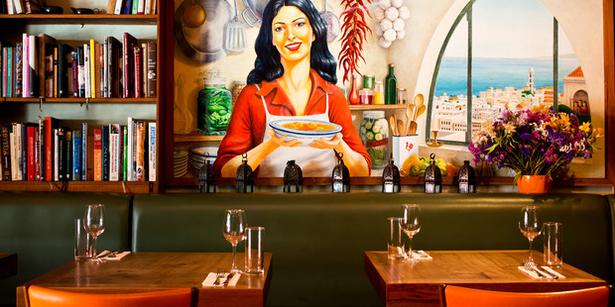 Wednesday Nov. 27, 2013
Address:
 57 Fort St, City
Phone:
 (09) 300 7252
imacuisine.co.nz
Cuisine:
 Mediterranean / Israeli
From the menu:
 Brik $18, Lamb kibbeh $18, Lebanese lamb $15pp, Chicken meschan $16, Baked snapper $29, sides — $12pp includes rice, carrot salad, tomato and shallot salad, seasonal vegetables. Knafeh $15, Middle Eastern platter $16
Drinks:
 Fully licensed; try the alcoholic ginger beer.
Rating:
 8.5/10
"Look at me. I've finally made it out of the kitchen and I'm wearing a dress!" This rather unorthodox greeting from the owner of inner-city eatery, Ima, may only make sense to those who've followed the hard-working Israeli chef-restaurateur Yael Shochat since she first set up shop.
That venture was a breakfast and lunch place in Shortland St with a Palestinian business partner, before Shochat moved to Fort St and decided to go it alone. Invariably, this meant slogging in her chef's whites from dawn until dusk just to survive.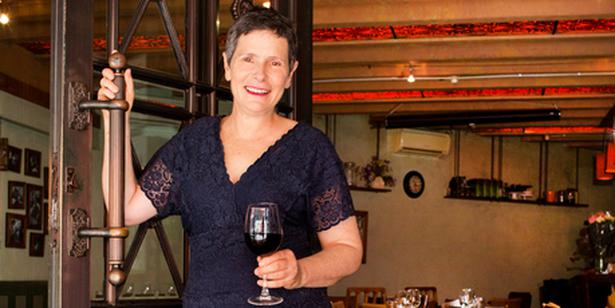 It's not an easy road for any independent operator to compete in the high-rent district of downtown but she's toughed it out and finally hit her straps. Hence the dress. Tonight, she tells us, she is where she has always imagined herself to be - out front, playing host, making sure everyone feels the warm embrace of her restaurant as she serves her Middle Eastern-inspired fare.
Twelve months ago, Shochat made one of her regular visits to her native Israel, and there she made a pivotal decision that has, I believe, transformed Ima.
She decided to delete the regular menu and replace it with a sharing menu filled with the dishes she always raced off the plane in Tel Aviv for. She also decided to serve it "family-style", meaning all the plates are laid out on the table to be shared.
I'd hoped we could be a group of four or more because, to my mind, this type of dining lends itself to having more people around the table, but we were two and it worked equally well.
We began with kibbeh and brik. Both were outstanding. The ground lamb and bulgar wheat shells of the kibbeh crumbled easily in the mouth and the filling was crammed full of pine nuts. They were served with a lemony hummus that was the smoothest, most balanced blend I have tasted in a while.
Brik is a North African dish that is essentially a parcel of paper-thin warka pastry and, to cook it just right so the egg yolk runs out once it's cut, requires precise timing in the kitchen. Shochat was so nervous she insisted on cutting into our brik at the table, squealing with delight and declaring it perfect as the yolk escaped the piping hot parcel. Marvellous.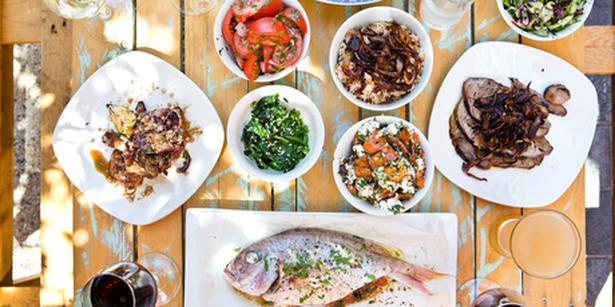 Next comes the best bit, though. Whichever protein you've chosen for your main course - we'd selected lamb, chicken and baby snapper - arrives with a beautiful platter brimming with salads and vegetables that are deliriously good.
Ribbons of grilled carrot are sweet and melt into lumps of soft salty feta, Arabian rice has plenty of gutsiness with pine nuts, almonds and pistachios punctuating the softer grains of rice and lentils, and caramelised onions top it off. Soft eggplant is the base for another and spicy tomato salad is in there, too.
The slow-braised Lebanese-style lamb shoulder is so tender it can be cut with a spoon, chicken is tangy with sumac, lemon and copious amounts of parsley and red onion and the baby snapper served whole is, even though I have no problem with having to work for my food, a joy to eat given the kitchen had painstakingly removed the bones before stuffing it.
While you're feasting you notice the wonderful flavour and texture balance between the soft cheeses, the creamy hummus and tahini, melting eggplant and the acidity from zesty combinations of tomato, onion, cucumber and mint, designed to cleverly complement the meats and other rich dishes.
It was all such a visual feast - every table was laden with these displays of colourful generosity.
We finished with the spectacular knafeh, a warm cheese pie drizzled in rose syrup and scattered with bright green pistachios, plus a mixed plate of perfectly formed semolina cakes that looked dry but were anything but, and a delicate milk custard drizzled with pomegranate.
Enough.
We left Shochat, in her simple black dress, waving us off before she returned to the cosy orange glow of her dining room to tend to her guests.
Ima has always been good but now it's great. It's as though it all finally makes sense - the way it was meant to be at the start.
Share this:
More Food & Drink / Eating Out