Review: iVillage at Victoria Indian Kitchen and Bar, CBD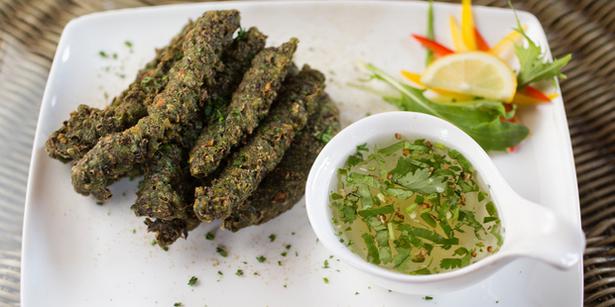 Thursday Oct. 17, 2013
Address:
 216 Victoria St West, Victoria Park Market
Web:
ivillageatvictoria.co.nz
Phone:
 (09) 309 4009
Cuisine:
 Indian
Rating:
 8/10
Walking through the newly developed, and largely unoccupied, Victoria Park Market complex feels a little like trespassing on a construction site.
But among the rows of empty shop spaces are a few hardy souls in patches of activity making a go of it. Most, such as La Zeppa and Libertine, are doing very well.
Around the front, on the Victoria St side occupying a vast space and courtyard, is iVillage at Victoria, a four-month-old Indian restaurant featuring mostly northern cuisine.
On this blustery Wednesday night it is doing a roaring trade.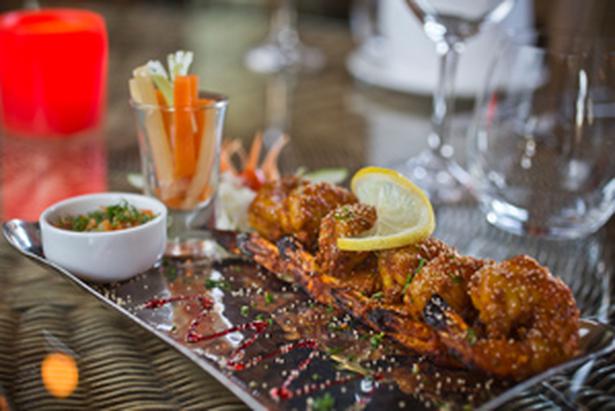 Next to the market's famous historic chimney stack, the restaurant's exposed brick walls, low lighting (courtesy of burned orange pendant lights dangling from high ceilings and red candles atop the tables), and nice touches, such as tealights on a pond of floating flowers, all add to the lively ambience.
The menu is also vast and slightly over-whelming, so I suggest turning to the
wait staff for their recommendations.
The best of these came from the maitre d' who pointed out the Dur-Bar kebab menu.
These are cooked behind the bar in a charcoal tandoor oven which reaches temperatures of up to 400C. You can sit and eat them here if you wish to be entertained watching the chef prepare the huge skewers. Packed tight with generous servings of meat, fish or vegetables, they hang in a row like curtains. Our tandoori gulnar zhinga (tiger prawns marinated in shahi garam masala coated with poppy seeds) came with a basil cucumber salsa, pickled cucumber and ginger, and were smoky and succulent with just the right hit of chilli.
The three types of tandoori chicken (botti tikka, hara and malai), served in a copper urn with a mint and coriander sauce, were juicy, tender and got our taste buds flowing in anticipation of what was to come.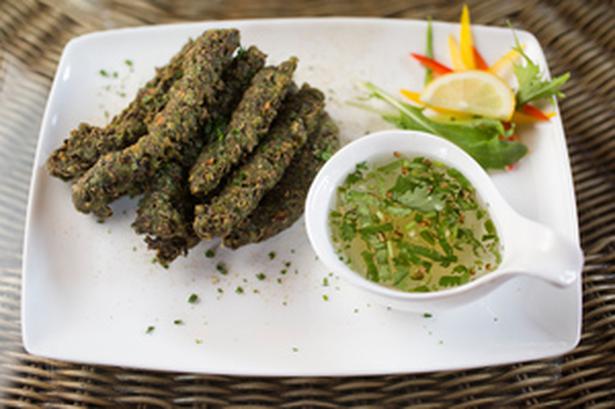 Back to the table for the rest of our entrees. Our interest was piqued by the description - or rather non-description - of the Indo-Chinese Bullets: an "iVillage secret recipe" to "enjoy discreetly". I recommend discreetly enjoying these deep-fried, finger-size, spinach, cabbage and carrot batons served with a garlicky dipping sauce as often as you can. They're packed with flavour and are a perfect sized entree or snack with a cold beer.

The Bhuna Ratan - hand-dived scallops - was the only dud dish of the night.
The scallops were a decent size, sure, but were overcooked, not particularly hot and served with a huge dump of salad that meant we had to almost hand-dive ourselves just to find them. Still, there was plenty of fire there, courtesy of the "gunpowder" sprinkle of crusted semolina and chilli.
The heat kept rising after that. The huge chilli pepper atop the Handi chicken curry was a giveaway to the inferno within. If you can handle it, this dish, with its hints of cardamom and coriander, is seriously good.
Not quite as hot, but still packing a spicy punch, is the also-recommended Balti dum goat curry, cooked "iVillage-style especially for goat meat lovers", which is just the right amount of chewy and gamey.
Coupled with its smart, friendly service, genuine enthusiasm for its traditional menu and good wine and beer list, iVillage elevates Auckland's Indian dining scene to a new level.
If you can handle the heat, get along to this kitchen as quick as you can. 

From the menu: Tandoori gulnar zhinga, $14.50; Tandoori trio, $12.40; Garlic naan, $4; Indo-Chinese bullets, $15; Bhuna ratan (half), $12; Handi chicken, $24; Balti dum goat, $24.50; Jeera rice, $5
Drinks: Fully licensed
Share this:

More Food & Drink / Eating Out