Review: Merediths, Mt Eden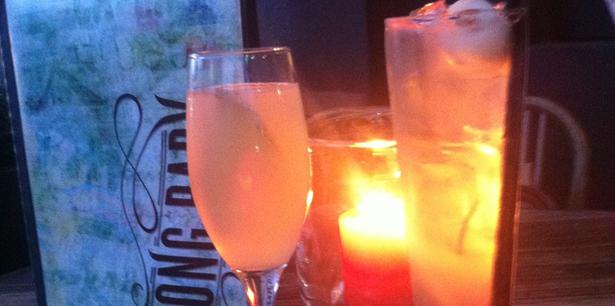 Wednesday May 21, 2014
Address:
 365 Dominion Rd, Mt Eden
Phone:
 (09) 623 3140
merediths.co.nz
Cuisine:
 Modern NZ
From the menu:
 Six course $90, Eight course $120
Drinks:
 Fully licensed
Rating:
 10/10
It happens while you're not looking. The quiet seduction of dining at one of our country's best restaurants. It doesn't start out all that startlingly. You'll pull up to an unobtrusive address on Dominion Rd and, if it's your first time, you may wonder if your GPS needs recalibrating. Then the small sign winking "Merediths" in the night catches your eye.
Through the door and into a restaurant that is cosy and intimate and the chefs are right there, off to your right, cooking in a kitchen no bigger than the one you may be avoiding tonight by going out to eat. Owner and head chef Michael Meredith might look up shyly, or not, but don't be fooled. He's about to start flirting outrageously through a dialogue of convincingly imaginative food.
On offer are tasting menus of varying length and although my dining companion mused that not being able to select individual dishes seemed a bit controlling, I countered by asking whether we'd ever have an expectation of having a say in the set list before attending a concert? No, we trust the musician implicitly.
The warm-up act is puffed rice paper dotted with lemon curd and kelp salt. Hello taste buds. Then comes one of Meredith's trademark strokes of genius: tiny macarons, one spiked with the creeping heat of paprika and a filling of bloody mary - bloody gorgeous - and for the other, beetroot meringue sandwich, a sharp and cooling yoghurt curd. It seems unfair when, by their very nature, they dissolve so quickly in one's mouth.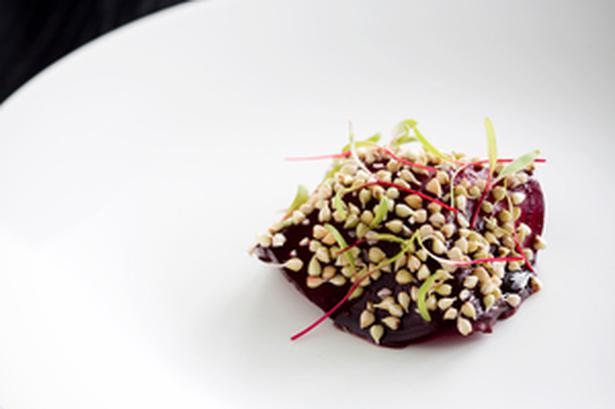 The first of our menu courses proper arrives: linseed wafers layered with horseradish cream, nasturtium leaf and cubes of cured king salmon. Immediately, there's the burst of pepper from the nasturtium knocking into the horseradish cream and then the soft salmon greets them both and says, I'm here to smooth things over. Brilliant.
Next comes a preparation of soft red deer tartare, bound in a cashew nut puree, covered with a thin disc of deep purple beetroot dotted with sprouted buckwheat. Visually it's stunning, the looseness in the outline of beetroot contrasting with the precision of each grain of buckwheat, and I'm reminded of a piece of Aboriginal artwork, the pattern of dots each telling a story.
All I can think at this point is, are you serious, how does anyone come up with this stuff? I asked him once - Meredith that is, not our Lord, although the two could be confused given how heavenly his food is - he did that thing that highly creative people do and got a faraway look in his eye and offered vaguely that he looked around and saw what nature was providing. Clearly I need to sharpen up and open my eyes more.
Midway through our menu an unpredictable combination of lemon curd, smoked eel and chickpeas prove to be the perfect companions for paua. This dish is devoid of all fussiness, presented as a haphazard pile that invited you to just tuck in and relish the collision of flavours and textures with one of our ocean treasures at its heart.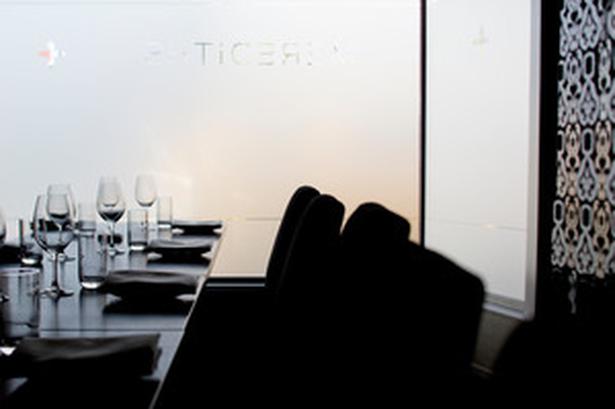 Meredith serves duck with tender triangles of creamy quince and generously plump, soft-as-a-slipper shiitake and fingers of deeply candied parsnip add depth. The duck is pink and juicy and manages to take the taste buds to the best barbecue meat you've ever eaten, with a skin that is ever so slightly singed.
The last of our savoury dishes speaks to the heartland of New Zealand: pieces of lamb neck and small spheres of honey-drenched rewena bread sit under a blanket of basil flecked potato.
Meredith's imagination doesn't hesitate for even a second when it comes to desserts. A feijoa and apple crumble with roasted oats scales new heights with candied celery leaves. A pineapple and banana themed dish with vanilla sponge is wildly tropical and ends the menu on a frivolous, playful note. My dining companion placed her spoon down after the final mouthful and sighed "That's pretty perfect really". And she was right. It was.
All the thinking, the fantasising, the wild imagining has been done by Meredith to come up with a new menu that is fiercely interesting yet entirely approachable. I mean, where else in the world can you go to sip Tattinger while eating a sausage roll? A "sausage roll" I hear you say, where did that come into it? You'll have to go to find out but here's a hint, when Michael Meredith suggests bacon, egg and coffee for dinner, say yes. If you don't trust me, at least trust him.
Share this:
More Food & Drink / Eating Out