Review: Milse, Britomart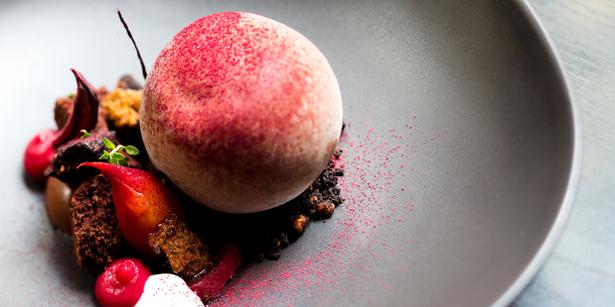 Wednesday July 2, 2014
Address: The Pavilions, 27 Tyler St, Britomart
Phone: (09) 215 8996
Cuisine: Desserts and patisserie
From the menu: Three-course tasting menu $40 (with wine matches $65), Pumpkin, maple, walnut and espresso dessert $15, Salted caramel and hazelnut gelato stick $7, Fig and port macaron $2.50, Apricot, cheesecake and vanilla gateaux $8
Drinks: Dessert wines, digestifs and house-made sodas and hot chocolates
Rating: 8.5/10
It's a dream assignment. Try the new three-course tasting menu at dedicated dessert temple Milse. My dining companion and I debate whether or not to eat dinner first, eventually deciding an empty stomach is the best bet. We're high on anticipation and pre-emptive sugar all day.
The entire Milse experience exudes luxury and exclusivity. From the tiny hidden entrance, to the worth-waiting-for waiting list, to the entryway lined with chocolate and cakes. The limited number of tables, tucked snugly under a curved lattice framework, lend a cosy, privileged atmosphere. Then there's the service - always top notch at Hip Group establishments - and, of course, patissier Brian Campbell's desserts.
You can queue for the slightly cheaper takeaway options, but the real drawcard is the dine-in menu.
No cakes, pies or puddings here. This is Campbell's playground, where he showcases a seasonal range of textures and flavours, some unexpected and savoury.
Each creation looks too beautiful to eat, each bite is a surprise, each ingredient delicious on its own, but exquisite when paired together.
The tasting menu consists of three desserts from the a la carte menu, which is a small let-down. With talk online of degustations, I expected more courses, smaller sizes and a few exclusive offerings.
As soon as we state our intentions to try the tasting menu with matched wines, though, we are presented with an amuse-bouche from the chef, a glazed cumquat, orange, pear and coffee creation in a beautiful small glass bowl. Our appetites are primed.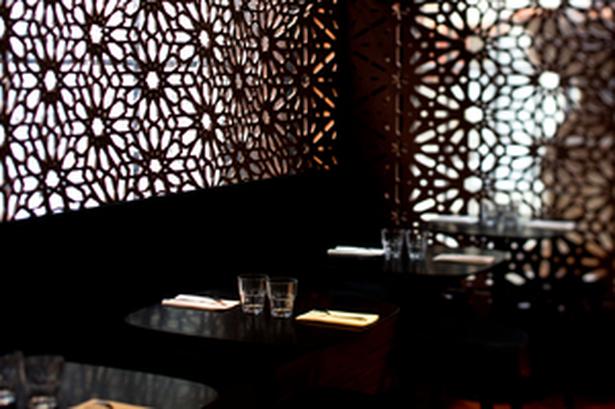 Our official first course is the "apple" dish, which the menu - in the Hip Group's frustratingly brief style - simply states is served with chestnut, celeriac and chicory. Our waiter, doing remarkably well for only his first week, offers a more detailed description. Caramelised apple, with chestnut cake, apple and chestnut puree, chicory frozen foam and candied celeriac.
It's like a deconstructed apple cake or modern day sticky pudding - the apple is golden and perfectly caramelised, and the cake, foam and puree melt in the mouth. The Two Hands Brilliant Disguise Moscato 2012 it is paired with is deliciously sweet and feels appropriately decadent.
One dessert down, I could go home satisfied and happy, but it is onwards on the dessert train, and so arrives, according to our menu, our feijoa course - albeit with persimmon rather than feijoa as the season draws to a close. The feijoa is there in a fresh and tangy sorbet, but I can't help wishing the fresh feijoa was there too.
It's a tangy, refreshing dessert, courtesy of the feijoa flavours and a delicious lemon curd. The softness of a white chocolate and vanilla marshmallow and the crunch of a mini-meringue add depth, while the sable Breton biscuit laps up the melted juices. The white chocolate cremeux seems to disappear a little into the lemon curd, although perhaps I'm missing the subtlety.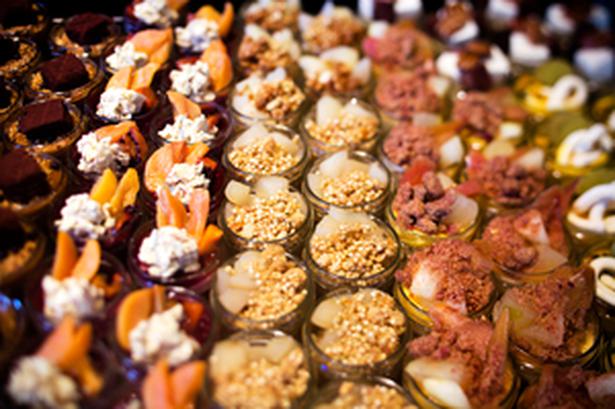 But, for a dish that lists white chocolate as one of its five ingredients, I expected it to be a bit more visible. The thick sweetness of the matched Chateau Villefranche 2010 reminds me what I love about dessert wines, and has me thinking I need to add these silky numbers to my repertoire more often.
Suitably refreshed, we are now eagerly anticipating the Valrhona Tainori chocolate course. The 64 per cent cocoa chocolate has been fashioned into an impressive frozen sorbet balloon, which when cracked, or melted, as was the case with mine, releases a creamy beet yoghurt espuma.
Yes, the humble beetroot is the other key ingredient of this innovative dessert, and the beet gel, beet meringue and salty roasted baby beet offset the chocolate strangely well. Bites of just beetroot were almost too savoury, but with a deliciously smooth chocolate pannacotta and crumbly, rich brownie, the overall impression was delightful.
An appropriately red pinot noir dessert wine, the Wooing Tree Tickled Pink 2011, chased it down beautifully.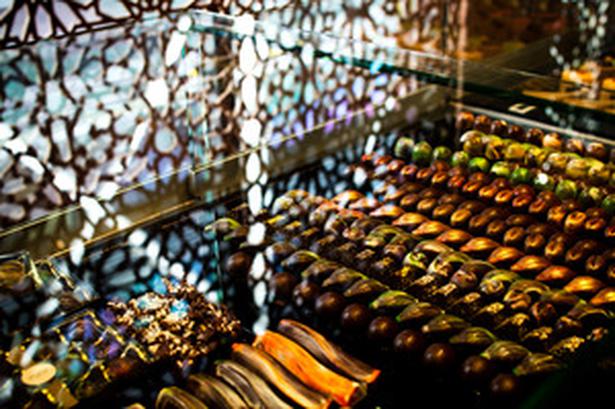 We did agree that when ordering a chocolate dessert, you expect a little more decadence, a sort of death by chocolate if you will. Perhaps a really rich chocolate sorbet instead of the yoghurt would have achieved this for me, but then maybe that would have tipped the Richter scale and we'd have left sick to the stomach.
This echoed our experience of the tasting menu, that our inordinately high expectations left us craving just a little more. I'm sure if you went with no expectations, you'd be blown away. We went in expecting the most mind-blowing rich desserts of our lives, and the experience fell just slightly short.
But maybe that's where Campbell's mastery lies - his perfectly balanced concoctions hold just enough sweetness that we head home full but not bursting, and supremely satisfied. Although I did wake up at 4am craving something savoury - so I suggest you eat a small dinner first, rather than following our example.
Share this:
More Food & Drink / Eating Out