Review: Ortolana, Britomart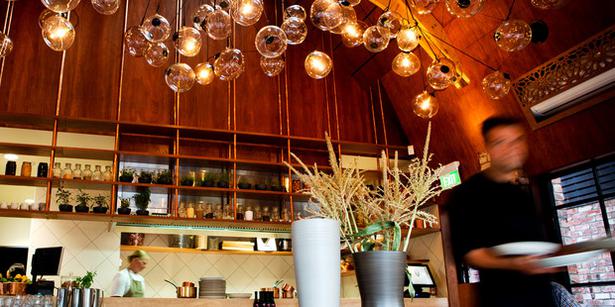 Wednesday March 27, 2013
Address: 31 Tyler St, Britomart
Phone: 027 230 4561
Cuisine: Modern bistro/European
Rating: 9/10
No froth. No foam. And nothing appears to have been dehydrated. In fact quite the opposite can be said for the food at Ortolana, the new eatery in Britomart - it is simply bursting with the fullness of life.
The word "ortolana" comes from the Italian word for "market gardener" and chef Jo Pearson takes this to heart with her exceptional menu which takes full advantage of produce from the Kumeu farm and artisan growers that inspire this Hip Group-owned kitchen.
It's in the heart of Britomart and you can sit outside beneath a glittering canopy of lights, or inside, where you'll be treated to a different kind of magic with a view of the bustling open kitchen.
Pearson's menu is aspirational, with dishes and ingredients - chitarra pasta, aged ricotta, piadina, bagna cuda - that I'll bet some of us have never heard of, but which we'll willingly adopt as new favourites.
The wine list is equally as exciting, as no one "owns" Ortolana's list.
It is varied and original, with a tight selection of local and old world wines.
We started by sharing a bunch of the smaller dishes.
Mozzarella burrata is fresh, creamy and neutral, served with burned figs and sesame paste, which burst with flavour. To smear the lot on still-warm, charred ciabatta is like a dream.
Kingfish kicks with chilli, but the citrus and finely diced, cooling cucumber lend fresh flavour and texture to the fish.
Another creation sees paper-thin, softly toasted, unleavened Italian bread - piadina - wrapped around chunks of warm smoked mackerel, with juicy capers and sorrel.
The only dish that left questions was the pork rillettes. I wanted them to break the rule for making rillettes, by not shredding the poached meat. Hunks of smoky pork hock deserve better. The tangy green onion relish and bread, oily and flame-licked, were the heroes of this dish.
Once the mains arrived, forkfuls were frantically swapped, every dish was startlingly good.
Chitarra pasta is served as a joyful plateful of hand-made pasta, freshly cut and similar to tagliatelle, tangled up with thin strips of zucchini, toasted almonds, mint and plenty of zucchini flowers. The whole lot is bound with a parmesan butter and it's a knock-out.
A crayfish salad is generous with flesh and rarely have I tasted it fresher- I could have been camping on the East Coast. "Dressed with too much of the lemon cream," was the only comment from the diner who ate the lion's share of it.
The lamb shoulder was soft and crisped, served on lentils, with the acidity of grapes and thick labna balancing the lamb.
We'd joked about the chicken cotoletta being just a fancy name for schnitzel but, oh, how wrong we were.
Fully organic, pink not pasty, rich and full-flavoured, the breaded thigh meat tasted like the chicken of my youth. A beautifully seasoned golden crumb encased the moist meat, with crushed black olives and a rainbow of heritage tomatoes elevating this dish to spectacular.
Sides were of lively garden produce, minimally fussed with, complemented by splashes of oil or sprinkles of fresh herbs. Pearson knows how to fill a dish with flavour without heavy sauces or gimmicks.
Dessert had us in raptures - gelato on a stick, ice block-style. Eating them, we grinned like four 8-year-olds happy with what we'd spent our pocket money on.
Ortolana nails the whole eating-out experience. It is an eatery that makes me feel proud of our city's level of cuisine and professionalism. I want to shout, "Hello world! Welcome to our dining scene. Eat anything here because it's all good."
Of course it is, it's from our garden, our land, our New Zealand.

From the menu: Pork hock rilletes $14, Kingfish carpaccio $16, Burrata $16, Piadina $15, Chitarra pasta $19, Crayfish salad $32, Chicken cotoletta $25, Lamb with lentils $26, Sides - lardo potatoes $7, heritage cucumbers $7, tomato ricotta salad $8
Drinks: Fully licensed - wine by the tasting 62.5ml, 125ml or carafe
Share this:
More Food & Drink / Eating Out