SPONSORED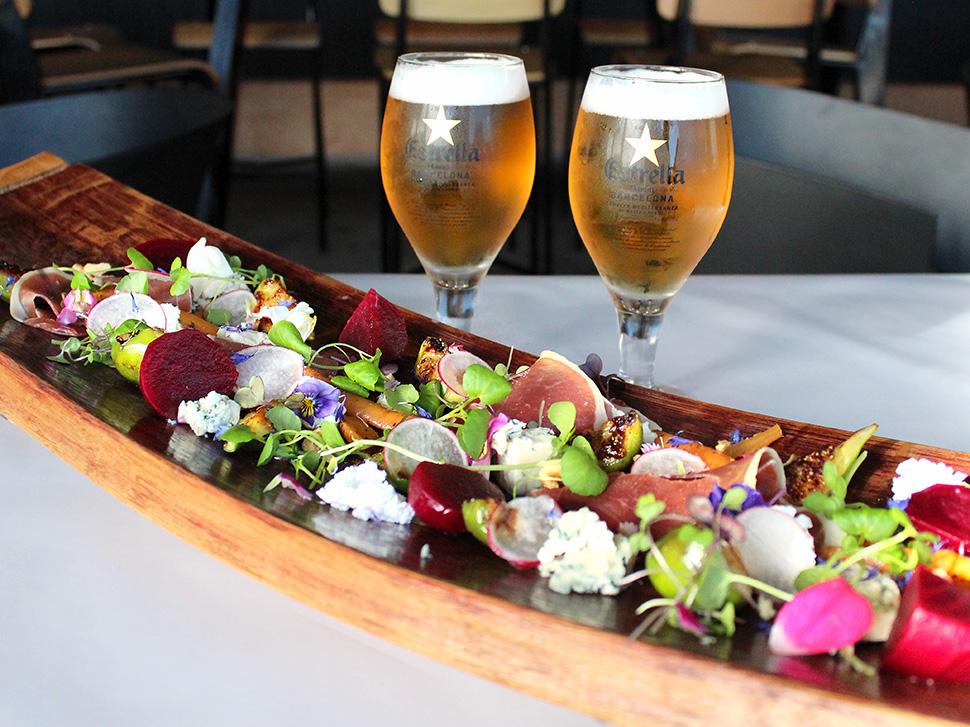 Estrella Damm Chef's Choice
This winter, the city's most talented chefs are creating their own unique dish starring the iconic Spanish Jamón ham, paired perfectly with an Estrella Damm beer.
Monday June 12, 2017
A unique culinary experience for beer-lovers and foodies will be on the menu from 12th June – 9th July at 21 great Auckland restaurants.
While most diners have some knowledge of wine matching, the art of pairing food with beer is just as nuanced – and like wine, a perfectly matched brew serves to complement, contrast or cut.
The bespoke dishes have a Spanish twist, incorporating Jamón (premium cured ham), and are designed to go down a treat with Estrella Damm, the beer of Barcelona brewed since 1876.
Jamón is cured from the noble Iberico pig and other breeds. The Iberico pig traditionally roamed free-range in the oak forests on the border between Spain and Portugal, feasting on acorns.
Today most are reared on farms, but the 24 to 48-month curing process refined over thousands of years is still used.  The result produces a ham with intense flavour containing a hint of sweetness.
The dishes will be prepared as part of Estrella Damm's Chef's Choice, which will give Aucklanders a unique gastronomic experience while showcasing quality food matching and the wide variety of restaurants in the city.
Each restaurant will put their own creative spin on a Jamón dish which will be perfectly paired and served with an Estrella Damm beer.
The promotion will run from June 12 until July 9. Participating restaurants are:
Soul Bar – Viaduct Harbour     
Azabu – 26 Ponsonby Rd, Ponsonby     
Augustus Bistro – 1-3 St Marys Rd, St Marys Bay      
Marvel – 1 Jellicoe St, North Wharf, Auckland Central      
The Grounds – 8-14 Henderson Valley Rd, Henderson      
Poco Loco – 15 Queen St, Pukekohe      
La Vista – 417 Tamaki Dr, St Heliers      
Porch Public Kitchen and Bar – 1 St Heliers Bay Rd, St Heliers    
Grangers Tap House and Kitchen – 1 Ara-Tai, Half Moon Bay      
Longroom – 114 Ponsonby Rd, Ponsonby      
1947 Eatery – 60 Federal St, Auckland Central      
Bellota - 91 Federal St, Auckland Central      
Bonita Bar – 242 Ponsonby Rd, Ponsonby      
Barcelona – 484 New North Rd, Kingsland      
Barulho – 7/15 Faraday St, Parnell     
Oaken – 130 Quay St, Britomart, Auckland Central      
Casita Miro – 3 Brown Rd, Onetangi, Waiheke Island      
Deco – 418 Titirangi Rd, Titirangi      
Bodrum – Brickworks, Shop 111, Lynnmall      
La Rosa – Unit 1, 16 Captain Scott Rd, Glen Eden     
Vikki Lane – 151 Victoria St West, Auckland Central      
You must be 18+ to purchase alcohol. Terms and conditions apply.
Share this: