Petite Kitchen's massaged kale salad with ricotta and garlic
Each Thursday Eleanor Ozich of Petite Kitchen shares her thoughts on healthy eating, with recipes and more. Today, a punchy winter salad.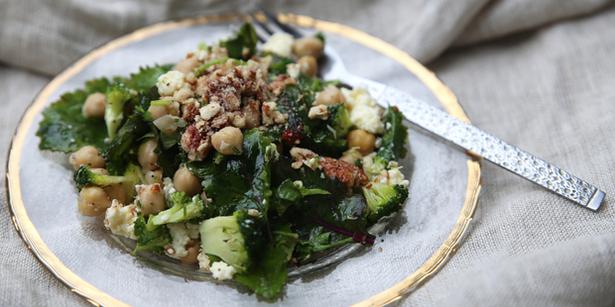 Thursday July 17, 2014
This massaged kale and chickpea salad packs a flavour kick and has a fantastic hint of garlic and chilli. The wintry salad is topped with beautifully fresh and creamy ricotta, and sprinkled with toasted pecans. Beautiful on its own, or served with grilled meat or fish. 

MASSAGED KALE SALAD WITH RICOTTA, GARLIC AND A LEMON AND CHILLI VINAIGRETTE
Serves 4-5
Ingredients
For the dressing:
• 1 clove garlic, thinly sliced
• 1/3 cup extra-virgin olive oil
• Pinch of crushed red pepper flakes
• Juice of 2 lemons
• 2 tsp flaky sea salt
• 1 tsp pepper
For the salad:
• 2 large bunches of kale, stemmed and sliced finely
• 1 head of broccoli, cut into very thin florets
• 2 cups cooked chickpeas, drained and rinsed
To serve:
• 1 cup fresh ricotta cheese
• 1 cup toasted pecans, crushed
1. In a small bowl, put the garlic, olive oil, red pepper flakes, lemon juice, flaky salt and pepper. Stir until well combined.
2. Put the kale in a large bowl, then pour the dressing on top. Gently massage the dressing in to the kale leaves with your hands.
3. Add the broccoli and chickpeas, then toss well.
4. To serve, divide the salad among bowls, then top with large chunks of fresh ricotta. Sprinkle with toasted pecan nuts.
More Food & Drink / Recipes