SPONSORED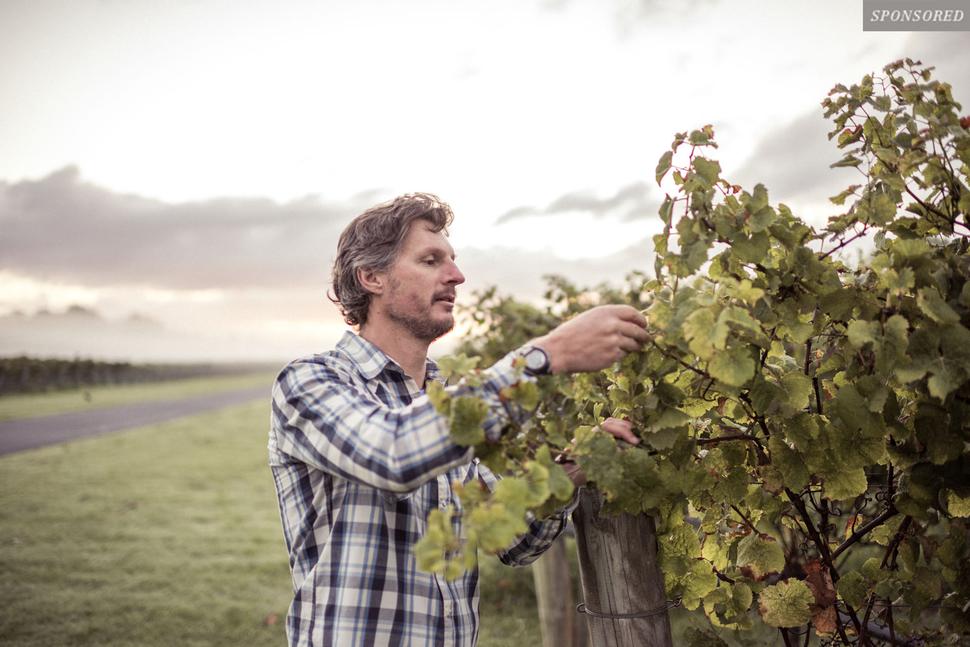 Winemaker's quest for best NZ regions
Wednesday March 15, 2017
Simon Fell, head winemaker at Thornbury, weaves stories of our land through his thoughtfully crafted wines.
Not limited by the confines of a single region, he sources grapes from Gisborne, Hawkes Bay, Marlborough, Waipara and Central Otago to create wines that embody the diversity of the New Zealand industry as a whole. 
It's a different type of winemaking, one that allows him the freedom to take the best each district has to offer and turn it into approachable, easy-drinking and shareable wine. 
From Gisborne chardonnay to Central Otago pinot noir, each wine stands alone as a representative of the region they are grown in. The seven wines that make up the Thornbury collection are essentially a tour of each province via the palette.
The majority of winemakers are based in a single region, constrained by terroir and the vagaries of weather. Having a selection of grapes from across the country allows Fell the freedom to explore the possibilities more fully.
Grapes are sourced from the same vineyards each year and Fell spends a lot of time at each spot, assessing the grapes and working with the growers to understand the characteristics of each harvest.
Thornbury itself is based at Villa Maria in Auckland, right next to the airport, which is a real boon for Fell.
"I can just jump on a plane and fly around the country pretty easily," he says. "I spend a large amount of my time travelling during the grape growing season and it's really convenient having the airport so close. It's my form of going out back into the fields in my gumboots."
Fell's always been a traveller – he's worked across many wine regions, including Bordeaux, California, Chile and Australia. On these journeys, he has gained extensive knowledge of climate and soil types and how grapes respond to these factors.
This enables him to work across a wide range of grapes and extract the best results from each. The Thornbury range is typified by the expressive character of its wine; the grapes telling unique stories of their provenance through his expert craftsmanship. 
All the grapes come to Auckland for the winemaking process in early autumn (apart from the sauvignon, created in Marlborough).
It can be challenging when the harvests fall at similar times: "Yes, it's busy when there is a crossover," he says, "But it's still the most exhilarating time of year."
When it comes to winegrowing regions, Fell finds it hard to choose a favourite. He admits a particular soft spot for Central Otago and the rich pinot noir grapes that grow so well in the southern climes.
"You really do get seduced by the scenery down there," he says. "I love working with the pinot noir grapes; there's a real challenge to getting the grapes just right."
The Thornbury range doesn't have a luxury end and a discount range, as many vineyards do – and Fell enjoys how this stretches his winemaking nous.
"I love the challenge of creating consistently great wines at an approachable price. It's a real test of ability."
His pick of Thornbury wines currently is the 2016 sauvignon blanc: "It's a really great representation of sauvignon, designed to be drunk now." 
Wine judges agree – the 2016 sauvignon blanc just received a trophy at the Royal Easter Show Wine Awards, a massive win over 200 competing sauvignon blanc entries. Prior to the trophy, the Thornbury Sauvignon Blanc took home gold from both the Marlborough Wine Show and New World Wine Awards.
"The trophy win was a major career highlight. Winemaking is my passion and I'd do it regardless of awards and recognition; but it is definitely an incredible endorsement to have others recognise the hard work and passion that goes into every bottle of Thornbury."
Fell is about to launch into winemaking season and says he loves turning his vision of the year's batch of wines into reality.
"You have an idea about what the harvest will be like after sampling the fruits," he says.
"I get a picture of what I am trying to create and then it's like putting it all together like a jigsaw puzzle. It's so great when all the pieces fit together nicely."
 For more information click here
Share this:
More Food & Drink / Wine & Drink