SPONSORED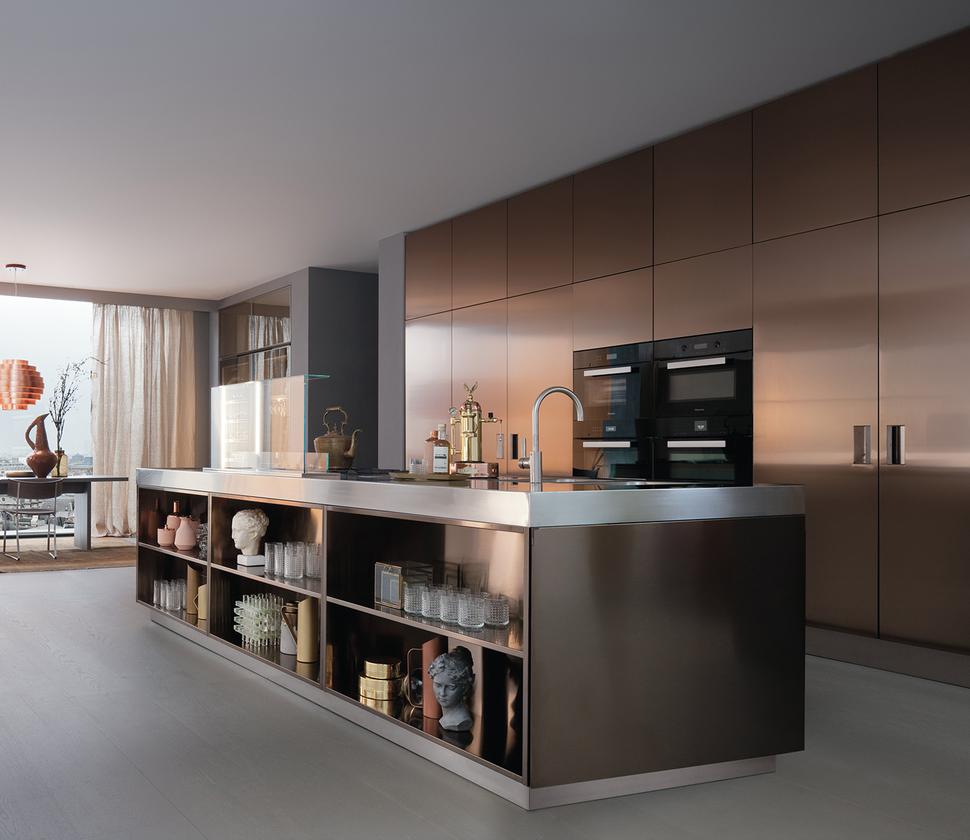 Cooking with Class
Designing your dream kitchen can be a complex task, unless you have an Italian design star in your scullery
Wednesday May 31, 2017
Few designers change the way we live. Italian designer Antonio Citterio has done just that by creating the kitchen island concept for Arclinea, one of the oldest kitchen manufacturers in the world. Citterio's idea was to bring the work surfaces of the kitchen out in the open, thereby creating a stage for the chef and bringing family and friends together in a communal space.
Alan Bertenshaw, co-founder of Matisse furniture, whose kitchen importing division has now become a key aspect of his business, says Arclinea's kitchens go beyond the realm of the ordinary.
"Arclinea is the only company we work with, due to its expertise in creating technically excellent kitchens, their wealth of experience and the talent of the head designer, the now world-famous Antonio Citterio," he says.
Also an innovator in its field, Arclinea was the first company to create the modular kitchen and the first to manufacture kitchens with built-in electrical appliances. Unsurprisingly, it is also known for kitchens that stand the test of time. Durability has never been a problem for Matisse in its 20 years of specifying Arclinea kitchens, and they all look as good as the day they were installed, Alan says.
Matisse is the only New Zealand importer of these magnificent kitchens that come in an overwhelming number of finishes — from Steelia, a patented titanium reinforced coloured stainless steel, to natural wood, to matt laminates plus an array of configurations that combine any number of Antonio Citterio's kitchen design collections.
Laura Ellis, senior kitchen specialist, who is trained in interior and industrial design, says Arclinea's expertise in creating kitchens for chefs and cooking schools has been translated to residential use through layout, functionality and materials.
"Stainless steel is still a popular choice today- it was big in the 60s and the 80s and it's still going strong."
Laura says the new Steelia surface is virtually indestructible, hygienic due to its nonporous nature, scratch resistance and easy to clean. Also as it doesn't dull with age so it it's good looks are retained.
As for kitchen trends, Laura says homeowners are becoming more adventurous with colour and surface choices.
"We rarely do an all-white kitchen and I'm seeing more mixing and matching of kitchen materials."
For example wooden cabinetry is often used with a stainless steel bench and perhaps stone introduced in the splash back.
"Natural products tell a story as they age, eventually developing a rich patina," Laura says. "Italians don't seem to worry about a
red wine stain on their marble bench, they'll see it as a reminder of a good night."
But if you happen to prefer a clean look, the matte, silky finish laminate from Matisse's Armour collection may be a better choice. If you happen to scratch this surface, it can be heated up and smoothed out to eliminate any imperfections.
With so many material choices, Laura says it can be overwhelming for clients to narrow down the selection, but budget can help determine your ultimate choice. Matisse can deliver a kitchen at 13 price points in line with the cost of the finishes, from a laminate, then upwards to their premium materials such as Steelia — a reinforced steel containing titanium that comes in four luminous colour options — champagne, bronze, black and titanium.
As for the increasingly popular scullery, most clients are still opting for these concealed spaces for large appliances and foodstuffs, but if space is limited, many clients prefer a concealed walk-in pantry and storage cupboard. Arclinea can of course produce these cabinets in any finish or style from Antonio Citterio's many collections.
He designs a collection every few years and each kitchen is named after and distinguished by the cupboard and drawer fronts of the cabinetry — names such as Italia, Artusi, Convivium and Spatia. Some are sleek and minimal, made from modern laminates or steel composites, others earthy and textured with a natural wood feel. Most of the handles are sleek, flush with the surface, integrated and are recessed into the drawer or cupboard which optimises the spaces between cabinetry.
The handle pulls appear to be seamlessly carved out of the surface material, and Alan says joiners often ask how on earth these handles are manufactured. The secret to their creation is guarded fiercely. Alan had to sign a document when he visited the factory in Italy, vowing not to share the mechanics of how these sleek pulls are produced. Without divulging any trade secrets, he explains the key to the infallible components comes down to robotics and hand finishing.
"Robotic technology is a huge advantage for Arclinea's production. When we order large volumes of kitchens for our contract clients, we are able to offer very competitively priced Italian kitchens."
This aspect of manufacturing enables Matisse to compete effectively within Auckland's flourishing apartment market.
"We offer a guaranteed supply chain, which will be vital when a large number of these apartments require fit out in 12 to 24 months time, and when kitchen demand could outstrip local manufacturing capacity."
Many city kitchens are becoming more compact, in line with rising property values, but Antonio Citterio would agree that size isn't always a factor when it comes to an efficient and beautiful workspace.
However, layout and finishes are key. One example of Arclinea's many space saving innovations is a concealed range hood that disappears into the island.
The kitchen has indeed become a pivotal space in our lives. Antonio Citterio puts it like this: "There is no doubt over recent years that the kitchen has taken a central role in interior design. It used to be purely functional, now it has become the heart of domestic socialising."
However, a good layout is key. Antonio Citterio adds, "Kitchen design is based on questions affected by simple factors that are however extraordinarily important because they are amplified by continual repetition."
Now we all know how irritating it can be if the dishwasher is miles from the plate drawer. But with an Arclinea kitchen, backed up with layout advice from Matisse's in-house kitchen specialists, your kitchen will make meals times a breeze, enabling you to concentrate on impressing your guests with your culinary wizardry.
Matisse International, 99 The Strand, Parnell.
Ph (09) 302 2284 or visit Matisse.co.nz
Share this: