10 Favourite Things: Brains behind Little Bird
Megan May and Jeremy Bennett of Little Bird Unbakery - addicts of healthy food, sunchine and sunglasses - share their favourite things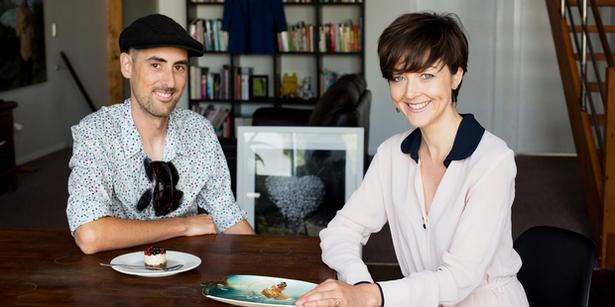 Friday March 8, 2013
It is called Little Bird, but Megan May and Jeremy Bennett's organic food brand has quickly become a big name in the Auckland foodie scene.
The couple are behind the popular Little Bird Unbakery in Kingsland, a cafe of sorts offering organic and raw food treats - in a premises with a cute fit-out by Bennett, who also works for renowned Auckland architecture firm Jasmax.
May is the brains behind the food, having been turned on to the raw lifestyle after years of sickness due to food allergies. Her own healthy living advice is simple: eat more greens.
"Greens like kale, spinach, lettuce, parsley, sorrel and coriander are so wonderful for your body. They alkalise and detoxify our cells and generally just make you feel good," she says.
"After you up your green intake, it doesn't take long before you get a little addicted to them - honest. I especially like having them in juices and smoothies, and I try to never go without my morning green drink."
They tell us more about some of their favourite things, from fashion and food to design.
10 FAVOURITE THINGS
1. Ingrid Starnes coat
Megan: It's one of my absolute favourite pieces of clothing - I was searching for a summery dress in mid-winter (not easy) to buy for a photo shoot and saw this amazing cobalt coat hanging on the rack.
There was only one left and it was my size. I put it on and a moment later I was at the counter, purchasing.
It felt like it was made for me. I think I wore it almost every day last winter, partly because I have hardly any winter clothing and mostly because I love it.
As a winter denialist and summer optimist, my winter wardrobe options are very lean. I'm always dreaming of the sunny side, and my summery dress collection reflects it.
Jeremy was also pretty pleased with it, as my complaints about being cold were down to a minimum.
2 Opinel knife
Megan: This is a very recent addition to my collection. Susan, one of our staff who went to live in Paris, brought one back for my Christmas present.
I love this little knife. I carry it round in my handbag as a "just in case". It's a lot more sophisticated than the big old Wusthof knife I used to keep in the car - you never know when you are going to need to open a watermelon or coconut when you're out and about.
It has such a rich history - one of the stories is that Picasso apparently used an Opinel to carve his sculptures. I feel like a slightly more dangerous but very prepared Brownie. (I never made it to Girl Scouts.)
3. Vitamix blender
Megan: When it comes to kitchen appliances, this one tops the rest, but only just.
I would prefer to list my favourite collection of kitchen things, but if it came down to the wire, the Vitamix would be it. It blends things that no other blender can do and is key in helping me create our amazing cheese.
The Benriner mandoline is a close second. When we moved to London I sent over mostly kitchen items and boxes of cookbooks - I blissfully ignored all the comments on how ridiculous it was and how I could have bought new ones for the cost of the shipping.
Wherever my kitchen equipment and books are feels like home.
4. Sunglasses collection
Jeremy: Being a designer is a bit of a curse sometimes. Often the things I love are beautifully detailed and crafted by hand and thoroughly expensive because of it, so much so that most often I can only look at pictures.
My one concession is my sunglasses collection. I love these puppies, expense be damned!
Being follically challenged, it also gives me something cool on my head - a new hairstyle is no longer something I get the pleasure of. First among my favourites are the Adidas aviators. These guys have even been stolen by monkeys in Bali and chewed to pieces, before being rescued and painstakingly reconstructed.
5. Nana's Maui ceramic dish
Jeremy: This one is sentimental and awesome at the same time. When Nana shifted to Selwyn Village (still there and kicking), the family inherited what she couldn't take with her. This was all I wanted.
It's not by any fancy ceramic label (it doesn't even say who made it), but it just sings of a younger New Zealand, one I didn't get to experience, but which is so familiar nonetheless.
Everyone needs something in their home which vividly takes them back to their childhood. This dish is mine.
6. Vintage wedding ring
Megan: Jeremy wisely didn't risk getting me a surprise engagement ring. He was far smarter and went for an engagement necklace.
He got this amazing hand-made pearl necklace from Michael Michaud, who specialises in botanical jewellery, also a favourite.
Exactly a year later, after many hours of trawling the internet and looking in stores, we found this beautiful ring at an antique jewellery store in Parnell. It was perfect. I love antique jewellery, and it's so hard to get new jewellery that has the same kind of character and detailing in it.
7. Patrick Reynolds' Heart of Leaves 1987 print
Megan: I love that it's a topiary heart of leaves out on the wild west coast of Auckland. This was a wedding gift.
We have it at the end of the bed and every morning I get to wake up and look at this beautiful picture. It always makes me feel more grateful about the day ahead.
8. Megan's raw cheesecakes
Jeremy: These used to be for special occasions - a passionfruit one for my birthday is a fond memory - but now with the unbakery, I can have a slice every day. And I do. Every day. I will never get sick of them. Ever.
9. My cable-knit cheesecutter from Ca4la
Jeremy: These Japanese milliners have a store in London called Ca4la, which is just beautiful. They have a huge range of superbly crafted hats, which I see as investment pieces, like watches (or sunglasses).
10. Tepid Baths restoration
Jeremy: Is it fundamentally uncool to list something I've done myself? Too bad. I'm doing it. Get over it.
I had the honour of being project architect for Jasmax on the recent restoration of the Tepid Baths in downtown Auckland. It was such a pleasure to help bring that old girl back to life, and along the way I was able to design a massive (12m x 5m) screen artwork in corten steel and neon.
Designing a large-scale artwork in the middle of the city I live in is awesome. I look forward to being an old codger and pointing it out to my grand-kids.
The conversation will go just like this: "See that thing up there? Grandad did that. No, you can't have an icecream."
Share this:
More At Home / Features & Profiles