10 Favourite Things: Mid-century obsessions
The Eagles' passion for timeless, individual and sustainable design is strongly reflected in what they treasure most.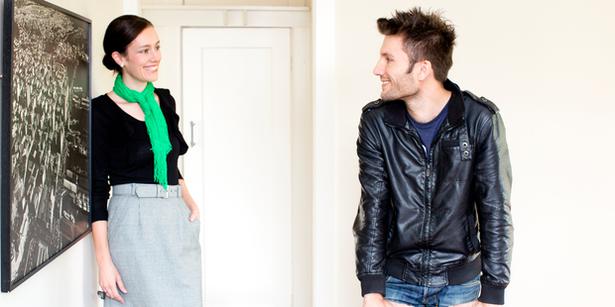 Friday April 26, 2013
Dan and Emma Eagle are behind the delightful Auckland showroom Mr Bigglesworthy, where their collection of mid-century furniture and design classics are displayed and sold to those with a shared passion for good design of the past. Here, a classic Eames Lounger 670 and Ottoman 671 sit with an Adrian Pearsall for Craft Associates aqua blue sofa, vintage furniture by New Zealand company Backhouse complemented by Leo White's distinctive aviation photography.
The couple are passionately knowledgeable about vintage design - Dan is a self-confessed "chair nerd", while Emma adores patterns from the last century - with a focus on timelessness, individuality and sustainability; caring for beautiful things that have already been created. Those values are reflected in their selection of favourite things, which they share with us here.

10 FAVOURITE THINGS
1. Growing it ourselves
Our vege garden is one of our favourite things at the moment. We've both lived in apartments for a long time but we recently moved into a house with a section. It's been awesome living in sync with the seasons with what we grow and what we eat.
2. Bob Roukema Chair for Jon Jansen, 1950s
Dan: My mission for the last five years was to find one of these and it was finally realised last year. Not many were made and the hyper-extended legs would often break and the chairs would usually just be thrown away.
3. Mark Newson SF vase
Dan: We love Mark Newson's confident, organic work. This piece is probably the only thing we can afford.
It's an amazing shape that captures 1960s' sci-fi perfectly.
4. Animal object collection
Emma: Each piece we find brings a little charm to our life. The latest one I bought was a cheeky-looking owl. The highlight of our collection is a vintage Danish Kay Bojensen Hippo but the inexpensive pieces are just as precious to us.
5. Commercial typography
Emma: I am fortunate to have a constant stream of fascinating objects to look at thanks to our interest in collecting. This is one piece we've loved for a long time, which came from Kirkcaldie and Stains around the 1950s.
6. 1960s Backhouse furniture
Backhouse produced some of New Zealand's best high-end furniture during the mid-20th century. We love our dining suite and sofa in teak and we have more items in storage; just waiting for when we have a bigger house.
7. Patterns
Emma: I'm fascinated by graphic patterns, where they come from and the ideas behind them. Every decade of the last century is represented somewhere in our home. We love Florence Broadhurst's bold designs, like this cushion, which was a wedding present.
8. Stephane Rondel Prototype Peanut chair
Dan: I have an obsession with Rondel's design work. I was lucky enough to purchase this piece; there's one in the permanent collection of Auckland Museum.
9. Whites Aviation photos
Dan: We got this set of three photos when Oxfam moved premises. These were in their boardroom, and show Auckland city over 1972, 1978 and 1984. Lots of changes.
10. Art collection
Emma: I always dream of owning a great art collection and sponsoring artists. We're still working on it.
I love knowing about the person who made the work and their intentions.

• Mr Bigglesworthy, 15 Williamson Ave, Ponsonby. Ph 021 672 446 or visitmrbigglesworthy.co.nz
Share this: