10 Favourite Things: Sewn with a secret
Matt Nash's handcrafted bags come with a vintage coin for safe travels. He tells Viva about his other lucky charms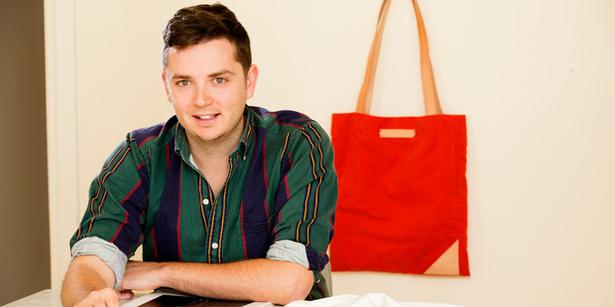 Friday Feb. 15, 2013
Matt Nash combines style and function with his range of handcrafted bags, made from heavy-gauge fabrics like oilskin, cotton or overdyed 12-ounce canvas.
Each of the young designer's one-off bags carries a secret vintage coin sewn into an inner pocket.
"It's an old wives' tale that you gift money with a new bag; I really like this story and loved the idea that the buyer could carry round a talisman for good luck and safe travels," explains Nash.
The bags' design and functionality reference his wider interest in utilitarian and historic men's workwear; the integrity and practicality is what appeals to him most - design driven by function.
Nash began the namesake label in 2011, having made bags previously to complement his menswear ranges - and though his focus is now on accessories, he says he will return to making clothes.
For now he is slowly developing the bags, creating them to order.
"I like the personal connection that people establish with their bag by being involved in the bespoke design process," he explains.
"Everyone has different requirements for what they need out of a bag,
"I like the challenge of meeting these requirements while working within my aesthetic."

10 FAVOURITE THINGS
1. Oilskin and leather book bag
I carry a bag from my first range - a simple book bag made from bottle oilskin canvas. It started off almost black and as it has worn, the green has become prominent. The oilskin repels water and keeps the leather straps and trim really supple. I can't wait to see what it looks like in a few years' time.
2. Cast iron skillet
My sister is an amazing cook and gave me a cast-iron skillet for my 21st birthday. At the time I thought it was a slightly odd gift - I have since developed a real love of food and cooking and now use it every day. I nearly burned my flat down when I was curing the pan with some not very helpful tips from the internet.
3. When You're a Boy by Simon Foxton
I picked up this book at the retrospective of my favourite stylist Simon Foxton at the London Photographers' Gallery in 2009. The book is compiled of editorial he created for magazines such as i.D, Arena Homme Plus and The Face, from 1984 to 2009. Cover to cover, the images, type and interviews are amazing.
4. Walking foot sewing machine
I love my sewing machine. I used to sew on a relic of a machine from the 1950s, so a new machine was an essential purchase. She sews through heavy fabrics with ease and doubles as a great coffee table.
5. 1978 MkII BDA Ford Escort
My dad is putting the finishing touches to a Ford Escort rally car that has been his labour of love for the past few years. I love the stripped-back elements of a race car, how everything that isn't essential is removed. My parents have gravel-rallied Ford Escorts since I was born and I have competed in a few hill climbs. I love that you build up a pristine condition then go and drive it as hard as you can on a gravel road; there's a good analogy for life in there somewhere.
6. Artist Imogen Taylor
I love the absurdity and colour that defines Imogen's work. I got both these works last year and they have spent time on every wall in the house, until I decided they look the best together above my bed. I love how thickly the paint is applied and that it has a wet look. I really like the string canvas where she has used green Chux cloth as a border.
7. Vintage NZ coin collection books by John Bertrand
A close friend of my grandfather's was an avid coin collector and left me his coin collection when he passed away. The mostly pre-decimal New Zealand coins are arranged in beautiful folders. My bags carry a lot of inspiration from these books, from the shade of red I use for my latest range, taken from the florins coin book, right through to the idea of the coin I sew into every bag. On my to-do list this year is to join the Numismatic Society and to begin to fill in the gaps in the books.
8. Chairs
I keep hunting for the perfect chair and this has led to my garage becoming a bit of a chair graveyard. My favourite designer and architect would have to be Jean Prouve. I love everything about his work, from his illustration and the schematics of his furniture to his architecture. An original is out of the question but Vitra's re-edition of his Standard Chair could make the perfect sewing chair.
9. Hospice store, Whangarei
Each time I'm up north to visit family, the hospice store is my first and last stop in and out of town. My friends would agree that I have a severe vintage shopping addiction, and hospice always gives me a great fix. I've bought an unworn 1970s navy wool Jaeger Blazer, a brand new white Prada shirt for $5, and on one fortuitous trip, a rare replica fencing jacket by Belgian designer Maison Martin Margiela for the grand sum of $15.
10. Glenn Busch Working Men Book
I love the black and white photography of German August Sander and American Walker Evans. With my menswear background, these books offer limitless inspiration and are unparalleled for their menswear references. While doing post-graduate study I came across Working Men by Glenn Busch. The book profiles 40 different New Zealand men within their work environments - from chicken-pluckers to grave-diggers. After collecting massive fines for never returning the book to the library, I finally bought a copy.

•Matt Nash bags can be ordered from mattnash.co.nz, with select pieces at Simon James Concept Store in Herne Bay.
Share this: