10 Favourite Things: Treasure hunter (+pics)
San Francisco's flea markets and thrift stores enchant Kiwi expat Ginny Fisher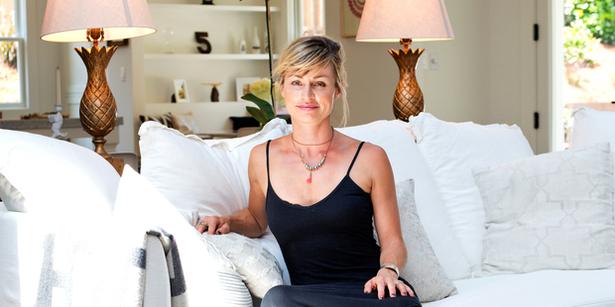 Friday July 19, 2013
Expatriate journalist and artist Ginny Fisher says the leafy hamlet of Mill Valley, 25 minutes out of San Francisco, reminds her a lot of New Zealand.
"It's so green out here, there are so many trees and we have a yard, which is great for the kids."
Ginny and husband Hugo have found it a welcome change from the bustling streets of New York, where they spent the past seven years before heading west to San Francisco in 2011.
Fisher, who studied fine art at Parsons School of Design in New York, plans to set up a printmaking studio in Sausalito and writes whenever she manages a moment away from her two children, Maggie 2, and Fin, 5.
It's been a busy few months with the start of the Louis Vuitton Cup and she has enjoyed the influx of visitors from New Zealand.
"You realise how much you miss the infectious spirit of Kiwis when you catch up with people from home.
They are a wonderful breath of fresh air."

TEN FAVOURITE THINGS
1. Vintage Parisian Easter egg moulds
I found these at a flea market and at first I wasn't sure what they were, and I was happy to arrange them as delicate objects. Then I worked out they were the halves for chocolate egg moulds. Good for brain teasing guests.
2. Rocking horse
My father carved this gorgeous pale rocking horse for my first-born. It has a real horsehair tail and mane and he also made a little leather bridle and saddle. Yee ha! The kids often play on it and I use it as a towel rail. It sure is an improvement on the couch back I would cover in sheepskin and ride on when I was a child.
3. Etching by Elaine Major
A gift from my sister-in-law for my wedding six years ago, the more solid line represents my husband, the wiggly mess me. Say no more.
4. Artwork by Molly Herman
Molly was my art teacher in New York. She is primarily a colourist working in an abstract way. She can use pink and other garish colours and somehow make them work in harmony.
5. Gramophone
I found this old gramophone in a thrift store in the Mission. I cast the base aside and took only the horn. I love the shape; it makes a handsome sculpture on my shelf.
6. Butterfly chairs
These cowskin chairs look sculptural and are functional and comfy; our kids love melting into their cocoon-like shape.
7. Art school sketch
I made this sketch while planning a bigger painting and it didn't ever translate to a larger canvas. I love its freshness and delicate size. It reminds me of the large cloud formations you often see over Lake Taupo, but it's actually an ocean scene in Long Island, New York.
8. Pot from Mexico
We travel to Mexico often and I am always impressed by their artisans. I like the loose pencil-like sketch on this vase from Todos Santos, it reminds me of the ocean.
9. Stuffed chick
I know it would revolt some people, but he's just so cute. These were given away in the 60s at Easter shows in the States. I found this at Alameda Flea [market] and it reminds me of Donald, my brother's pet duckling, who was sadly eaten by a ferret.
10. Ceramic vase
I took ceramics classes when we lived in New York and we lived on East 7th street and Avenue C. I made this little vessel to remind me where I lived and what I remembered about our little hood. I wrote a little poem that curls around the bowl and I hope it's still in one piece when my son, who was born there, grows up and can understand its meaning.
Take a look at Ginny Fisher's favourite things
Share this: