10 Favourite Things: Twinkle, twinkle, little stars
This switched-on production pair transform parks into theatrical wonderlands. They shed some light on other things they love little stars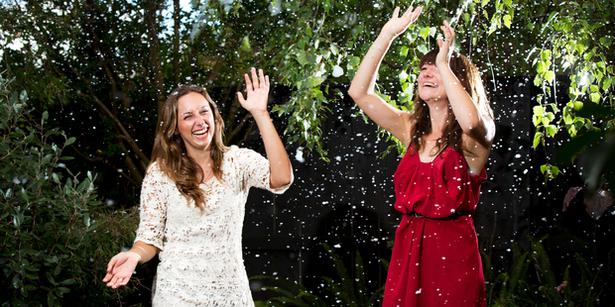 Friday Feb. 22, 2013
Ella Mizrahi and Celia Harrison are bringing Auckland to life - their events company, Celery Productions, an amalgamation of their names, produces the popular light art event Art in the Dark.
The pair have also directed the AD12 AUT Art and Design Festival, the Jambalaya music and dance festival, and produced Australian designer Charlie Brown's NZ Fashion Week show.
Both have strong backgrounds in creating incredible events and productions: they met in 2011 while working on the Rugby World Cup opening celebration for Mizrahi's father Mike Mizrahi's company Inside Out Productions.
Their current project is Celery Stories, which they describe as "basically an Art in the Dark with a narrative", basing it loosely around fairy tales with the intent to do a different story every year. They are working with The Basement theatre to present the "immersive storytelling extravaganza", where audiences will interact with the performance through Myers Park into The Basement - making use of park benches, shadow puppets, special-effects and more.
The first production is part of the Auckland Fringe Festival, with Mizrahi and Harrison ultimately aiming to make it an annual event, creating a community feel and helping to reinvigorate Myers Park, one of the creative pair's favourite things.

10 FAVOURITE THINGS
1. Celery stamp
When we started Celery Productions, our graphic designer Xanthe Harrison made us celery stamps - the rubber version of a celery stalk - and we use them to stamp everything. Well, Celia does. It is our favourite item of stationery.
2. Bruce Munro picture
This was given as a gift from [installation artist] Bruce Munro when we went on a research trip for Art in the Dark. He is an incredible light artist in England and his work is a big inspiration to us. We went to this farm in the English countryside and talked about ideas for Art in the Dark and all things light.
3. Office plant
We stole this plant from Inside Out Productions and they will never get it back. It's the ideal plant for the office because it dies and comes back to life weekly.
4.Western Park, Myers Park
Or, parks in general. Western Park has been a favourite for a long time; it's where Art in the Dark is based, the trees are so old and beautiful, and there's so much to discover. Our office is right next door so we spend a lot of time coming up with ideas there. Myers Park is a new favourite.
5. Wall planner
The wall planner plays a huge part in our company. It helps us to stay sane. Having such strong feelings for an item of stationery is a new and strange experience for us.
6. Our company photo
This was taken at Rainbow Springs in Rotorua, where we are working on something completely different and new to us. It sits by our desk and reminds us of how much we love our job.
7. Production kit
This was gifted to Ella for Christmas and it goes everywhere with Celery. Cable ties are our other staple in the kit, you can never have too many.
8. Magnifying glass
This was a present from our friend, actress Abigail Greenwood, when we produced a show for her last year - we use it daily.
9. Snow machine
We inherited a snow machine early on in our company, and it has since become our trademark special effect in every show.
10. Baby Hodge
"Baby Hodge" is Sam Hodgeson - he is our MacGyver-like AV technical genius. He comes everywhere with Celery. The best thing about him is that he has the uncanny ability to find a technical solution in every show we do.

•Celery Stories, February 22 and 23, 8.30pm. Tickets $15 from www.iticket.co.nz.
Share this: