Expert's Choice: The Very Best Bauhaus-Inspired Design Pieces
Local design experts pick out their favourite Bauhaus-influenced design pieces
Monday April 29, 2019
BEN PLUMBLY FROM ART & OBJECT, ART AND DESIGN AUCTION HOUSE
The Wassily Chair by Marcel Breuer 
Equally celebrated for his architecture and his furniture, Marcel Breuer designed the Wassily chair to embody the driving Bauhaus principle of reconciling art and industry. He was inspired to create the chair while riding his bicycle and the design is a contemporary take in tubular steel and leather on the traditional club chair, stripped back to its elemental lines and planes. The chair was named after Russian abstract painter Wassily Kandinsky, who also worked at Bauhaus and who greatly admired the design.
READ: Inside The Glamorous Life Of Mid-Century Society Photographer Slim Aarons
The Barcelona Chair by Ludwig Mies van der Rohe
The Barcelona Chair was an exception to the Bauhaus ideal of creating impeccably manufactured furniture for the 'commoner' and was originally designed for Spanish royalty. Despite its ubiquity and the proliferation of mass-manufactured copies it remains perhaps the most timeless and iconic furniture design of the 20th century and the epitome of taste and class in the modern architecturally designed home. As van der Rohe most famously uttered: 'Less is more'. Indeed."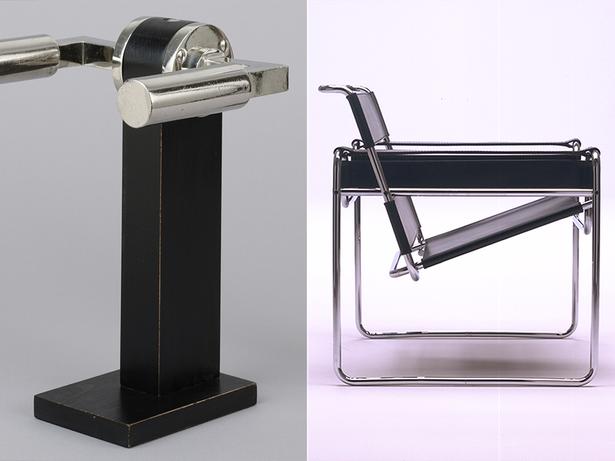 ANDREW LAY FROM KARAKTER, VINTAGE MODERN FURNITURE RETAILER
Brno Chair by Ludwig Mies van der Rohe
This is the piece that first springs to mind, by Mies van der Rohe, who was himself a director of the Bauhaus school in Berlin. Functionality is a word often associated with the Bauhaus design period and the high quality of materials used and timeless design make these chairs so desirable.
READ: Why The Traditional Kitchen Is Disappearing Before Our Eyes
Gropius Door Handle by Walter Gropius
Perhaps less obviously, I really love the handle designed by the Bauhaus founder Walter Gropius and put into mass production in 1923. You can feel the quality with your eyes.
MIKE THORBURN FROM ECC, MODERN LIGHTING AND FURNITURE RETAILER

Cortina Armchair by Gordon Guillaumier for Minotti
Echoing the cantilevered pipe-formed chairs of the Bauhaus movement, Cortina, designed in 2005 and still popular today, shows how Minotti's classic-modern design philosophy produces iconic products in an international style that is great for the New Zealand lifestyle.
READ: Why Faking It When It Comes To Interiors Isn't A Bad Thing
Array Twin Table Lamp by CTO Lighting
We stock factory-style lighting produced in the United Kingdom, but I also like this more refined style from CTO Lighting. The way the metal fixings attach the glass globes to the arms make the globes appear to be suspended and gives the table lamp its nod to classic style.
Share this:
More At Home / Features & Profiles