Impress this Christmas with These Top Styling Tips
Event stylist Sophia Hoadley, who created the scene for Viva's Christmas entertaining shoot, shares her top tips on how to make your day special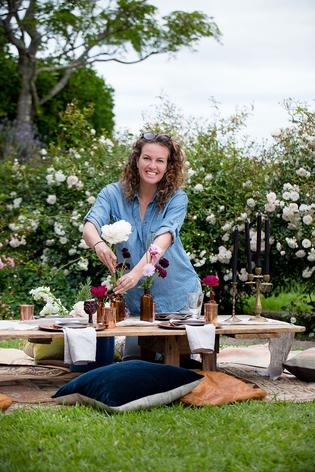 Christmas is the perfect excuse to get creative and put together something beautiful for the day. Although the menu is the star of the show, styling your environment and dining table will only add to the overall ambience, and can be loads of fun. As we all know, a New Zealand Christmas is a rather relaxed and informal occasion, often enjoyed outdoors on the deck or in the garden, where al fresco dining sets the scene.
Whether you're setting the table for two or 20, you can start to think about some festive ways to tie everything in. Like many of us, I adore entertaining and making sure each guest feels a certain magic when they enter a room. Here are my tips that I hope will help inspire you with your Christmas Day styling. Wishing you all the best, and much joy for the 25th.
1. GO BIG
A large table allows for more food, more wine and more decor all adding to the vibe of gifting and giving. Bring that outdoor table inside, or hire in a couple of trestles and set them side by side to create an extra large tabletop. This allow ample room for platters, water jugs, wines, nibbles, fresh flowers, fruit and candles all to be set on the table for your guests' arrival.
2. CREATE ABUNDANCE
It doesn't have to be restricted to the bowls of food. Allow the overflow of foliage and fruit to spill out along the table by incorporating fresh lemons, pomegranate, olive branches and fresh herbs in terracotta pots along the table. Magic.
3. OPT FOR STYLISH SERVICE DISHES
Bring in some new and different pieces to present the food. Think slabs of wood, large chopping boards, slate tiles and wire baskets lined with linen for breads.
4. DEVELOP A COLOUR SCHEME
I'm a fan of the more earthy palette with neutral tones found in linen napkins and table runners, wooden furniture, stoneware and then adding in accents of gold, or cut crystal glassware for that touch of elegance. If you want to use the traditional colours, try something different in a muted soft pink/red and pale sage green over the bolder red and green.
5. PERSONALISE YOUR TABLE
Adding name tags are a fun way to welcome each guest to the table. Try handwritten or stamped tags, painted pebbles, or even gold pen written names on wine glasses. Use natural over plastic or synthetic where possible, it makes for a more hand-made feel.
6. ADD IN A SUMMERY SIGNATURE DRINK
Make a fun arrival cocktail and tie this into your overall style for the day. It will also add colour to the room. Try a rosemary-infused holiday cocktail, wild hibiscus champagne, Pimms or a rose with raspberry and mint.
7. ENSURE THERE IS GOOD LIGHTING
As many celebrate the day with a Christmas lunch, lighting often gets forgotten. However, candles at a table, no matter the time of day, always add that warmth and festive glow. For an outdoor setting, think hurricane lamps, votives and jars of candles and for inside you can opt for candlesticks, which take up less table space and help create height. I'm currently loving a natural beeswax or black taper candle set in brass candlesticks, which look stunning together with greenery on a wooden table. Also you can never go wrong with a pack of copper wire seed fairy lights. Wind them into a garland of fresh olive or pine branches and trail down the table centre for a lush and sparkly look.
8. REMEMBER THE CHILDREN
Growing up in our family, and well into our teens, we were always seated on a separate table with all the cousins at Christmas. The table was complete with loads of Christmas crackers and lots of loud laughter. If your family gathering is on the larger size, then a children's table is always a good solution. Depending on their ages, you could choose to bring in a few more child-friendly elements, like a brown paper tablecloth, red and green crayons, a bowl of Christmas crackers and some silly dress-up props for photos.
9. ADD A WREATH — OR THREE!
Easy to make, this DIY festive symbol can even be made by the children. Keep it green, and make a few to hang along the wall or window. Try making smaller ones with rosemary to use as napkin rings. Not only will they bring a lovely fragrance to the table, they'll look super cute.
10. MAKE A CHILL-OUT ZONE
Let's not forget that after all that cooking, eating, laughing and drinking there is a certain moment in the day when everything goes
quiet. A few find a good chair to start that new book, while others like to nod off into siesta land. So why not create a lovely lounge area on the veranda or lawn, where picnic blankets, throw cushions and beanbags invite your guests into a blissful state of relaxation — and digestion!
• Sophia Hoadley is a stylist who owns and runs My Waiheke Weddings & Gatherings, a bespoke events company. To find out more go to, mywaiheke.co.nz
Share this:
More At Home / Features & Profiles