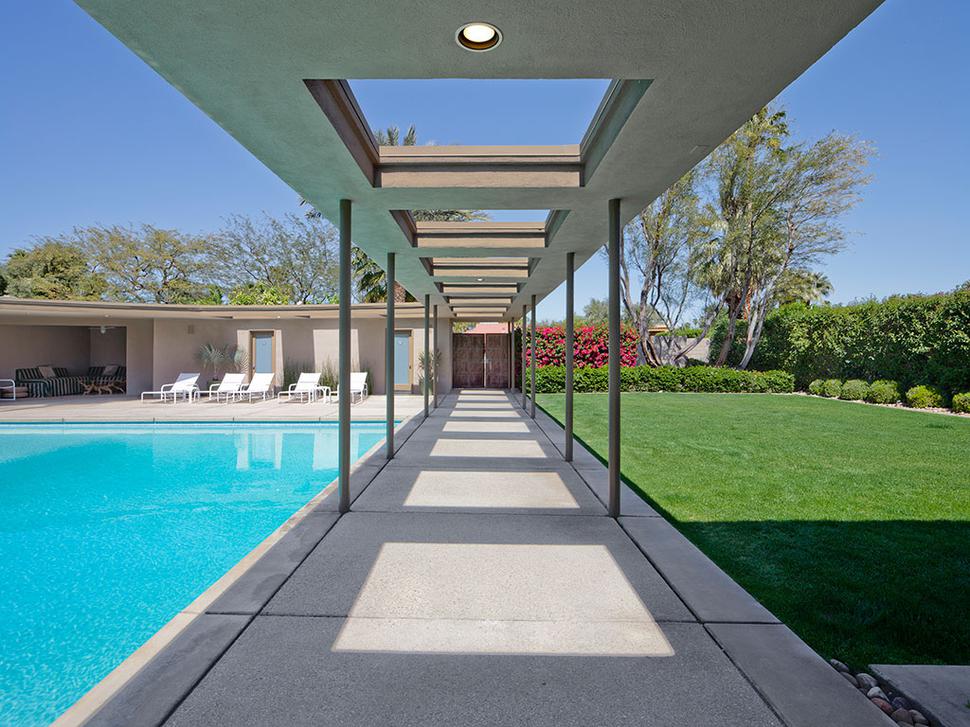 Escape to Palm Springs
An insight into mid-century modern architecture — as well as into the lives of the celebrities who made this desert their playground
Thursday June 25, 2015
Like a troupe of under-rehearsed dancers, arms whirling a little out of time, the white giants of the San Gorgonio Pass Wind Farm provide a mesmerising mechanical welcome to Palm Springs.
Such exquisite engineering, with a bold backdrop of granite hills, sets the scene aptly. Alternative energy, in many forms, is what has always made this desert city tick.
Resplendent in a watermelon-coloured shirt and pale-blue trousers, Michael Stern, who guides boutique architectural tours through this privileged parcel of the Coachella Valley, also seems to run on off-beat energy. Stern is a fine artist with an avid interest in design and a deadpan wit.
His version of Palm Springs history runs thus: During the Hollywood heydays, when the powerful film studios declared that actors could not travel more than 190km from LA while filming, the city became a haven of privacy for celebrities. "Photographers could not shoot the stars on vacation here without studio permission or they'd be blackballed," says Stern. The rat pack could get plastered and have affairs with impunity.
No wonder it became a pleasure playground for high rollers. The glitterati wanted to extract as much joy as they could from the holiday experience and architects were eager to innovate and oblige with house designs that encouraged hedonism in the heat.
"I've been to houses where the bar is larger than the kitchen; it's just a question of priorities," says Stern.
It may be this concentration of desert modernism that guests on The Modern Tour come to see, but it's Stern's anecdotes that mark the experience as exceptional. Oh the stories he could tell — and does. Recounted with alacrity, they bring the buildings alive. He offers wry insight into the architects, developers and homeowners who lived, worked and played here, including behind-the-lens tales of the world's best-known architectural photographer.
Stern is co-author of Julius Shulman: Palm Springs and worked with the photographer in 2007 to capture some new images for the book. "Julius had phenomenal energy," he says. "At that stage he was 97, and he was still shooting up to three buildings a day."
Shulman's gift was to capture the relationship between nature and architecture. "To him, it was not about glass and steel, it was about human experience."
In the cover photograph for Stern's book, taken at the Elrod House by John Lautner (where they filmed a memorable scene in Diamonds are Forever), Shulman featured the co-authors standing poolside, gazing out to the view. These tiny figures are dwarfed by the scale of the sweeping curve of roofline.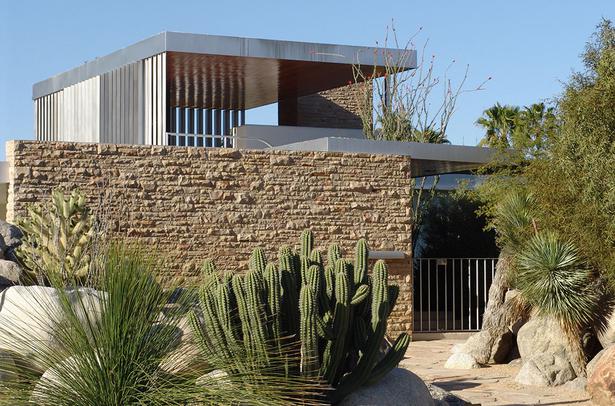 Back in the day, he also famously persuaded Mrs Kaufmann (owner of the iconic Richard Neutra-designed house in the Little Tuscany neighbourhood) to lounge by the pool like a Greek goddess. Kaufmann had to lie prone, unmoving, for a long exposure while Shulman balanced the sunset rays against the artificial lighting inside the house. "She stayed still, but her dog could not," Stern points out.
The black and white shot, taken in 1947, remains one of the most reproduced architectural photographs of all time.
Regular as clockwork, Shulman would break at two for lunch — an unfaltering diet of barbecue potato crisps and a stiff Scotch. "It was not unheard of for him to walk into a house, find the bar, and guzzle straight vermouth at nine in the morning. But it did not affect him. After a day with Julius, I could have taken a nap for three years, but when I dropped him back at the hotel, he'd say, 'let me change and we'll go for dinner'."
Renewed interest in the work of Shulman has no doubt contributed to the good fortune of Palm Springs. These days, architectural acolytes are reclaiming it from the plus-fours golfing brigade. Says Stern: "When we bought our house in the valley in the late 90s, 'mid-century modern' wasn't even a term. When we asked the agent for something from the 50s or 60s, he said, 'you're kidding, right?'"
Although many come to gawp at the one-time homes of famous folk like Frank Sinatra, Bob Hope or Marilyn Monroe (whose house was around the corner from one that J.F. Kennedy regularly bunked up in), it's not just a town of celebrity culture, past and present. There is relevance to be found in the urban planning regulations, ideas that can be gleaned from the design-and-build systems of the mid-century and lessons to learn in the increasingly important landscaping lore that has thrived in an environment that gets only 10cm of rain a year.
Case in point: though commercial-zone buildings are allowed four storeys, residential districts are restricted to single-level dwellings. This low-rise edict ensures an egalitarian view of the mountains. "It's genius, too," says Stern, "because you never have someone peering over you while you're in the pool."
Another idea of timeless value is the ingenious concept behind the Twin Palms housing tract where developers Robert and George Alexander commissioned architect William Krisel to design homes with a regular footprint of 160sq m. They were built in 1957 as affordable housing, albeit each with a pool and two palm trees in the garden.
Meander around the quiet cul-de-sacs today and you'll discover street after street of neat, low-key, fenceless houses, a nirvana for modernism spotters. Looking at the range of different exteriors, teamed with flat, slanted or butterfly roofs, it's impossible to believe that each house is exactly the same on the inside. "All of them have an identical square floorplan," explains Stern. "They may be flipped or rotated, but essentially they are the same."
In this way, the build costs of the three-bedroom, two-bathroom homes were minimised. Yet, with some cunning design alterations of the facades, they bypassed the soul-destroying pitfalls of creating cookie-cutter subdivisions.
Across town, in the northern quarter, the persistent wind means property costs are reduced by about a third. It's here that The Modern Tour affords a visit inside a home that was part of another innovative Alexander development. The father-and-son directors asked architect Donald Wexler to design houses made with prefabricated steel cores that were assembled in Los Angeles and then transported to site. The builders laid a foundation, then used a crane to drop the core on to the concrete slab. The outer walls were interlocked in place.
The seven speculative houses had steel walls lined with plasterboard for practicality, and were at turn-key stage within four weeks. Wexler was a master of making the relatively small footprint of 140sq m feel bigger. On entry, there was an immediate view of the patio; the pool was placed on a diagonal to create a further illusion of space.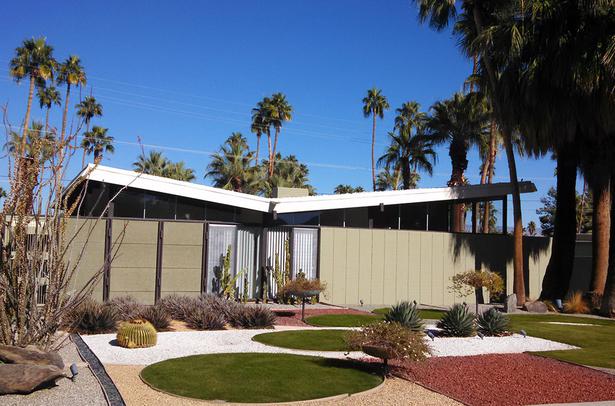 Wexler used half-height internal walls and cupboards that didn't quite reach to the ceiling or outer walls, two architectural tricks that allowed a feeling of openness, where light flooded into rooms from all directions. Because these were imagined as holiday homes, the Wexler steel houses were designed sparsely for a life less cluttered. The zig-zag line of the folded-plate roof features diamond-shaped gutters; when it rains, graceful arcs of water splash on to the patio floor, enhancing the architectural elan.
It is incomprehensible that such elegant, intelligent, affordable design is all but lost to the now generation. "There's no one carrying that torch anymore, even here in Palm Springs," says Stern.
One mantra of residential design in the locale has endured. Homes are "discreet to the street"; the common architectural intent is to defer to the up-close-and-personal drama of the San Jacinto Mountains. This leaves room for the landscaping to shine.
Synthetic lawns or groundcovers of recycled rubber, dyed blue or green, create an impact that does not soak up precious water reserves. Ocotillo trees, free form and organic, are a wonderful counterpoint to the sharp geometry of the modernist design. "When you buy them at a garden centre, they're not even in a pot — just leant up against the wall. That's how little water they need."
Native trees that look like puffs of smoke are well-used, as is a technique Stern calls "poodling the olives". The trees are shaped in fantastical baubles akin to those in a Dr Seuss story.
Even on the main boulevards, design gems abound. On South Palm Canyon Drive, The Bank of America building by Victor Gruen Associates pays homage to Le Corbusier's chapel at Ronchamp in France, while the Architecture and Design Centre by E. Stewart Williams is a must-visit. For a taste of nostalgia, amble past the El Mirador bell tower on Indian Canyon Drive — a resort hotspot built in the 1920s for Hollywood's elite.
You'll need to head away from the city centre, though, to visit the jewel in the crown of The Modern Tour. Architect Albert Frey's own home (the ultimate bachelor pad) was built in 1963, and has the highest location in Palm Springs. The gate concertinas to permit entry like the scissor arm of a shaving mirror; Stern rings the cow bell near the door for access.
Designed to emerge from the awe-inspiring mountains, this 70sq m glass-and-steel box is fashioned around a gigantic boulder that has an over-sized sculptural presence in the interior. Frey amplified the pocket-sized floor plan by using built-in furniture. He thought of everything. A dining table/desk complete with sharpener, sofa, double bed, and clever storage space are all integrated. Original appliances and an in-cupboard dishrack that drips directly on to the draining board are all here.
The exposed top of the corrugated-aluminium roof that floats lightly over the structure is the shade of a Palm Springs' twilight; inside, its aqua-blue coating matches the shade of the kidney-shaped pool. Frey, who liked to concentrate on his work, and enjoyed the occasional bout of entertaining, saw little need for a proper, full-sized wardrobe. A new girlfriend, later in life, changed all that. He had to tack on another room.
Up here the expansive vista over the valley is a heavenly experience. With a celebrity-studded legacy, and many sparkling stories still to play out beneath the sweep of desert sky, Palm Springs, it seems, is designed for stardom.

• Visit themoderntour.com. Tours cost US$150 ($216) a person, or US$200 for the deluxe version with entry to the Albert Frey II house.
Share this:
More At Home / Architecture