New Zealand at the Venice Architecture Biennale
New Zealand's exhibition at the Venice Architecture Biennale floats more than an idea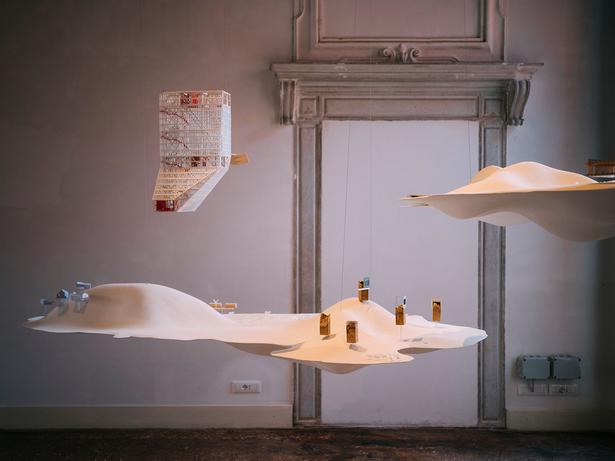 Wednesday June 29, 2016
Twenty-two islands dotted with dozens of intriguing buildings are currently floating within the generous light-filled spaces of a Renaissance palazzo in Venice. It's an exhibition called Future Islands — a declaration of New Zealand's architectural capital at the world's biggest architecture event, the Venice Architecture Biennale.
Before we get to the Biennale, though, let's familiarise ourselves with the setting. Venice, 'Jewel of the Adriatic', La Serenissima, the "most serene" — it's hard to fault the sobriquets. In this city of bridges (416), canals (177) and campo (127), art and architecture [see breakout] walk hand in hand through churches, museums, galleries and palazzo, all organised cheek-by-jowl on 118 islands.
It's a labyrinth. A labyrinth visited by 18 million tourists a year (50,000 a day!), most of whom are, naturally, lost. Some tourists are, however, walking purposefully east along the crowded Riva degli Schiavone, towards the Arsenale and the Giardini, the ancient naval ship building yard and pavilion garden that are the heart of the Venice Architecture Biennale.
What exactly is a Biennale, you might well ask. In Italian it simply means 'biennial', that is, 'every two years'. In the 1930s the word was appended to the name of the international art exhibition held in the city, the Venice Art Biennale. New Zealand has exhibited at the art Biennale since 2001. Last time around, in 2015, it was Simon Denny with Secret Power, and next year Lisa Reihana will present an exhibition centred on her panoramic video work, In Pursuit of Venus [infected].
In the 1980s, architects thought they'd quite like an international exhibition too, and, lo, the Venice Architecture Biennale was born. It's worth pointing out a Biennale is not a trade show or Expo, there are no tap ware, lighting or, indeed, Venetian blind stalls (random fact — Venetian blinds are mysteriously non-existent in Venice). At a Biennale, ideas are currency and this year, to its credit, New Zealand is there, with a very good exhibition called Future Islands to establish our country's creative credentials.
In Venice, you'll find Future Islands in the atmospheric, light-filled rooms of the Renaissance palazzo Bollani. It's a prime location — a block back from aforementioned Riva degli Schiavone, where tens of thousands of people roam each day.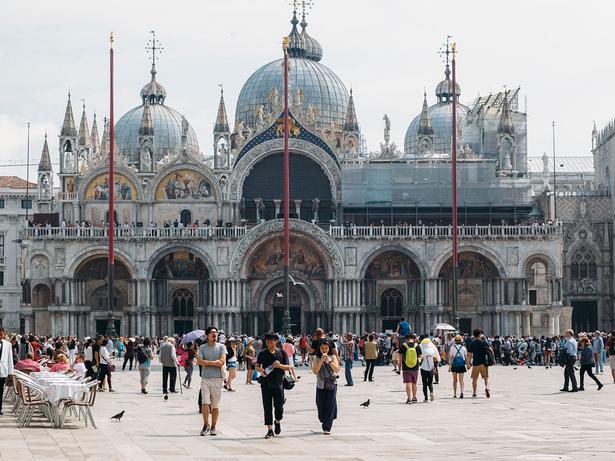 The exhibition is composed of twenty-two cloud-like 'islands' manufactured, in New Zealand, by the company that makes America's Cup yachts. Upon (and underneath) these pristine white islands are affixed models of intriguing works of New Zealand architecture. Some are built works while some, such as the Stevens Lawson Architects and Rewi Thomson proposal for Auckland City Mission — a homeless centre, housing, library, and health and recreational facility — are not.
There are beautiful houses alongside social housing projects, a depiction of the ground-up, people-led Christchurch event Lux City and the curvaceous, brilliant Len Lye Centre. On some islands projections dance across the pristine surfaces, there is a 'sound island', an audio recording that loops throughout the space and a "lost island" — an invitation piece — emblazoned with neon, 'The Restaurant at the End of the World Universe'.
Future Islands is surreal, engaging and exquisitely crafted. Patrick Rata, New Zealand's Ambassador in Rome, describes it as a "confident exhibition".
"It is an exhibition that showcases New Zealand's diversity. It showcases New Zealand as a country of innovative spirit. It is an exhibition which showcases New Zealand's dynamism and can-do attitude."
The concept for the exhibition is, in part, derived from the writing of Italo Calvino, says Charles Walker, the curator. In Invisible Cities, Marco Polo recounts for Kublai Khan tales of many wondrous cities. The kicker being that each city is a version of just one: Venice.
Walker "wondered whether we could do something like that about New Zealand". "I think by telling stories about fantastic projects, Calvino was exploring the tension between pragmatics and poetic expression that is also at the heart of architectural expression," he says.
Walker says his creative team of architects, model makers, digital visualisation experts and exhibition builders were "thinking about what we could say about architecture in New Zealand, and how and why we might say it, in a meaningful way, in an international context." Basically, "what, if anything, constitutes 'New Zealand' architecture?"
The answer, as seen on these Future Islands is, as Patrick Rata pointed out, in the diversity of people and place. "New Zealand is actually one of the most dynamic societies in the world in terms of population demographics, political economy and culture," Walker says.
Future Islands, with its exploration of the geographical, social or geopolitical fronts of New Zealand architecture aligns with the theme established by the Biennale's overall curator, Chilean architect Alejandro Aravena. A happy coincidence — the Future Islands team began working on their project months before Aravena announced his concept, Reporting from the Front, a necessity given the distance between Aotearoa and Italy. [see breakout]
As Walker says, "Reporting from the Front is about how architecture responds to the social conditions in which we operate. Alejandro says that architecture operates on the 'frontline' of society' and the frontline of the environmental struggle. We had started our process before Alejandro had announced his theme; we'd actually designed our exhibition. But, in a strange coincidence we find that we're actually very compatible — we're very close to his thinking."
Perhaps the best move the creative team made, however, was to consciously design something poetic. Walker says he and his team were mindful that the "best contribution an architect can make is to make the world a more beautiful place."
"Our job is to make a better environment. We consciously thought we'd try and make an exhibition that is beautiful. It was a slightly risky manoeuvre. We haven't tried to explain things — it's a metaphorical snapshot of New Zealand."
Share this:
More At Home / Architecture