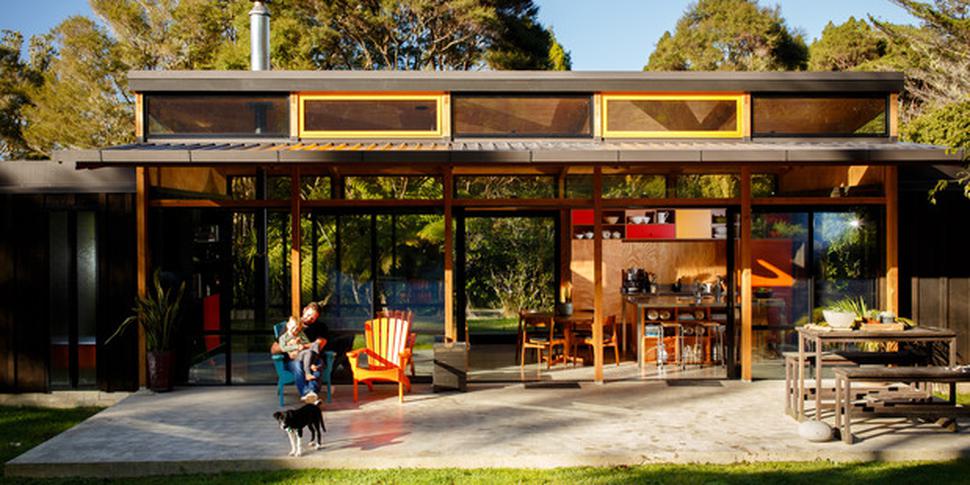 A slice of paradise in Titirangi
An Auckland family finds beauty and freedom in an architecturally adventurous home, writes Claire McCall.
Wednesday July 30, 2014
The utilitarian forms of a tent and a shed are the antithesis of the colonial splendour and filigreed finery of a Victorian villa. So what would the original owners of this 1.4ha Titirangi property have thought if you'd told them these were the structures that inspired this new family home?
No doubt, turn-of-the-century locals would have been amused. They'd have pointed towards the bottom paddock and invited you to stake a claim.
Contrariness is in the nature of the project. This duo of compact dwellings, designed by architect Tim Dorrington of DAA, has humble roots, but aims to exalt the spirit. And although two generations live here companionably side by side, the homes acknowledge the value of privacy.
Mark and Susie Easterbrook bought the land, and the forlorn, burned-out villa that was the second house to stand sentry alongside the creek here, at auction. With two young boys (Hunter, 10, and Jake, 5, who has been diagnosed on the autism spectrum), they were looking to simplify life - and were pleased that Susie's mother and step-father were keen to make the move to this property.
"It was our place to be calm," says Mark.
A creative director at boutique advertising agency Goodfolk, Easterbrook originally studied architecture at university before a C+ average convinced him there were "people more talented". Still, he had exciting ideas, "although I didn't try to be too prescriptive in the brief".
Dorrington was asked to design two dwellings, cousins in aesthetic, but sited for sun and seclusion.
"We wanted to create a tension between the two forms," he says.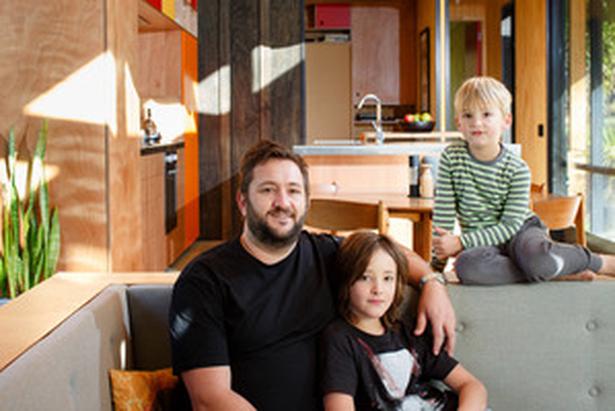 For the main home, Dorrington conceptualised one long, barn-like pavilion with the bedrooms for adults and kids at opposite ends. A canopy-like roof strung between them "like a tarpaulin" created the glass-walled living, dining and kitchen. The smaller house, affectionately named "the mini-me", is only 2.5m away, but echoes this specific planning with its solid bookends and transparent core.
Arriving at this property is a journey of faded grandeur; a crumbling rock wall and timber gate opens to a circular sweep of driveway. But, rather than a classical fountain or genteel topiary, nikau palms inhabit the central-island plant bed. The bush is an appropriate garden here.
Pushed back from the house by a concrete patio and a stretch of lawn, it's a living backdrop that washes the rooms in greenery.
Visitors initially see only the short end of this rectangular house - the square end of a board-and-batten container for living in.
"That was deliberate," says Dorrington. "It's a very small form on approach."
Although there is land enough, the main house is a modest 120sq m.
"We didn't want more space for more stuff," says Easterbrook. Its slender footprint is 4m wide.
"That's generally enough space for most rooms," explains Dorrington, who delved into his architectural bag of tricks to ensure a result that feels big-hearted on the inside.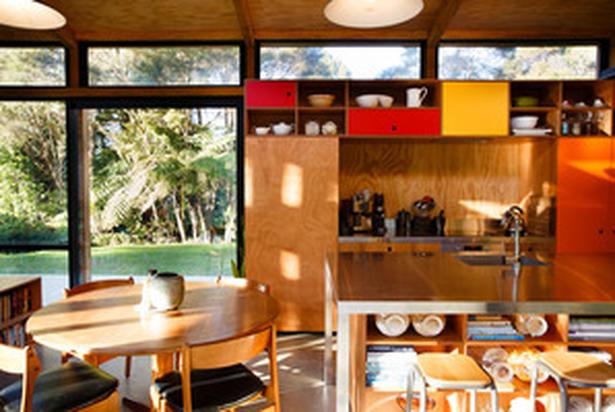 Planning is meticulous with no unnecessary passageways or "dead" space and the mono-pitch roof soars to 3.6m so that even Easterbrook, at the height of a basketballer, has room to breathe. Full-width, full-height windows that "come in from the corners" make it feel even more open.
This "urban bach" cherrypicks aspects of city living and melds them with casual components to strip back the everyday. The material palette is low-key, and the structural style is honest with everything on show.
"It tells the story of how it was made," says Dorrington. With no plasterboard or plaster to hide the construction, it was a matter of finessing the junctions, of allowing these to shine, bolts and all.
In the central room, a skeleton of glulam (glued laminated timber) beams is plugged with no-nonsense plywood walls and ceilings. Sliding glass doors in black aluminium frames welcome a jumbled view of manuka and tree fern on the hillside opposite.
A split-truss roof allows an external pergola to shade the home in summer yet, above this, clerestory windows bring in low winter light that is soaked up by the thermally hungry concrete floor.
"We also have underfloor heating, which makes it lovely and cosy even in winter," says Easterbrook.
The sunken lounge in the open-plan zone is a modern take on the conversation pit.
"We just liked the idea, plus it was one way to demarcate the space," he says.
It's a natural gathering area, where the TV can be disguised behind sliding panels in the built-in cabinetry, but the guitar on a stand is very much on show. Easterbrook doesn't play. But he enjoys the notion that his visitors might.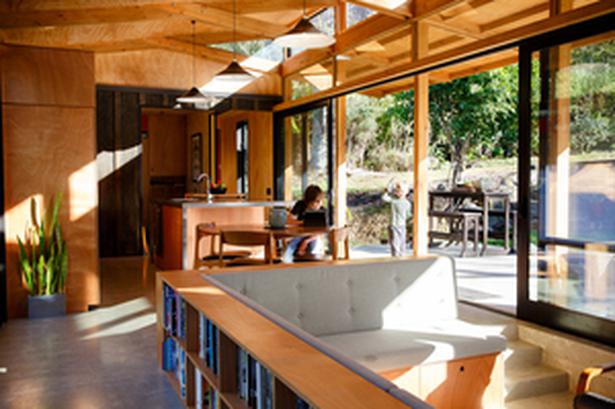 Built-in furniture was another space-saving strategy and extends beyond the norm to include an L-shaped banquette, backed by bookshelves.
"In a former life I was a book reviewer for bFM so I needed the storage," says Easterbrook.
In the boys' rooms, built-in bunks can be used as extra beds for mates. Remove the squabs and they double as desks for those days when studying will take precedence over sleepovers. Lacquered in bright yellow - Resene's Supernova - they are cube-like inserts that frame the window and inject further architectural adventure into these compact spaces.
Playful blocks of colour are crucial aspects of the design. Easterbrook chose primary shades, which he sees as a nice counterpoint to the raw, natural palette of the house.
"There's a secret code to the colours," he reveals. He used yellow for the boys' rooms since "they are the sunshine of the family", turquoise on the doors of the wet areas (bath-room and laundry), and red on the door of the master bedroom.
"If it's closed, it acts as a stop sign."
Resene Chilean Fire adds zest on the pantry door of the kitchen cabinets and the extractor cover is painted a chilli red Resene Monza.
A expansive stainless-steel island bench is used as a breakfast bar, for homework sessions and everything between. "It's amazing how much you can accumulate on the bench before you have to clear it.".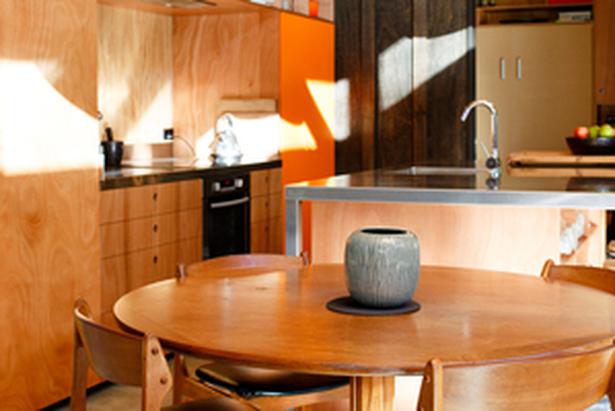 Dorrington designed a separate area adjacent to the kitchen, sectioned off by cavity sliders, with a built-in, fold-down bed that can be used either as an office or guest room. Board-and-batten detailing also defines this zone and brings that rustic beauty of the barn indoors.
"We carried on the exterior details such as the flashing across the top, which you don't need but helps complete the illusion," he says.
In the private master bedroom, a glass wall at the far end of the home frames the bush like artwork. The couple opted for no blinds or drapes.
"At the risk of sounding like a hippie, it really gets you in touch with the phases of the moon."
Living in close proximity to each other has worked well for the extended family, where there is easy company on hand, but seclusion sets the scene.
To the old timers, who forged the garden of this acreage that has been inhabited since the late 1800s, it would have seemed foolish to take the lowly tent or an implement shed as design cues. But the Easterbrooks saw beauty and freedom in such basics.
"We have a place that feels timeless. It's not faddish or self-consciously retro. It knows where it's come from and what it's here for."
Share this:
More At Home / Architecture