A visit to one of Palm Springs' most interesting homes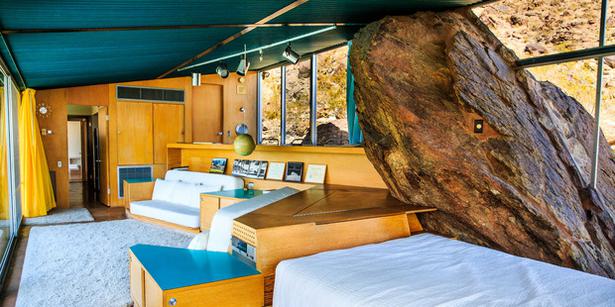 Wednesday Aug. 27, 2014
A haven of mid-century modern design from the 50s, 60s and 70s, Palm Springs attracted some of America's most famous architects who created iconic homes that still stand today - from Richard Neutra's Kaufmann House (1946-47) to John Lautner's Elrod House (1968) with its curved concrete roof.
The Frey House II (right) is another icon of the modernist movement, completed in 1964 as a private residence for architect Albert Frey. Perched above the city in the San Jacinto mountains, the compact 74sq m home features a simple steel structure with a corrugated aluminium roof that follows the slope of the mountain and sliding glass doors that look out on to the sprawling valley below.
Studying the position of the sun for a year before beginning construction, Frey embraced the contrast of the natural desert environment with high-tech materials: a supporting wall of concrete blocks surrounds a pool that sits above the carport, blue Formica cabinets connect to Palm Springs' intense blue sky and distinctive curtains match the yellow encilla desert flowers outside.
Then there is that rock: rather than build around it, Frey chose to incorporate a large boulder into the interior, to spectacular effect. Frey lived in the house until his death in 1998, leaving it and its contents to the Palm Springs Art Museum. It is now closed to the public, with the museum opening its doors for select tours.
See more photos from inside The Frey House II here:
Share this:
More At Home / Architecture