A week of modernism in Palm Springs
The mid-century architecture and design of Palm Springs is celebrated in Modernism Week, writes Claire McCall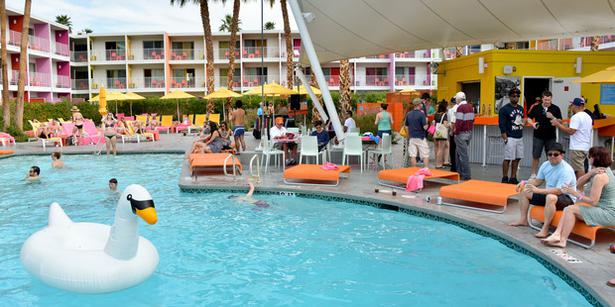 Sunday Aug. 31, 2014
Everyone with even a scant interest in mid-century architecture knows Palm Springs is the mecca of modernist design. Although your average Kiwi enthusiast would walk over hot coals to get their hands on a house such as the residence of architect Albert Frey or even an example in the tract estate of Vista Las Palmas, known as the Rat Pack Playground, locals are sometimes indifferent to the aesthetic and historical value of these homes.
"Without the not-for-profit preservation groups, many of our buildings would not have been saved and restored over the years," says Lisa Vossler Smith, executive director of Modernism Week, an annual event that revels in the mid-century delights so prolific in the city.
In February 2015 they're celebrating 10 years of this modernist extravaganza, which has grown from a long-weekend over President's Day to a show where the party lasts 11 days. "We had 45,500 people attend in February this year," says Vossler Smith.
With 180 events to choose from, we asked her for "The Director's Cut" - a must-see line-up of personal favourites.

1. Be tempted by the rich offerings at the Palm Springs Modernism Show & Sale, where about 100 vetted dealers offer authentic vintage items, from furniture to paintings, sculpture, fashion finds, eyewear, decor accessories, photographs, and collectors' books.
At this February's show, Vossler Smith fell in love with a record console in a walnut cabinet and, if it had not been for the US$38,000 price tag, it would be sitting in her mid-century living room right now. "Instead, I bought a beautiful pair of red polka-dot gloves from 1953. I can barely squeeze my fingers into them, but I'm an accessories gal," she laughs.
As confirmation of this fact, she admits that every year she snaps up another example of Bakelite jewellery ("you can never have enough") and a pair of like-new vintage sunglasses. "You get to interact with experts and enthusiasts at the sale; you learn so much," she says.

2. Get in quick and make a booking for dinner around the pool at Frank's place. Twin Palms Estate (below), designed by Emerson Stewart Williams, is one of the area's architectural gems. Once home to Ol' Blue Eyes himself, you can take a tour of the grounds and the rooms. To celebrate the 10th anniversary of Modernism Week, the organisers have set up boutique dinners, curated by a well-known chef and inspired by Sinatra's favourite meals. "The house is so incredible and, I know it sounds corny, but you truly get a sense of Frank's presence." Some reports say Sinatra initially wanted a Georgian-style mansion in this spot in the desert; thankfully, the architects convinced him otherwise.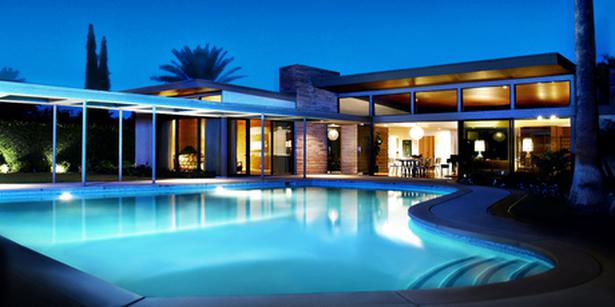 3. Let Illuminated Modern shed light on some architectural treasures along Palm Canyon Drive. At sundown each evening, the coloured lights are turned on and visitors and locals alike can take a free self-guided tour of mid-century and contemporary buildings. "It's a visual way to help raise awareness in the community about the importance of our built heritage. It's beautiful; we wish it was like this all year round."

4. Don't turn your nose up at the double-decker open-top bus experience; this is not your average tourist attraction. "Believe it or not we don't have a sightseeing tour of Palm Springs so, if you visit outside of Modernism Week, it's difficult to take an architectural tour." The journey lasts for two and a half hours, so it's comprehensive. The height of the bus allows you to see beyond the tall hedges of these private exclusive neighbourhoods. Highlights include a peek into the Kaufmann house by Richard Neutra, a Wexler steel house, and the Elvis Presley Estate.
The commentary gives a unique insight into the architecture, from authentic Spanish and Mediterranean styles to the varied work of the desert modernists. Capture a snapshot of the architectural detail of post-and-beam construction, the exaggerated lines of butterfly and folded zig-zag roofs, or the Swiss Miss chalet style that was so popular in the 50s and 60s.

5. Make a splash at a pool party or simply take it easy on the terrace. In the 50s and 60s, Palm Springs was the playground of Hollywood, as it's just a two-hour drive to Los Angeles, and even back then most of the homes had swimming pools. "It gave the city this atmosphere of leisure and the feeling of a spa-resort feeling." A series of pool parties is planned as part of Modernism Week. The organisers have worked with some of the smaller, boutique inns that you normally couldn't get into unless you were a hotel guest. The Orbit In, The Hideaway and the newly restored Ace Hotel are part of the programme. February elsewhere in the country is cold and wintry. "But in Palm Springs we still have bikini weather."

6. Want a break from sipping cocktails poolside? Visit Shields Date Gardens in Indio and pick up a date shake made with icecream and fresh medjool dates grown on the 6.8ha property. "Because the agricultural industry of the Coachella Valley has gotten smaller, it's getting harder to find the date shakes," says Vossler Smith.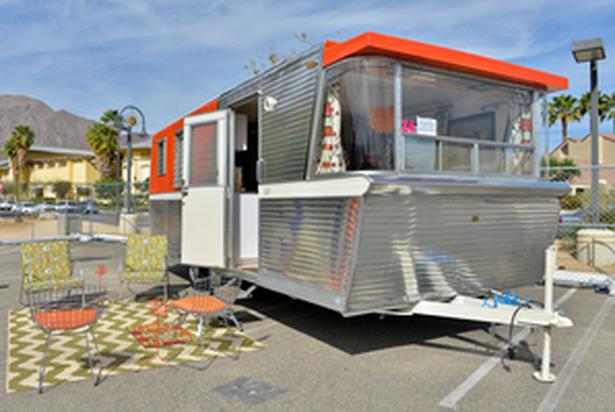 7. Drink your fill of mobile Modernism at the Vintage Travel Trailer Show, where Airstream and Shasta caravans mix it up with converted Greyhound buses from late 1940s. "This show has grown from a handful of trailers in the beginning to being so large that we have to reserve an entire parking lot near the convention centre."
Meet the owners, who are often colourful characters, and take a good look around the 50 lovingly restored examples - then vote for your favourite. This year, winners will be announced at an evening party where spring lights will be strung up, food booths will offer retro-tastic morsels and the atmosphere will be fun and festive.

8. Find a great spot on the patio of Trio restaurant in the heart of the uptown design district and settle in with a Cosmopolitan or a Lime Sour for a spot of people-watching. This part of Palm Canyon Drive is populated by high-end boutiques so it's the ideal place to spot the "modernistas" in their native retail environment and pick up some fashion tips.
Trio is just a block down from designer Trina Turk's store - a California local whose clothing and homeware accessories are inspired by mid-century design and pattern. Turk and her photographer husband, Jonathan Skow, vacation in Palm Springs at a home designed in 1936 by architects Adrian Wilson and Erle Webster. In tongue-in-cheek reference to its Art Deco maritime architecture, Turk calls the house "the ship of the desert". Tough life.

• If you can't get along to Modernism Week, we feel your pain. Perhaps watching the web series Man about Modernism on YouTube, posted twice a week from the event, will salve your sorrow - or it may just rub salt in the wound! For more information, see modernismweek.com
Share this:
More At Home / Architecture