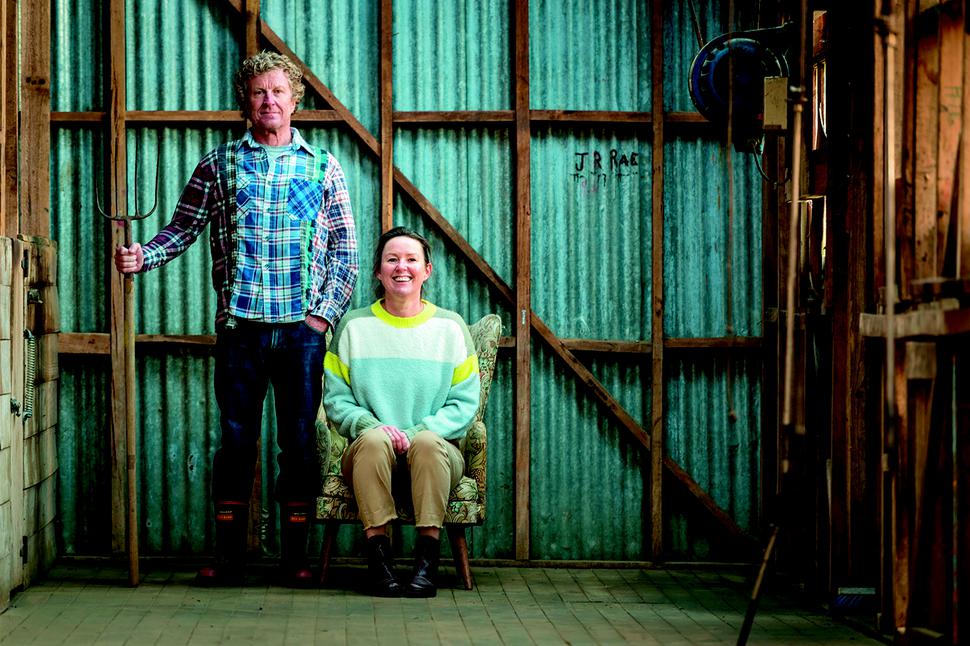 The Auckland Couple Living The Simple Life In Central Otago's Bannockburn
Food writer Jo Elwin and her partner, David Edwards, packed in their hectic Auckland lifestyle for the rural idyll of Central Otago's Bannockburn and the basic comforts of a new temporary home, a wool
Sunday Nov. 15, 2020
As if I needed reminding, my phone has pushed a photo memory showing that it was three years ago that I moved into a woolshed.
It was greeted with a sarcastic "yay".
It was exciting back then.
David and I had packed in our demanding Auckland life and settled in Wanaka where we had said we were heading for 17 years.
The woolshed was the result of a drive to Bannockburn so that David, an architect, could check out the historic shed.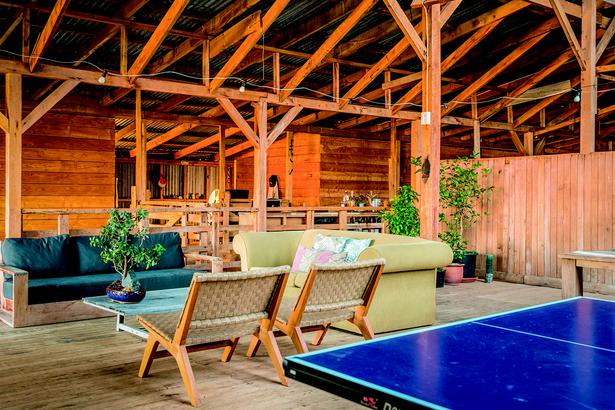 We had no intention to buy here but, as we wound our way around the Kawarau River through the vineyards, we realised that this Central Otago locale was what we were looking for.
We'd been struggling because "new Wanaka" was forcing us into the same pricey, dense suburbia that we disliked about Auckland.
The 17-acre block had an approved building site, and we could live in the woolshed while the house was being built.
We bought it the next day.
It took David 10 months to make the woolshed habitable and he designed it very much for temporary living — becoming guest accommodation once the house is built — so it's close quarters, made up of a sitting area with kitchenette (I am a food writer with no oven!), a sleeping area and a bathroom.
Another built-in space will become a bunkroom once it stops storing our furniture and homewares, a very-much-in-use oversized fridge and an expanse of kitchen kit that I cannot function without.
These sleeping quarters, as I like to call them, take up 60sq m of the 500sq m woolshed that David wants to conserve, so he has designed them to be unobtrusive.
When standing in the woolshed all you see are walls lined with rough-sawn New Zealand larch, stained with litres of gumboot tea to give it a similar appearance to the original timbers.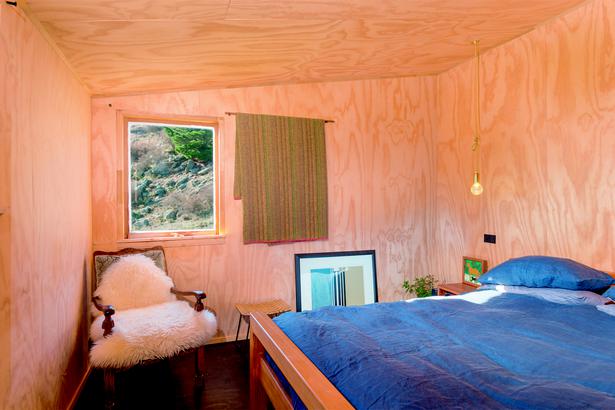 The doors are the same, so that they disappear when closed.
People think they are walking into a cupboard and, surprise, it's our home … of three years!
David refers to it as the "smoko room" and, if shearing were once again to take place, that's what it would be (they only stopped six years ago and the machines on the shearing board are in working order, so it is possible).
Little structural work has been done to this old tin shed that rattles on its crumbling concrete piles in the frequent high winds, so it may all have to be redone at some stage and we have factored that into the build.
There's an impermanence to everything David has done inside.
The walls and floors are plywood.
Windows are a series of small squares that run down the length of the space, in keeping with what was there.
From the outside they look original, inside they have solid wooden frames that are double-glazed to provide more comfort than the decaying, Perspex-covered windows of the main shed.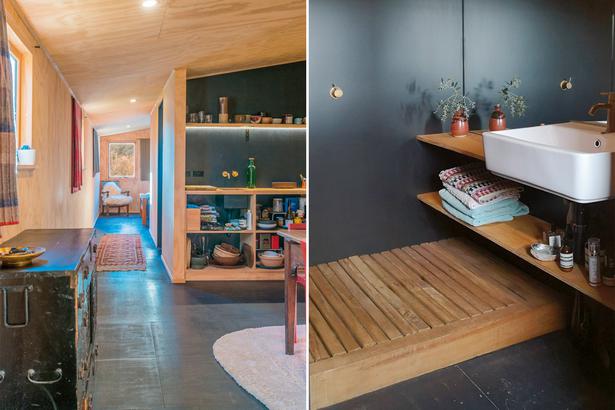 David made the kitchenette and bathroom cabinetry out of ply, to give the effect that it has been cobbled together to serve a purpose, the benchtops are oiled for a bit of protection, but the idea is that it's cheap enough to replace when damaged.
For guest purposes, the kitchenette will have a microwave only, but we have set up a gas burner while we are living in it.
Most of the cooking happens out on the barbecue in the woolshed, which conveniently has a slatted floor open to the elements.
David salvaged the timber and tin that came out for the build and some of those slatted floorboards have found their way into the bathroom where they create the shower floor.
The 2.5m-long shower is generous for such a small space, but every day, as we luxuriate in there, we're thankful we did it.
There's no expensive, weighty tiling, rather sheets of HardieGlaze lining and a large glass shower screen.
The mirrored wall above the vanity also helps to create a sense of space and ensures the look is unfussy.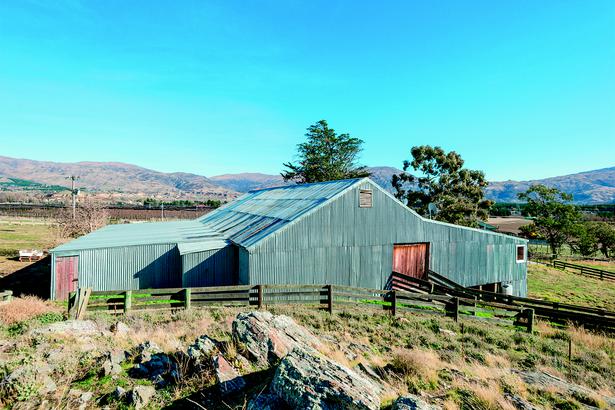 The entire floor has been thinly painted dark grey to create a slightly worn look and we have used it on the kitchenette and wardrobe recesses to match the dark bathroom and to unify these utility areas.
Window treatments had us stumped.
Fitted blinds or curtains would be too considered but we needed something to close out the cold and the light.
We had hooked up blankets in the meantime and realised that this was what we wanted, only better.
We sourced old New Zealand wool blankets and hung them over lengths of copper piping, which then sit on large hand-forged nails on either side of the window.
During the day, a third nail allows you to pick the whole thing up and hang it to the side of the window, rather like a wall hanging.
We struggled to find old brass tapware, so we went new in a brushed brass that has developed a patina, which ages them.
The modern lines work better — we could have been bordering on twee the other way.
Our little ply box is cosy warm in winter and cool in summer.
David, as well as labouring over the hanging of every sheet of ply — grains matched, and every single nail lined up — ensured sound insulation.
The rest of the woolshed remains uninsulated and gets extremely cold.
We don't spend a lot of time out there over winter, but for the rest of the year we open all the sliding doors and it becomes one big living, dining, games room.
It's like a tent, providing shelter from the sun, wind and rain.
It's a great big happy indoor/outdoor space — a party waiting to happen, and it has given us more than a little design direction for our house.
David has started tinkering in other parts of the woolshed.
We have grand plans for how it could be used, and it will remain his folly for many years to come.
At Christmas a tree goes up (part of our wilding pine cull) that reaches 5m into the rimu rafters for the neighbourhood Christmas party and, as part of the annual Across the Bridge Bannockburn Arts Festival, the shed provides exhibition space for local artists.
It serves as David's architecture studio and the ideal space for my food photography.
Previous owner, photographer Tim Hawkins, who we asked to take these photos, used it for a lot of his work.
"There is such great light here," he says.
"I would get brides to stand under the skylights to pick up all the detailing of the dresses."
We like that the shed continues to be used for such events, and that at some stage we can move out for others to enjoy staying in it.
However, with a Covid-driven economic crisis looming, I think my sarcastic "yay" is becoming a more genuine one.
Maybe the expense of a house is not what we need right now and this simpler, woolshed life is what we came here for.
David has inadvertently created a comforting space for us to hunker down in against a pandemic.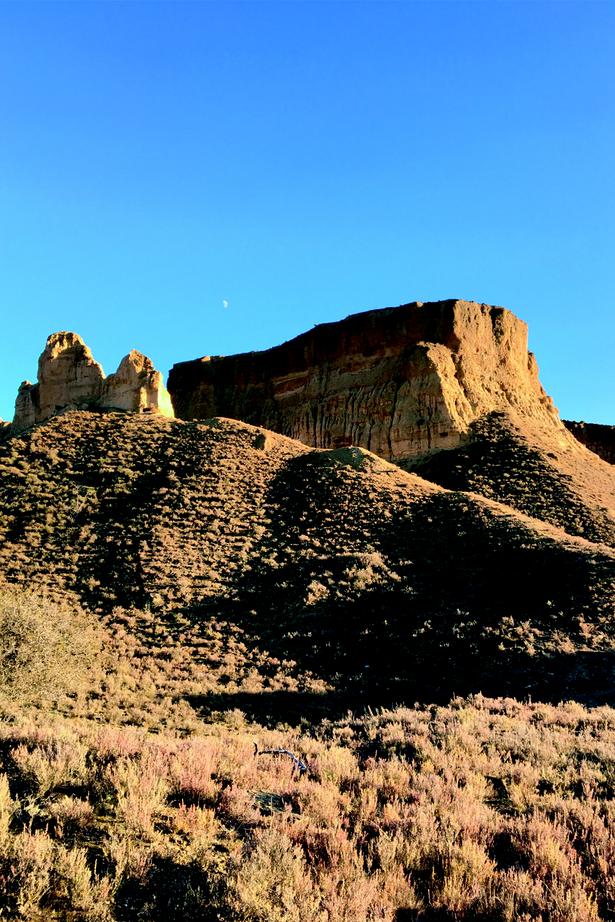 IN MY AREA
Food writer Jo Elwin highlights some must-sees near her new home in Bannockburn
• Bannockburn, halfway between Queenstown and W?naka through the Kawarau Gorge, is wine country. Home to New Zealand pinot noir pioneer Felton Road, and many other acclaimed pinots, its quality terroir also produces some of my favourite chardonnays and rieslings.
•An amble around the cellar doors of Mt Difficulty, Domain Road, Gate20two, Desert Heart, Akarua and Te Kano will give you dramatic views of the region's ranges, rivers and lakes.
•For lunch, head to the locals' favourite, Desert Heart, where owners Jane and Denny will set you up with a table on the lawn to while away the afternoon grazing on one of their generous platters. Proper sit-down lunches are served at Carrick and Mt Difficulty.
•Stretch the legs with a walk up the sluicings where gold mining has reduced the landscape to a desert of cliffs, pinnacles and deep gullies that will transport you to the Wild West. Or hit the new cycle trail, which will eventually take you along the Clutha River to Clyde.
• The Bannockburn Hotel takes its wine as seriously as the vineyards surrounding it. Owners Anna and Andy have shaped the historic "pub" into a restaurant and bar with modern tapas and shared plates that give this local a global flavour.
Share this:
More At Home / Features & Profiles