An inside look at luxury lodges
Renowned for her elegant interiors in some of New Zealand's leading lodges, designer Virginia Fisher shares how her aesthetic has evolved.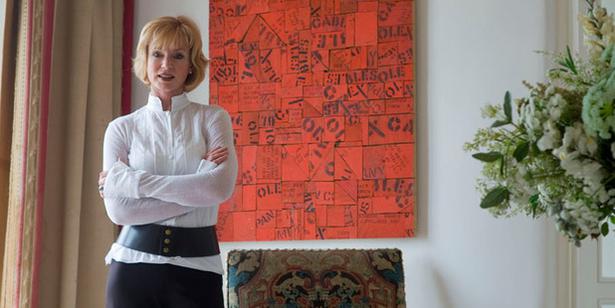 Friday Aug. 2, 2013
New Zealanders love the natural beauty of timber, and interior designer Virginia Fisher has had more disagreements than she cares to remember over her suggestions to paint ceiling beams.
The first, more than 30 years ago, was with the architect commissioned to update the original Huka Lodge. After one such set-to, he disparagingly called her "a Pakuranga housewife".
"I was young, full of hubris and completely confident because I had no idea what could go wrong," recalls Fisher.
Many international awards later, the significance of her input is unquestionable. Fisher has become known as the "lodge designer". Name an upmarket retreat the length and breadth of New Zealand and she will have added her signature to the style sheet. Yet she is reticent about being interviewed and finds it difficult to pinpoint the reasons behind her achievements. "I just make it up as I go along," she insists. Yeah, right.
Dig a little deeper and you'll unearth some clues to her success. Although she was born in Auckland, Fisher spent her formative years in Fiji where her father, Terry, was an engineer. "I'd watch while he drew plans so I saw how they worked."
When she turned 7, the family returned to New Zealand. Money was tight so Fisher and her brother and sister were roped into decorating their Browns Bay home. "We were part of the team, the type of kids who knew how to back a trailer."
Her mother, Zoe, was a creative dynamo - the dux of her school. "She taught herself about silver and glass and had a fabulous eye," recalls Fisher. She'd smoke and eat chocolate while they wallpapered because the experience was so nerve-racking. They couldn't afford to get it wrong. A spirit of adventure infused her decor skills. "I was 10 when my mother transformed the living room with silver car paint."
Even though the young Virginia would manhandle wardrobes and beds around her room as she re-fashioned it, she never considered interior design as a career. She trained as a primary school teacher then, at 21, headed for London where she sold toys in Harrods. "Those were the days when you couldn't go wrong," she says. "I made a fortune." Tours of Europe followed. "At that age, you don't appreciate what you are looking at. I was never overawed by the architecture."
Back in Auckland, she worked for Revlon for a spell, then negotiated a job at Cherrywood Furnishings where the owners, Joan and Peter Roberts, instructed her in the nuts and bolts of the business.
"It's hard to teach an eye but there's so much dreary background stuff in design that is essential, too." Friday lunchtimes at Clichy Restaurant across the road were equally an education. "I sold an awful lot more on the shop floor on Friday afternoons," smiles Fisher.
When Virginia married Stephen Fisher, a businessman and keen yachtsman, and they had their son, Benjamin, she settled into motherhood and began decorating their home in - yes - Pakuranga. It was a French farmhouse, so "frightfully fashionable at the time", built of pink brick with grey shakes on the roof, set on 16ha in the country. This was her chance to put into practice the "opinionated advice" she'd given customers at Cherrywood. "I made my own curtains. They were calico with black-and-tan insets, complicated but affordable." She painted the beams blue.
Although she took on a few small design jobs for friends, Fisher dreamed of creating the perfect hotel bedroom. A major trip with Stephen and Ben had highlighted the flaws faced by travellers. "It seemed a surprise that guests arrived with luggage," she laughs. Three sets of bags turned elegant rooms into an instant war zone. "We'd be grovelling on the floor, tripping over everything, with my stockings hanging out of the suitcase."
So, in the early 80s, when a mutual friend introduced Fisher to Huka Lodge owner Alex van Heeren, it was a match made in heaven. "We were both really clear that we wanted the design to be from the guest's point of view. It had to be like arriving home."
At the time, Huka was a Fibrolite bach with black battens and an orange shag-pile carpet. "There were mumsy floral couches, heavy, ugly billiard tables and a carpark in front of the view."
Fisher has never been a designer who just "colours things in". She set about putting forward her ideas for making the most of the magical surroundings. Since Huka was ostensibly a fishing lodge, she took her cue from its Scottish counterparts. In the main lodge, she used tartan on couches and rugs and the walls were panelled and painted deep blue. The floors were black and the beams, after much debate, painted dark green. But her influence went beyond paint and paper. Above all, Fisher was instrumental in getting the carpark replaced with that much-photographed sweep of lawn that leads from the dining room to the river.
And the bedrooms? Naturally they were redesigned, with smaller bathrooms and the addition of a dressing room to take the luggage out of the living zone.
Fisher went on to bring her smart thinking to Alex van Heeren's other two properties (Dolphin Island in Fiji and Grande Provence in South Africa) but her work is also found at, among others, Millbrook, Wharekauhau, Kauri Cliffs and Eichardt's. Stylistically, she is prompted by the history of the properties she works on. At Millbrook, she chose wheaten colours to reflect that the estate was once a wheat farm. At Eichardt's she used Victorian references from the lakefront hotel's past: stamped steel ceilings, but with a pared-down pattern, and lots of luscious velvet. And because former proprietor Albert Eichardt was Austrian, they employed a symbol of the Franco-Austrian war, the eagle, on some cushions. "I'm not sure guests always connect with these touches but, for us, they have meaning."
Hers is a brave approach that she must adapt time and again. "People say they recognise my style but I don't feel I specifically have one."
She credits her father for her instinctive understanding of how space works. "I watched him draw up so many plans. I can visualise them and I have a feel for light, sun and balance." Although she shuns design "rules", there are several principles she adheres to.
Like not being "greedy" with a view. "It needs focusing and framing or else you end up in a box where you don't feel comforted." This primeval need to be held, cosseted by a space, is a key philosophy. "Even if you're on a beach a kilometre long, you will seek out a sand dune or a log you can back yourself into," she explains.
Fisher excels at bringing a sense of intimacy to rooms. Among other strategies, she uses furniture placement to do this. "I'd never have a couch without something behind it," she remarks. "It makes you feel too vulnerable." And she's the high queen of texture. She likes alcoves, recesses and depth. She favours ceilings with negative and positive detail, stepped fireplace surrounds, panelled or planked walls. And stuff: layers and layers of it.
"A lot of houses these days are so barren, as if they have no history behind them or the owners have never been anywhere."
In Herne Bay, in the Simon Carnachan-designed home the Fishers have lived in for 20 years, she's gathered an eye-pleasing array of keepsakes. Far from cluttered, the spaces look cohesive, full of interest and welcoming. "I can't help but collect things but I'm a bit of a control freak," she admits. By which she means that all those objects in each room are pretty much chosen to a colour theme. It's a simple ploy but one that works, she argues. It lends focus and reason to your purchases.
Today, in one corner of the living room with its baby grand piano, fabric samples, cushions and throws are strewn on the terracotta tile floor. Fisher is putting together a silver-grey and white palette for the update to the Matakauri Lodge in Queenstown. One challenge when designing for lodges is that she needs to form a fully complete look in her head - to a deadline. She may be used to bigger budgets than most, but her practical roots run deep. "If you go for an affordable fabric on the couch, you can splurge on the cushions - even if that more expensive fabric is only on the cushion front," she reasons.
One of the latest additions to the side table in the family dining and kitchen area in Herne Bay is an impressive coffee table book entitled Worlds Apart: The Huka Retreats. It's a photographic manifesto of 30 years of work. For a girl who had no specific ambition to rise to the top of her game, as Fisher points out, it's "not a bad CV". 
COUNTRY LIVING 
Huka Lodge hosts a Lifestyle Weekend this Friday and Saturday. Along with the Lodge's exquisite meals and luxurious surroundings, you will be able to choose from a complimentary range of activities with top presenters in their specific fields such as the art of packing with Louis Vuitton and trout fishing/golf and wine with John Hawkesby. It begins on Friday evening with drinks and canapes, followed by a five-course dinner. See more at hukalodge.co.nz.
Share this: