Angela Williams' Drastic Change From Luxury Fashion
Angela Williams gave up her luxury fashion job to run her family's rural Wairarapa homestead. She shares how she's found fulfilment on the farm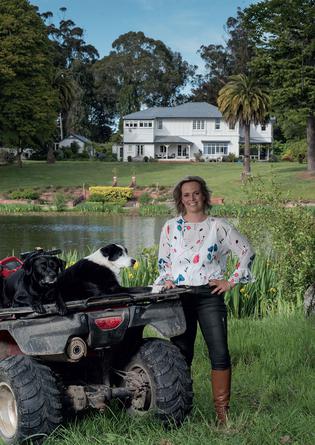 Angela Williams lived an enviable life: the lock up and leave in Grey Lynn, the impromptu weekends away up north or to the mountain to go skiing. As marketing manager of Louis Vuitton, she was no stranger to a decadent party. She loved the energy of the city, the hot new eateries, the opportunities to wear her LV heels.
All of which makes it surprising that she should up sticks and move to Wairarapa to run a huge, rambling 1905 homestead on 100 acres of farmland.
Now, instead of hobnobbing with the fashion set, she's more likely to be found hanging out with the horses in her gumboots, the occasional bout of online shopping quenching her fashion thirst.
"I was really enjoying Auckland but I needed a new challenge," she says of the story behind her new book, High Street to Homestead. When her parents went into retirement years ago, she and her detective husband Simon took over the running of the historic Te Parae homestead, a large heritage home where she grew up.
"I went overseas when I was 18, and I didn't really appreciate this place. Fifteen years later, I thought, hang on, there's quite a bit of history at home."
The property has remained in the Williams family since it began in 1857. Te Parae was originally part of the Beetham-owned Brancepeth Station with farmland totalling 70,000 acres. Later, it became a 5000-acre sheep and cattle station, a reputable horse stud, and a deer farm. Her great-grandmother was a national champion golfer, who refused to give up her golfing career just because she was building the homestead, creating the huge gardens, and starting a family.
Williams' grandmother founded the Te Parae thoroughbred stud, regarded as the leading stud in the Wairarapa.
With her brothers unable to take on the financial commitment and hardship of the homestead, it fell to Williams and her husband to take it over from their parents, who'd worked on it for nearly 50 years. Soon she was back in the old house that reminded her of her carefree childhood spent swimming in the property's huge lake, paddling around in old canoes, and playing cricket upstairs in the hallway with her three brothers.
But there's no time to sit around and reflect. Williams is continuing to breed horses and has developed Te Parae into an exclusive function venue hosting weddings, lunches, and celebratory and charity events. The difficulty, she says, is finding the balance between preserving the homestead for the next generation, while running a business.
"You want people to enjoy the homestead but I don't want it to be overused or overexposed."
The other big challenge?
"The cold. It's not the easiest house to heat."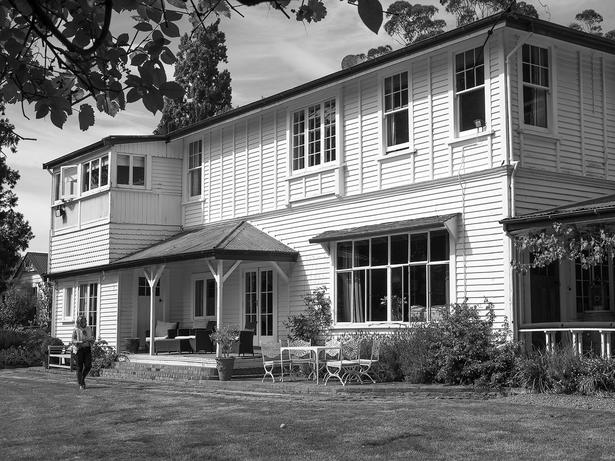 Thankfully, there's no time to be lonely. At 11am on a Tuesday, Williams has already checked on the mares and foals, fed the doves and pigeons, the pigs, piglets and chooks, and collected the eggs. Now she's in the middle of making japonica jelly and quince paste, making the most of the autumn harvest.
In an hour or so she has two new mares and foals arriving, so she'll need to be around to unload the horses. There was a 5.2 quake this morning, so at some stage she'll need to check over the large wooden homestead for cracks. If there's time later today, she'll do some online decor research — before the next wedding season kicks in the plan is to renovate the bedrooms.
Soon she'll start weaning the foals away from the mares, teaching them to be led and have their feet handled. On Thursday she's putting on a luncheon for 30 people.
"People have this perception that if you own a homestead, you walk around like the lord and lady of the manor, and it's not that concept at all," she says, gazing out from her heavy oak desk, through French doors to the front lawn and lake, as the greyhound – one of her dogs – dozes on the sofa.
Back in her old life, about now, she'd probably be on a conference call to Australia, following a staff meeting or chat with the GM.
Passion, a willingness to work hard and a sense of strength are the keys to making this lifestyle work, she says. And if the computer crashes, it's up to her to fix it.
"I'm surprised how much I've had to diversify my skillsets and how much I have to front up and take responsibility for the business side of things. You have to make tough decisions, even in the horse world, it's a difficult industry to make a buck. I'm constantly re-evaluating."
What she finds fulfilling these days are often the simplest things: noticing the newly fixed fences are nice and straight. Working with her brothers' families on the gardens. "I also have those doubts — 'God, what have I done?' But I've got a lot more to give to this place and to get out of this place as well."
What advice does she have for others looking to embark on a meaningful new life away from the rat race? "My first instinct would be to tell them to run," she laughs. "No, go into it with an open mind and if you have an inkling you want to change your career or your environment, do it. You can easily go back if you want to. Just take that leap of faith and absolutely go for it."
• High Street to Homestead by Angela Williams, $40, published by Penguin Random House NZ is out now.
Share this: