Favourite Things: Anna Murray of Laing Home
The founder of a luxury sleepwear brand shares a few of her own simple pleasures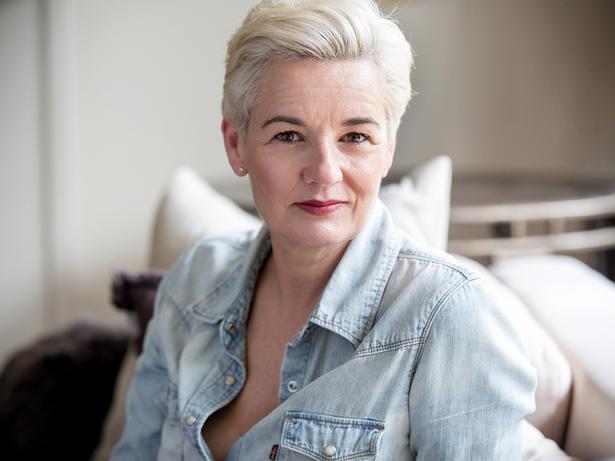 Sunday Jan. 28, 2018
For Anna Murray, one of the best things about summer holidays is not following the clock — "eating breakfast at 10 or dinner when the boys get back from fishing at sunset".
The founder of local luxury sleep and loungewear brand Laing Home had plans to do as little as possible this summer, heading to her family's regular spot at Whangapoua on the Coromandel peninsula.
Since launching Laing Home in 2016 — following a career in marketing and advertising — Anna has established the brand as a local go-to for simple luxury, with classic french-seamed and piped pyjama sets made from fine cotton, chic silk nightgowns, cashmere T-shirts and robes made for lounging.
Anna has lived in the same light-filled, quiet and private Remuera house for 12 years, with its various zones for reading, lounging, watching and listening. Her at-home aesthetic reflects that of her brand too.
GALLERY: What to Wear When it's So Hot You Can't Sleep
"It's understated and classical, but then we have some interesting pieces of art and furniture from different eras all mixed together," she says.
"I take cues from that in Laing's design and colours — styles that are classic enough not to age, but they are influenced by, say, men's 1950s PJs or a simple women's chemise from the 30s or a bit of 70s style in collarless tops. But, like our house, it must all be comfortable."
MY FAVOURITE THINGS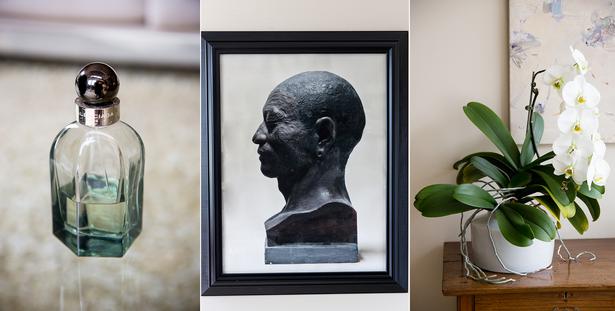 Balenciaga Paris perfume; Portrait of Matoua Towai by Fiona Pardington; Phalaenopsis (moth) orchids. Pictures / Babiche Martens
1. Balenciaga Paris perfume
I started wearing this perfume about eight years ago and it has become my absolute favourite. I love the simplicity of the bottle and how it is feminine without being girly and is a little understated. The scent has a bit of violet, pepper and some cedar to it, so it's a little bit spicy but also really fresh. Whenever I use it, I feel like my outfit is complete.
2. Portrait of Matoua Towai by Fiona Pardington
When I saw this piece of art in Nadene Milne Gallery in Queenstown, it captivated me. It took us 18 months to finally purchase it. The proudness of this Maori chief was captured via a cast and mould process by a phrenologist who travelled with the French explorer, Dumont d'Urville, in the 1830s. Pardington photographed the casts from this expedition in the late 2000s. Through reading about this series of photographs, I have learnt more about Maori culture and this part of our history than I did in my years at school.
3. Phalaenopsis (moth) orchids
The day you come into my house and there is not a flowering moth orchid — you will know I no longer live there! For some reason, they love my house and just keep growing and flowering (prior to this house it was a three-monthly trip to the local plant shop). They even have names — Jolene (yes, after the Dolly Parton song) and Margaret are my two current ones, that have been flowering non-stop for about two years.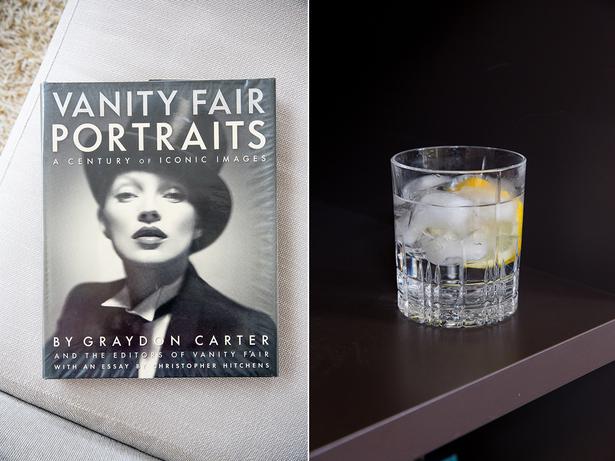 4. Vanity Fair Portraits by Graydon Carter
This book is so well read, the spine is going and the binding coming undone! It has the best portraits that Vanity Fair have run in the magazine for the last 95 years. The talent of photographers in capturing a person's true personality is amazing. Part history, part fashion.
5. Perfect serve old-fashioned glasses
Lately, I have been indulging in creating myself the perfect gin and tonic at the end of the day. There is something ritualistic about getting out a beautiful cut crystal tumbler, pouring just the right amount of gin and running the lemon around the rim of the glass — oh, and adding a bit of tonic, of course. Delicious.
Share this: