Antonia Lapwood is Heading to the Venice Architecture Biennale
There's plenty yet to explore for architect Antonia Lapwood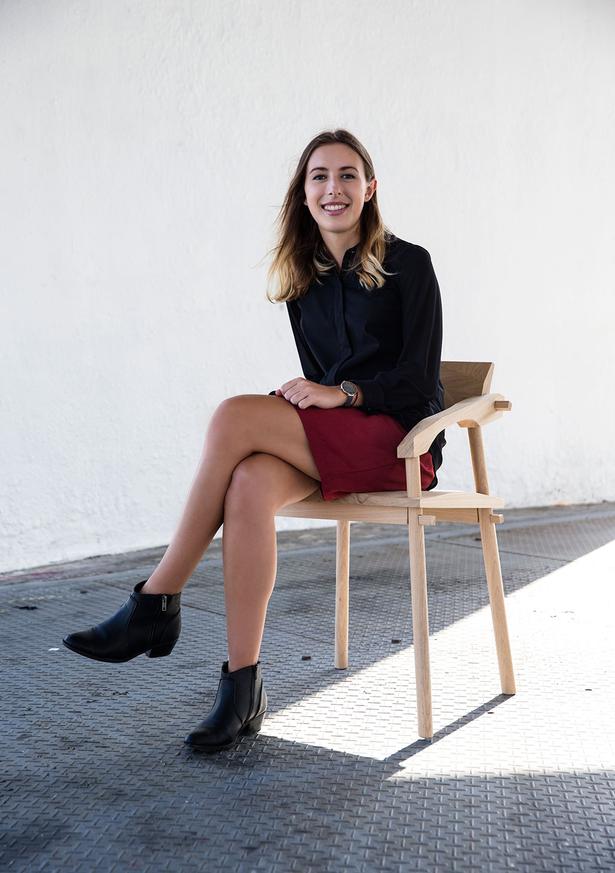 Thursday Feb. 25, 2016
Sometime during her first year within the visualisation team at architectural practice Warren and Mahoney, it dawned on Antonia Lapwood that the process of 3D modelling for rendered images of projects was not too far removed from that employed on The Sims, a life-simulation computer game she played as an 11 year old. "I loved designing the houses in that game," she recalls. "My job is more 'grown-up' and practical now, but every so often I step back and see how lucky I am to have come full circle doing what I enjoyed as a child."
The 24-year-old has recently been awarded a scholarship to attend the Venice Architecture Biennale which opens in May. The event was established in 1980 and is known colloquially as "the Olympics of architecture". Lapwood's particular interest is in the overlap of art and architecture and she will use her time volunteering at the New Zealand pavilion to explore how the digital age is changing the experience of the Biennale.
Unlike the bulk of her generation, Lapwood has taken tentative steps into social media territory. "Social media can often venture into narcissism — people don't need to know that you've brushed your teeth!" Its addictive nature also makes it tempting to retweet and share everything.
While she acknowledges applications such as Twitter, Tumblr and Instagram have a role to play in challenging the lack of communication between architects and the public, she is wary of architectural ideas becoming diluted into visual icons. "As I begin using social media for an architectural purpose, I want to explain the ideas behind an image, and to share something that contributes meaningfully."
In her research for the trip, Lapwood came across the opinion of New York-based architectural critic Alexandra Lange who, in an article for Dezeen, wrote: "social media can do more for architecture and design than showcase pretty faces and soundbites." It's why she sees this as a significant responsibility. "In 50 years' time, what we post will form part of our architectural history."
Turning a building concept into a graphic depiction prior to it being physically constructed has taught this architectural graduate to step outside her own perspective. "Architects often appreciate a rendering differently to the public — although we think stormy skies and concrete look great, it can terrify everyone else."
Now that she is transitioning out of visualisation into a design team at Warren and Mahoney, she's assisting with the proposed redevelopment of Tauranga Civic centre. "In recent times, it has been in Mount Maunganui's shadow, so to be part of a team that is creating a much-needed revitalised civic heart is exciting."
While Lapwood is being exposed to broad-brush concepts such as the establishment of iconic landmark buildings, a high-quality civic space and connecting Tauranga to the water (overlaid with the realities of economic considerations), many of her social contemporaries are simply enjoying what the flourishing Auckland scene has to offer. "You can sense the liveliness of a city that is about to become bigger and better," she says.
Such burgeoning growth, however, comes with a downside — the cost of entering the local housing market. Lapwood, who stepped into her role at the company just one week after completing her degree, has never been one to accept such limitations. "I very soon realised that no matter how much I saved, at this stage I wouldn't be able to buy in Auckland." So she turned her sights on Hamilton, did her research, contacted dozens of real estate agents, and approached the banks.
After several knock-backs for finance — "my numbers were very stretched, lending was getting tighter and some thought I was a 23-year-old girl wasting their time" — a loan was approved. Lapwood is now a landlord. The basic three-bedroom fibre-cement house she bought was rented out without delay. "I got in by the skin of my teeth," she remarks. "I had a few sleepless nights over the risk I was taking and, in hindsight, I didn't really know what I was doing… But I had to trust my gut and have confidence in my ability to make it work."
Self-assuredness in an industry still dominated by males is essential. About 90 per cent of the people Lapwood works with are male. "Don't get me wrong, they are great, but it was a definite shift, going from university to the working environment." Although 60 per cent of first-year architecture students are women, the rigours of the profession seem to take a toll.
Groups such as Architecture + Women have been formed to encourage and support those who are committed to pursuing this career, while fellow graduate at Warren and Mahoney, Victoria Streeter, is involved in an ongoing project to ensure more of our female architects are recognised on Wikipedia. "There are only two listed at the moment," says Lapwood.
Work life aside, this young go-getter is determined to keep faith with her New Year's resolutions to return to sketching, painting and furniture making in her spare time. In the fourth year of her degree, she hand-moulded a chair made from American ash using techniques that melded the aesthetics of Japanese origami and mid-century Danish design. In between visiting her favourite artful space — the Te Uru Waitakere Contemporary Gallery by architects Mitchell & Stout — and going on walks to the caves at Whatipu, she's already got the power tools to make a start on her next project.
Venice is just around the corner but there's still plenty to explore right on the doorstep.
Share this:
More At Home / Architecture