Favourite Things: Architect Daniel Marshall
Architect Daniel Marshall creates unique and considered houses from Waiheke to Christchurch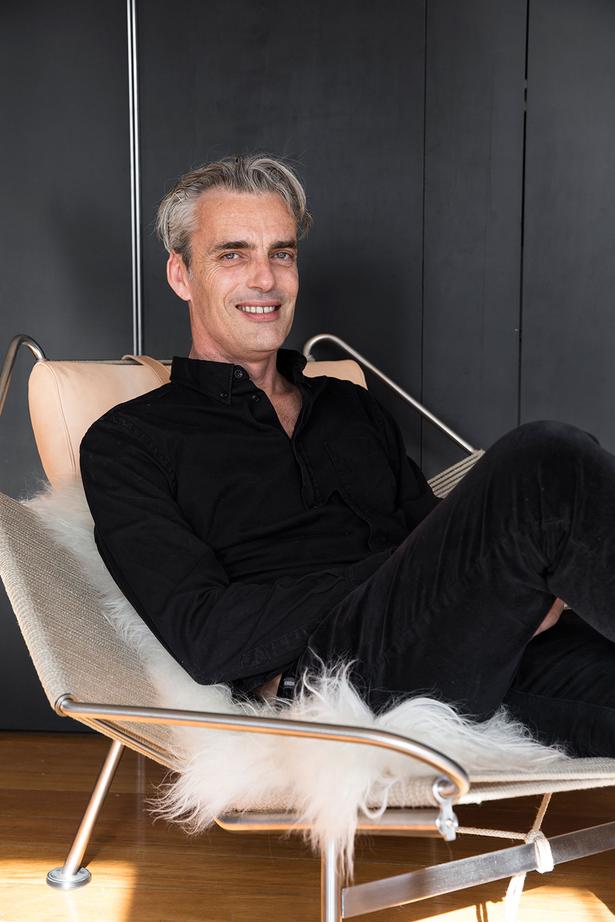 Thursday Sept. 24, 2015
"We all inherently know bad design and it offends the soul," says architect Daniel Marshall. He's referring to what he calls Auckland's ugly, cheap apartment buildings. "The lack of consideration of design, cheap construction, and ignoring the context results not only in a marginalised existence and isolation from community for the residents, but also negatively impacts all the residents of the city.
"As a contrast, the residential development created by the council in Freemans Bay in the 1960s was extremely considered design-wise as well as socially conscious. The buildings are of a sensitive, human scale and acknowledge the surrounding environment so by nature encourage interaction, adapt to changing social structures and have relatively long life cycles."
As a child, Daniel was obsessed with stationery and played with Lego for hours, so it was a natural progression for him to study architecture at Auckland University. After travelling the world, he settled back in New Zealand and opened his own practice, which started as a drawing board and fax machine in the corner of a room and has grown to an office of six
staff with a handful of awards on the shelves.
The team works mainly on residential projects around the country, as well the company's first overseas commission — a house in Devon, England.
"The clients had visited one of the first houses I designed and loved it and contacted me many years later when they had bought a site. It is challenging to work on a project from such a distance but technology really helps so we can clearly express our ideas to the clients."
Although Daniel has used his talents for other people's homes, he hasn't designed a house for himself, choosing to live in a heritage protected villa in Grey Lynn. "You would be surprised how many architects live in villas."

MY FAVOURITE THINGS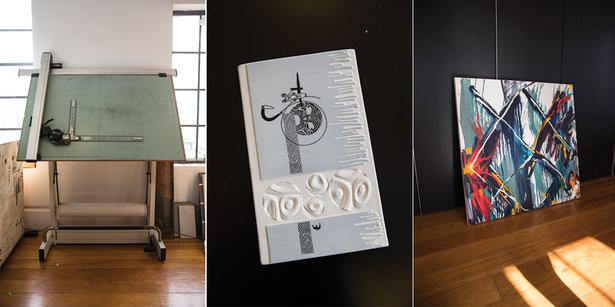 Mutoh Drawing Machine with Bieffe stand; Crown Lynn: The Legend of Maui — Sushi Plate; Allen Maddox painting 1997. Picture / Guy Coombes.
1. Mutoh Drawing Machine with Bieffe stand
I bought this over 20 years ago, when we used to do all the working drawings by hand. It was tedious but in some ways very meditative. There is a wonderful book by Juhani Pallasmaa called The Thinking Hand where the idea is that experience is internalised and embodied rather than understood and remembered intellectually. I still use the drawing board for initial conceptual drawings and I am constantly surprised how ideas shift towards a design solution almost without conscious thought.
2. Crown Lynn: The Legend of Maui — Sushi Plate
I saw this plate, designed by Dave Jenkin for the New Zealand Exhibition at the Japan Expo 1970, in Chris Cherry's [of Workshop] offices and secretly coveted it. I finally got the opportunity to buy one and snapped it up. I think this was a glorious period of New Zealand design, partly due to our economic and geographic isolation. It was a time when we reached out hungrily to overseas culture, while maintaining our uniqueness of place.
3. Allen Maddox painting 1997
My mother, once an art teacher in Hawkes Bay, gave me this piece. I met Allen a few times when I went to school there and my art teacher related stories of Allen's wild exploits. I guess he worked in isolation in many ways, and was New Zealand's key abstract expressionist. Like Jackson Pollock, the father of abstract expressionism, he was troubled and an alcoholic, but the violent energy of the painting really invigorates me. It has a wonderful spatial quality, too.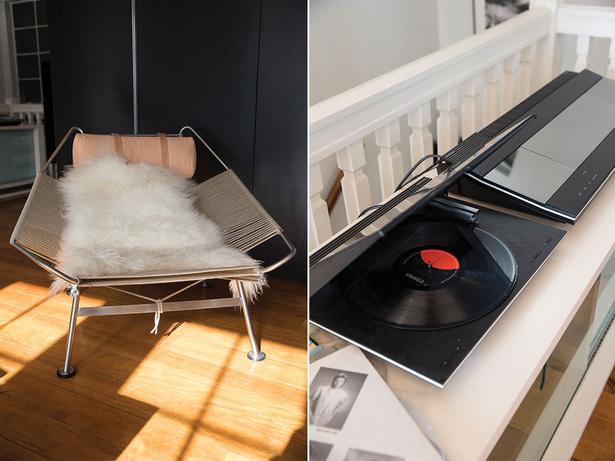 4. Flag Halyard Chair 1950 Hans J. Wegner
I got this from Cult, who are the agents for PP Mobler, the manufacturers of this fantastic piece of Danish design by arguably the greatest chair designer ever. It is a bold modern design. The genesis of the idea happened when Wegner dug himself a seat in the sand while on holiday. The hollows in the sand he created formed the basis of the angles of the chair. It is a chair for relaxing in, reading a book in, or just curling up in and looking into space.
5. Bang & Olufsen BeoSound 9000
This was designed in 1996 by David Lewis for B&O and I think it represents a high point in industrial design. I bought it on eBay long before Trade Me existed, adding the matching turntable much later. I love the aesthetic and the quality of the sound — often equipment made by audiophiles seems almost deliberately ugly. We have the stereo in the office which provides lots of entertainment through the day with record choices. If we sell an old computer or something, we use the proceeds to buy more records. One evening when we were having a few drinks it was loud enough, and the choice of music was good enough, for the street walkers outside to be dancing to it.
Share this:
More At Home / Architecture