Favourite Things: Artist and Author Sheridan Keith
Sheridan Keith, owner of Blikfang Art and Antiques, shares a few of her precious things, some connected to her mother, artist June Black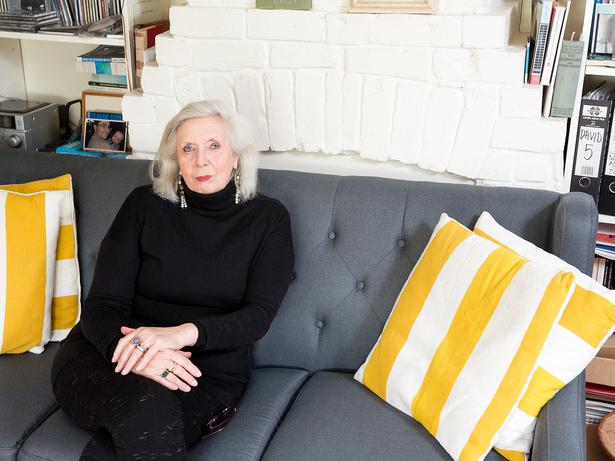 Sunday Aug. 13, 2017
Sheridan Keith is no stranger to the visually exciting. The artist and author owns Blikfang Art and Antiques, a treasure trove in Northcote named after the Danish word meaning ''a trap for the eye''.
The ''art-based home interior space'' is an intimate jumble of objects, paintings and antiques — worlds away from the often austere surroundings of galleries.
But for the collector of all things fascinating and mysterious, it is each object's story and memory that speaks to her most.
"There are two main areas of fascination for me in responding to objects," she explains. "The first is the object itself, how and why it was made, what is known or unknown about it. The second layer is what role the object has played in my life, how it has come to me, why I cherish it, where it sits in the landscape of my life.
"When I think about the five items I have chosen I realise that three of them relate to my mother in some way. Mothers have a powerful influence in our lives, and my mother, June Black, was particularly forceful, unusual and creative."
FAVOURITE THINGS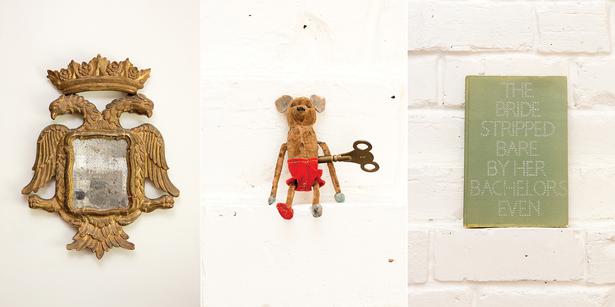 1. Small Russian giltwood mirror
This antique giltwood mirror is a slightly battered survivor of a very gracious world, and is probably from the Romanoff court. The symbol of a double-headed eagle goes back much further, far into antiquity, to the Hittites.
In Byzantine times it represented the link between east and west, with the left head standing for Constantinople, while the right head symbolised Rome. To my eyes, it is a very beautiful object, grand, but less pretentious than the highly gilded Regency variations.
The mirror has a degraded plate; through time the mercury layer has worn away leaving a surface that provides a silvery atmosphere, rather than a reflection. Mirrors always seem mysterious and magical. One day perhaps we will be able to access all the images of the people who have looked into them. Wouldn't that be amazing? I bought this mirror in London many years ago and it still fascinates me.
2. Arturo, an old clockwork mouse
I found this tiny clockwork mouse among a whole lot of junk in an old suitcase. I fell in love with him immediately, and named him Arturo, in memory of a long-lost love. His eyes have a special pleading quality, like some dogs who will do anything for your affection.
He had a key sticking out of his side, so obviously he was meant to do something, I imagined some sort of wobbly walk. It wasn't until he'd been my friend for quite some time that I actually wound him up, and put him on a table to see what would happen.
Unexpectedly, he does forward rolls! He really made me laugh. I made up a whole story about him and his exploits, and filmed a sequence (with the help of Tim Vickers) in which he attempts a tightrope walk.
3. The Bride Stripped Bare by Her Bachelors Even by Marcel Duchamp
The book, The Bride Stripped Bare by her Bachelors Even, is the English language text that accompanies French artist Marcel Duchamp's enigmatic work usually known as The Large Glass. It purports to be an explanatory text to unravel the work itself, which I saw in the Pompidou Centre in Paris many decades ago.
The book has a special meaning for me, as it is the witness of my mother's ruthlessness. She borrowed it from a friend, and refused to return it in spite of numerous requests. Needless to say, that was the end of a friendship. I retrieved it from her bookcase after her death and by chance met its original owner. I offered to return it now, some 50 years later, but he asked me to keep it.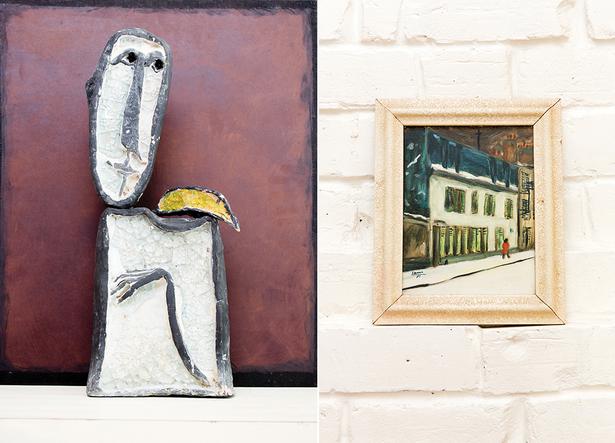 4. Dr Endedus, a ceramic sculpture by June Black c. 1950
The ceramic sculpture of Dr Endedus is a work my mother created in the 1950s, at the time of her exhibitions at Wellington's Architectural Centre Gallery.
Dr Endedus was a heroic character who would lead his team of mind explorers to find ''the fabulous idea''. While other potters were making bowls and vases, heavily influenced by the Japanese aesthetic, June pursued an original path using clay to form sculpture.
I remember her smashing Coca-Cola bottles in the garden that she would melt in the kiln to form the jewel-like areas. I sat with her when she nervously fired her kiln for the first time, a kiln she imported from Holland against the wishes of her husband, who considered her art a silly obsession she would soon tire of.
5. Painting by Sam Cairncross of a man walking on a snowy Paris street
This small oil painting by Sam Cairncross is of a snowy street in Paris. Cairncross is not a well-known artist in New Zealand. He was working as a porter at Wellington Hospital when he took up art at the age of 30.
At some point he must have lived in Paris as there are several oil paintings of Paris scenes and this is one. Mother had it by her bed. I love the mystery of the man in the long red jacket striding along the street. Where is he going? Is he off on an amatory adventure, or merely going home after work?
I love the composition of the work, the way the eye is led down the street by the angle of the pavement.
Share this:
More At Home / Features & Profiles