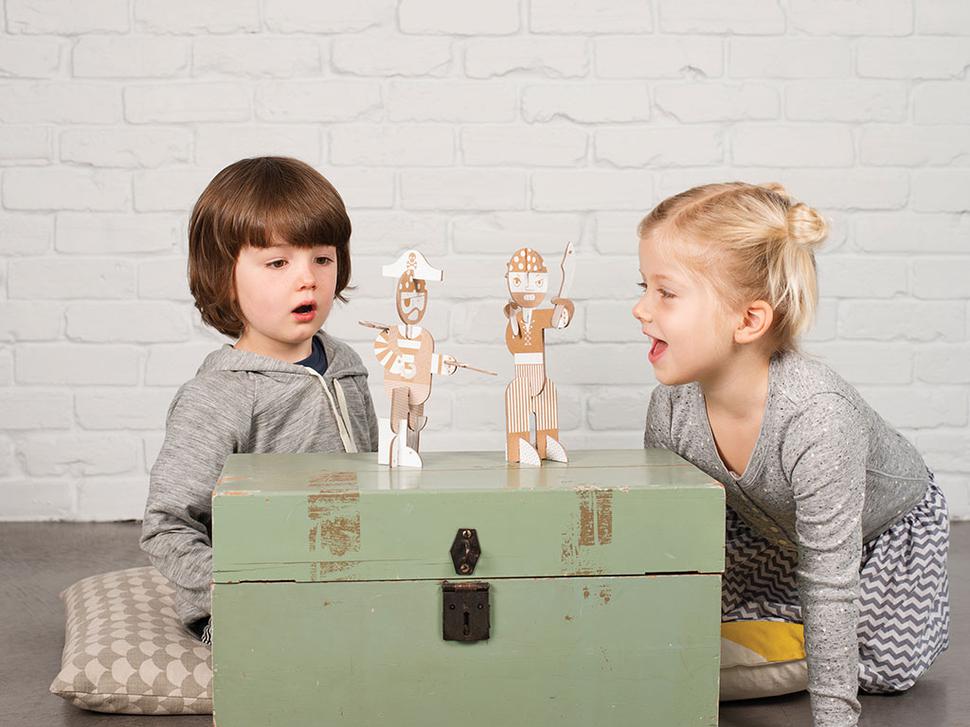 14 Decorative Delights for Kids' Rooms
From flat-pack DIY dolls to funky furniture, here are some gorgeous ideas for underage retreats
Wednesday July 29, 2015
Banish all thoughts of resale value and don't be too serious when doing up the bedrooms that belong to the youngest members of the household. Instead, give in to the life-affirming power of pure playfulness with these spirited ideas ...
1. Play centre
Graphic designer Sarah Gardner works from her Westmere studio creating a range of flat-pack toys that she sends all over the world. The idea came to her when she fashioned a play oven for her young daughters out of a regular cardboard box. "Friends liked it so much and asked me to make them one," says Gardner who now uses corrugated cardboard in toys she markets under the brand Flatout Frankie.
"It was important to me that the toys could end up anywhere in the house and not be an eyesore." Some of her latest designs include 'stack-up' dolls and pirates made from thick board. These are simplified, sculptural playmates with a few different ways to put the pieces together. "As a child, I loved paper dress-up dolls, but hated that the clothes kept falling off."
2. Painted playgrounds
Colour is the perfect complement to your child's innate desire to make their mark, so try not to fall into the ubiquitous choice of white. Interior designer Tomi Williams of Indigo Design lists some of her favourite tones as: Resene's 'Half New Denim Blue' (a grey-blue akin to washed slate), 'Sakura' (the palest, prettiest pink) and 'Spotlight' (a gleeful egg-yolk yellow).
3. Wall stories
Chalkboard paint allows free-spirited scallywags unrestrained access to the vertical surfaces of their domain, with no censure on their creativity. If you don't want to commit it to the entire room, consider defining a space such as wardrobe doors or a desk alcove in the paint, advises Williams. If you're renting, there's the option to hang a whimsical plywood chalkboard instead. Hudson Paint NZ has boards that can be custom painted in a range of 22 eco-friendly, New Zealand-made colours. Choose from shapes such as bunny rabbits, rhinos or hippos, rockets, tutus and whales.
4. Paper capers
In her 7-year-old son Luca's room, Williams channelled his favourite activity by using 'Line up' by Mr Perswall, from Paper Room. This wallpaper features photographic images of skateboards — a relevant interest now and one that will last well into Luca's early teens. Remember, wallpaper isn't just for use on walls, says Williams. Try it on the ceiling (especially if it's low and attic-like) or wardrobe doors.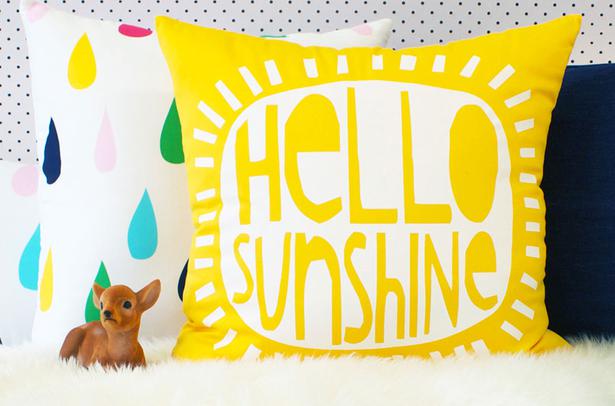 5. Dressed for dreams
Bed linen for adults is seriously stylish, but youngsters have their pick of the fantastical and fabulous. New from Thread Design are two collections that mix and match like a lolly scramble. Dots and drops are the feature elements. Hard-wearing black denim can be teamed with multi-coloured, over-sized raindrops on a white background. If you're passionate about polka dots, this pattern comes in yellow or navy; top up the sunny side with a graphic greeting on a cushion cover that says "Hello Sunshine".
6. Stick 'em up
Vinyl decals are an easier, quicker route to self-expression. Retro Robots in either blue or green, in the Living wall sticker collection (also from Paper Room) are a cute pair of mechanical mates who soup up the science-fiction factor.
7. Lofty slumbers
Forward-thinking parents know there'll come a time when study replaces sleepovers as numero uno on the priority list. That's when a loft bed comes into its own. In more compact bedrooms, the New York-style design of an elevated bunk, accessed via a ladder, is a space saver and helpfully leaves room on the floor for a desk for homework and study. See urbankids.co.nz for a sturdy, New Zealand-made version in pine.
8. Head to bed
It's an inescapable fact of nature — kids create clutter. So here's a novel way to keep some of it at bay. The Lean-to Rounded headboard, from Citta Design, doubles as a hanging rail. Use the steel-railed design either vertically or horizontally. Not only does it complete the end of the bed, but it provides handy storage and display options and the rounded corners mean no nasty knocks during pillow fights. Available in matte black or matte white. $499.
9. Fun footsteps
Texture and pattern (that can easily be moved and taken to a new home) can be added with a floor rug, even laid on top of a carpet, says interior designer Tomi Williams. The Junior Collection, from Ivy House, includes rugs and mats handwoven in either hemp or wool. Joyful designs such as spots, stripes, triangular bunting, gumballs and pinwheels in childlike colours lift the mood at ground level.
10. Downsize it
Mini-me translations of design classics bring style-wise functionality to proportions that suit the little folk. Case in point is the pint-sized version of the Acapulco Lounge chair from mocka.co.nz. The chair, originally crafted in that resort town in Mexico, was a popular statement piece in the 1950s. Inspired by the weaving technique of the Mayan hammock, it has colourful credentials and our favourite (and keeping on theme with our Thread Design choice above and the suggestion below) is the yellow version.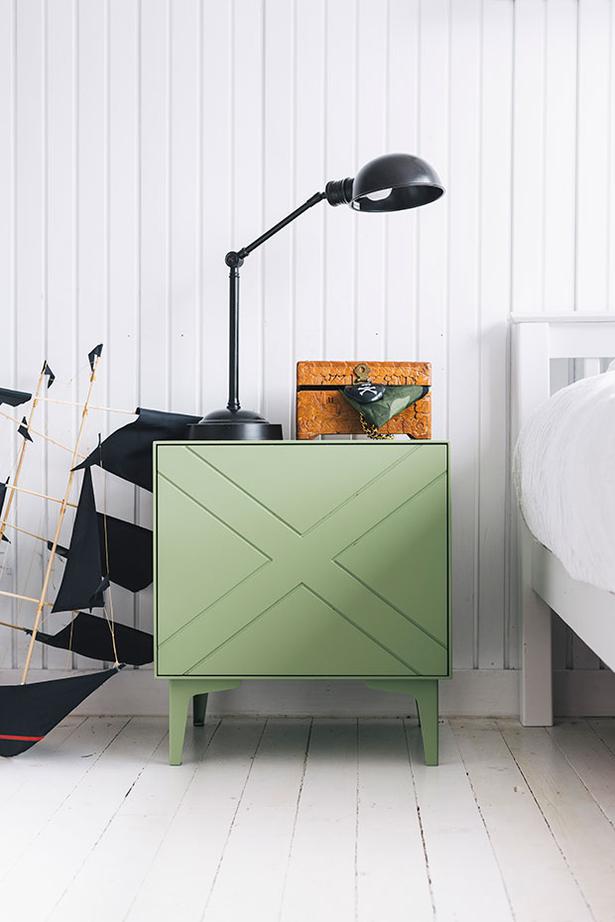 11. Bit on the side
Husband-and-wife team Julian Ward and Janice Kumar-Ward craft minimalist contemporary furniture (she designs, he manufactures). They are known for simplicity of structure, predominantly in white but ... times change. "Jules and I decided to show we don't just make white furniture!" says Janice. Their latest designs are 'X marks the spot' and 'Frills' side tables in their Little Wards children's range — examples of how colour and pattern can make otherwise utilitarian furniture fun and customisable.
These bedside tables are made from FSC-certified timber (so they're eco-conscious) and have no visible exterior seams. They can be lacquered in any shade from the Karen Walker for Resene palette (we covet the pretty peach) or come in oak veneer or laminated-ply finish. If you love the textural designs yourself, never fear. The bedsides are available in big kids' sizes too. See recipedesign.co.nz
12. Light fantastic
Remember to break away from a focus on homeware that has been designed especially for kids. We love the Kowhai lampshade, designed locally by Ron Crummer, for its affordable, handcrafted cheerfulness. Made from salvaged polypropylene carpet waste, it's eco-friendly and likely to have a lifespan that lasts beyond the toddler years.
It must be used with an energy efficient LED light — and is available from thecleverdesignstore.com. On the other hand, the cat-like Tail Light, from mocka.co.nz, is a fun piece clearly made with children in mind. It has a bendable tail and legs and can be used as a reading lamp or a night light. The soft design of the Tail Light makes it a safe option over ceramic or glass lamps.
13. Accessorise wise
A list of little extras that make a big impact — vintage canvas bunting (yes bunting is still on trend) at 2.16m long, $99, and a raspberry velvet heart cushion (to put the love in the picture), $59, both from French Country Collections; wooden Dropit Hooks by Normann Copenhagen, from Design Denmark, are a little bit of handcrafted happiness useful for hanging up coats and school bags ($60 for a set of two); Jelly Marys, glowing, translucent statuettes in cherry, blueberry, lemon and lime that, quite frankly, look good enough to eat. $89 each, from Urban Kids.
14. Kiwi contingent
Bring some indigenous inspiration to your sleeping stations with art that has a sense of place. The vintage-style Maori Doll prints collection by Wanaka-based artist Melissa Sharplin is a set of three illustrations where the dolls are each wearing different styles of traditional dress. $39 each from themarketnz.com
Share this: