Favourite Things: Courtney Johnston
The Dowse Art Museum's director is a firm believer in the principle that art opens up our minds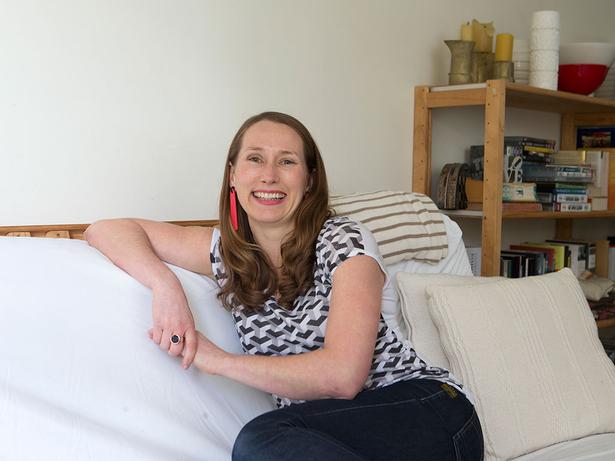 Wednesday July 15, 2015
In her first year of high school, Courtney Johnston was told she had no artistic talent. Despite that, the New Plymouth girl persisted with a career in the arts, going on to earn her Masters in Art History at Victoria University, becoming director of Dowse Art Museum in Lower Hutt and weekly arts correspondent for Radio New Zealand.
"I think I've fallen in love with the art world again and again at different stages of my life," she says. "I love the way that art opens you up to the study of the whole world. There's not a period of time, a culture, or an idea that you can't explore through visual art."
Although she has been at the Dowse for three years, Courtney considers herself lucky to work in her chosen field. "I love walking around the galleries and seeing people connecting with art and thinking 'I helped make that happen'."
Courtney's passion for art extends to her vast jewellery collection, which is the subject of a new contemporary jewellery event, Wundercollectors 1, at Masterworks Gallery in Auckland.
"My first piece of New Zealand jewellery was a simple, silver chain-link necklace by legendary jeweller Kobi Bosshard."
Courtney has now built an impressive collection of jewels, buying pieces from her heroes Alan Preston, Warwick Freeman and Karl Fritsch and others.
Away from art, she practises Brazilian jiu jitsu.
"I got my blue belt last year. I've never worked so hard for anything in my life," she says.
She encourages people to think of New Zealand artists when choosing their next gift or piece for their home. "We have such talented people in this country.
For really reasonable amounts you can give and enjoy things that were made by a real person and know that your hard-earned cash is making New Zealand art and design more sustainable and flourishing."
• Wundercollectors 1, Masterworks Gallery, 71 Upper Queen St, July 18, 4pm-6pm.

MY FAVOURITE THINGS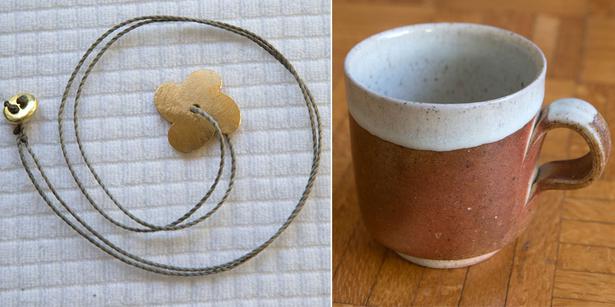 Gold Kobi Bosshard pendant; Paul Melser mugs. Picture / Mark Mitchell.
1. A gold Kobi Bosshard pendant
Kobi is one of my art heroes, and I'm lucky enough to own a number of his pieces, which I started collecting when I was at university. When my husband and I got married, Kobi made our wedding bands; when my husband passed away several years ago, I returned the rings to Kobi and he made me this pendant.
2. Paul Melser mugs
I think Loretta, the Cuba St restaurant that's just celebrated its first birthday, has been responsible for an awful lot of road trips to Wairarapa potter Paul Melser's studio and store, thanks to the beautiful tableware he's made for them. We use these mugs for coffee every day and every day I appreciate the subtle differences in the glazes and the warmth of the unglazed ceramic in my hand.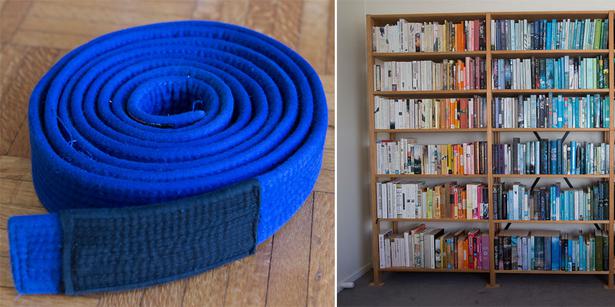 3. My blue belt (in Brazilian jiu jitsu)
It may not be a design object per se, but my blue belt is one of my proudest possessions. I started training in Brazilian jiu jitsu with Geoff Grant at GSW three years ago, and got my blue belt last year. I love getting to be part of two communities that are very special to me: the art world and my BJJ whanau.
4. My fiction bookshelves (organised by colour)
During a massive spring clean last year we decided to reorganise the fiction bookshelves by colour. It was the source of quite a few barneys and questions about each other's colour perception skills, but every day I enjoy the result. I've also become adept at hunting for books using my memory of cover design (Catch 22 — shorter than usual, silver spine, block letters).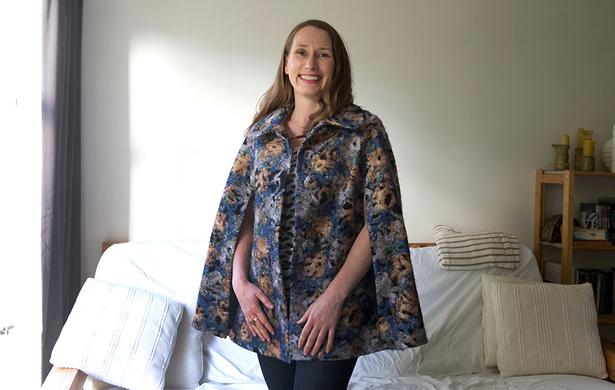 5. My World cloak
Working at The Dowse has really sharpened my sense of texture and colour, and this World cloak was something I just couldn't walk past this year. The customer service at World is also some of the most inspiring I know, and when I think about how they have thoughtfully built up my adventurousness in fashion, it has taught me so much about how the art world can build people's adventurousness with contemporary art.
Share this:
More At Home / Features & Profiles