Breathing new life into your home
Out of the way, taupe! The future is bright. Suzanne Dale speaks to the experts about fabric trends and how to breathe new life into your living areas for summer - and beyond.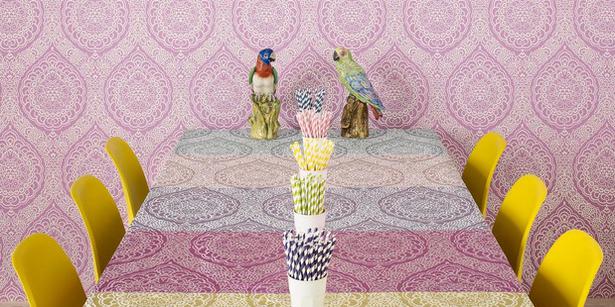 Thursday Aug. 22, 2013
"Interiors this season are about anything and everything bright," says Icon Textiles/ Designers Guild showroom manager Toni Baylis. "We are seeing lots of turquoise, cobalt, and blues and greens together." But, along with the blues, there are rich ochres and a rise in the popularity of fruity purple and red hues. And, as always, there are stripes. But now, Baylis adds, they are irregular and in fabrics such as silk taffeta.
"Dip dying is a really big trend, in curtaining and upholstery," she says. "It was here last season but not so strongly. Look for it in linens - in sheer and heavyweight fabrics."
Indeed linen is one of the fabrics du jour. Dayle Bygrave, managing director of Seneca Textiles, says it appears embroidered, printed and plain. "Soft pinks and violet/purples are popular colours, as are chartreuse or wasabi green. Our new Romo Black Edition, Mark Alexander, O&L and Elitis show these trends very well. We are also seeing fabrics with interesting finishes: glazed or made to look like leather."
Zoe Saville Wood, design co-ordinator for Unique Fabrics, says linen not only comes in a huge variety of looks, is durable and versatile, with beautiful drape for curtaining and strength for upholstery, but there has been an increase in the number of clients requesting environmentally friendly fabrics resulting in an increase in the number of mills producing them. "Many of our linens are popular for this reason as they are Eco-Linen and Oeko-Tex approved, meaning they use the least natural resources and energy to produce, and are 100 per cent biodegradable/recyclable. And we have some fabulous linen velvets, known as a 'summer velvet'. It's cool to the touch and has a gorgeous shabby matte look."
The perennial desire for texture and velvet's manufacture in a wide variety of prints and all manner of hues make it an all-year-rounder now, rather than just being a winter stalwart. "Velvet used with the pile running down for drapery gives a more contemporary look, and with the pile running up gives a lot more luxurious, opulent look," Bygrave says.
"Velvet used on the bed as a throw is very popular; as is velvet for upholstery [velvet upholstery always has the pile running down]."
And while colour remains a dominant force, Saville Wood says it's the combination of vibrant hues, bold prints and varying textures that is being used to create an eclectic, characterful look.
Bygrave: "Over the last couple of years we are seeing more prints. Prints in all forms . . . velvets, linens, cottons, wonderful laser prints that show a lot of detail."
"The most popular being floral and botanical prints, tribal and ethnic-inspired designs, geometric patterns and medallion designs," Saville Wood adds.
Florals, too, are on trend but blooms have been bumped up for a contemporary scale.
And then there's the monochrome scheme: still an up-to-date alternative to a riot of colour. Think greys and whites partnered with blacks.
UPHOLSTERY: MIX AND MATCH 
The couch just got way more interesting. "Sometimes three fabrics may be used to upholster a piece of furniture," says Baylis. "The back of the couch [pictured opposite, bottom left] has been upholstered in a velvet fabric that is cut and tie-dyed.
"The fabric for the chair seat is used again on the back of the couch, although you cannot see that here. Tricia Guild is very clever, in that she uses fabrics together that are not obvious partners. Contrasting and complementary colours and florals are used in a contemporary way."
Not only does this look fresh and new but it has other advantages: it's a cost-effective way of using a little of an expensive fabric, its price offset by the cheaper materials used.
Bygrave says detail is also very important now: "Contrast piping and buttons, bordered curtains, more trim is being used."
And because nothing this season is too prim or starchy, Rebecca Bowering, managing director of Atelier Textiles, is championing loose covers in linens, "especially those that have been prewashed such as our Irish linen brand, John England."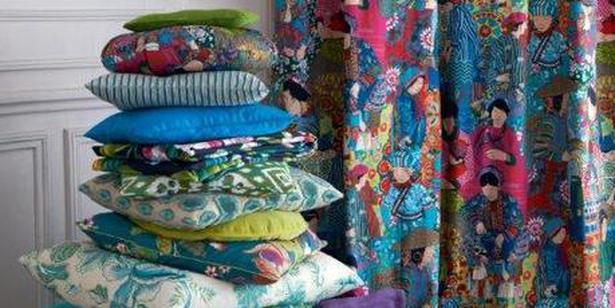 BRINGING IT HOME
Interior designer Sophie Beever from furniture and design store Cavit & Co explains how to work the trends.
"Texture, colour and bold patterns are used in combination to create dynamic interiors this year. Fabric choices are extensive and there are no longer fixed fast rules about how to apply them to a scheme. The fresh gelato colours of last year are still popular but we are also seeing a very strong presence of cobalt blue, with the real newcomer this year emerald green. The latter two are extremely prominent in the new furniture collections emerging from the US and Europe.
"Different textures naturally play with the light in a room, giving light and shade to a surface. In furniture we are seeing trends return to the use of natural materials. Wood with gold, brass or copper detailing to which a variety of textured fabrics can be applied to create an interesting and unique piece. A velvet cushion on a linen upholstered sofa adds immediate luxury to an otherwise earthy scheme.
"We are seeing a definite merge between furniture, art and interior finishes. There are some incredible prints around at the moment, good enough to frame and put on your wall. The same goes for current wall coverings, often printed to match the fabrics. The emerging trend to experiment a little means we end up with a functional, yet cosy and individual living space.
"An easy way of making numerous patterns work within a scheme is to choose one common colour and just vary the design. An existing scheme can quickly be updated by throwing in a pop of colour to an otherwise neutral palette. This can be as simple as a few new cushions, an armchair or ottoman."
THE WAY FORWARD
Kristine Allen, creative and marketing director for fabric distributor Textilia, compiled the following trend report from a visit in May to the trade-only textile fairs in Italy and Turkey where textile mills exhibit. We can expect to see these trends beginning or growing in strength in New Zealand soon.
Mood: Very relaxed and inviting, aged, distressed, rumpled and never precious. Natural, organic, soothing and calm. There's a confidence in colours.
Colours: New gelato pastels, especially for drapery - from the palest mint to pea green.
Strengthening: Emerald, soft coral, bright orange and spices, mustard, blues - from denim to cobalt to ink, blush pinks. Still strong: acid yellows, natural linens and greyed bases.
Pattern: Digital prints abound . . . mostly very bright and very busy. Watercolours in florals and stripes. Jungle prints are bright. Look for parrots, peacocks and butterflies. Expect naive small-to-medium prints. Tribal patterns are on the rise and there are Japanese influences too - think cranes and geometrics. Ikat prints are still very strong. There's a loose, blurred definition overall for distressed, aged and relaxed effects.
Weaves: Textured organic semi plains in linen and wool blends, slubbed linen and linen-blend drapery. Washed and tumbled/ basket finishes in upholstery and drapes. Plush velvets and chenilles in subtle organic patterns such as pebbles, skins and, for upholstery, scratched/etched patterns. Quilted constructions gain strength from last year in upholstery as are multi-coloured yarn combos.
TECHNOLOGICAL GAINS
Bowering says technological advances are made every year that allow designers to play with more possibilities. This year there are amazing finishes with mother-of-pearl printed on velvet, holographic effects and coated linens.
Ink jet printing has allowed for more colour but is less expensive than the traditional screen or roller printing techniques, she says.
"And as the world becomes more aware of sustainability issues, designers are working with products and countries to develop these local economies in morally responsible way."
"This spring Unique Fabrics will release an outdoor collection that uses Flyer yarn," Saville Wood says. "It is 100 per cent recyclable and allows for far better UV, water, mould and stain resistance, is anti-pill as well as being thermodynamic so is cooler in summer and warmer in winter."
Share this: