Favourite Things: Miss Changy
Cafe owner and ceramic artist Ruby White, aka Miss Changy, shares some of her favourite things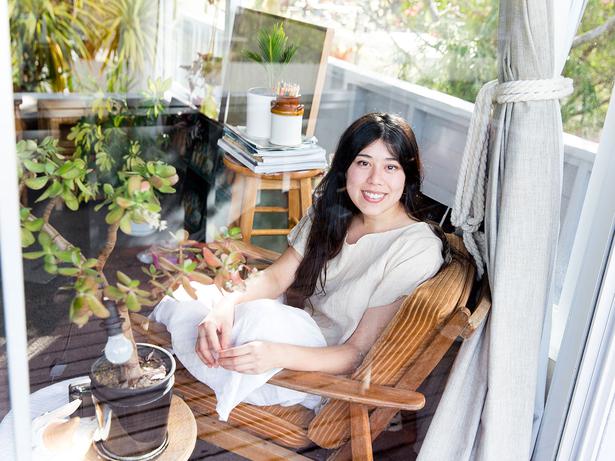 Saturday Nov. 25, 2017
Ruby White says her pop-up food project Miss Changy was "born out of procrastination and boredom" while she was studying fine arts at Elam.
"I started hosting small lunches and dinners at my house and it began to take over my life. I couldn't concentrate on traditional art-making any more and decided to bring eating and cooking into my art practice."
Once she graduated and was able to dedicate more time to it, the project grew. This year, Ruby opened her first permanent cafe Small Fry in Pakuranga's Te Tuhi art gallery, offering a menu of Chinese, Malaysian and Western influences that represents who she is, and the things she likes to eat.
"I had to take practical things into consideration, noodles are something I'd like to do at a later date, but sandwiches seemed like a simple, solid starting point."
Ruby says creating her own ceramics came as a by-product of her cooking, as her events became more popular and she needed more dishes for guests. She finds both mediums inspiring, and loves the process involved in each.
"How an ingredient transforms during cooking is like magic to me. It is the same when I am making ceramics, it blows my mind every time."
MY FAVOURITE THINGS
1. Wooden spoon by David Parker, Oratia Valley Workshop
I love this spoon so much. I use it to cook everything and sometimes just put it on my face because it feels so nice. David gave it to me during the renovation weeks at the cafe so it's a reminder of that stressful time, but also makes me feel very lucky that I have creative people in my life. There is nothing more valuable to me than something hand-crafted.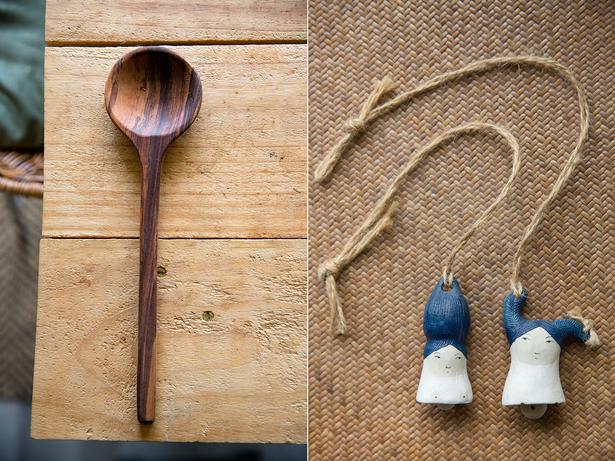 2. Nude blue-haired women, ceramic bells by Yen Yen Lo
These are by my aunty, a ceramic artist in Melbourne. She hand builds and paints the most gorgeous objects, it's so hard to pick a favourite from the things she makes.
These particular bells were some of her favourites and she didn't want to sell them to anyone, instead giving them to my mum and I, whom she knew would treasure them. They hang next to the bathroom mirror so I look at them every day. I'm drawn to their whimsical, playful charm.
3. My bookshelf
I've had this Ikea bookshelf since as far back as I can remember. It has travelled with me from homes in Melbourne to homes in Auckland. It's the type of design that you can space the shelves how you want, so it's had many iterations. I get a lot of satisfaction from reorganising my shelf.
It's become a shrine for all my little ornaments, books, jewellery and in some ways, it represents a way more perfect version of myself, haha. I recently rearranged everything to have at eye level books and objects that inspire me. Lucky Peach Chinatown was dead centre for a while, a particularly poignant issue for me.
There's a piece of driftwood I found at 90 Mile Beach last New Year's Eve that looks like an axolotl — these are the types of things I keep. I think these shelves will continue to move with me, they are a suitcase for all my hoarded treasures and memories.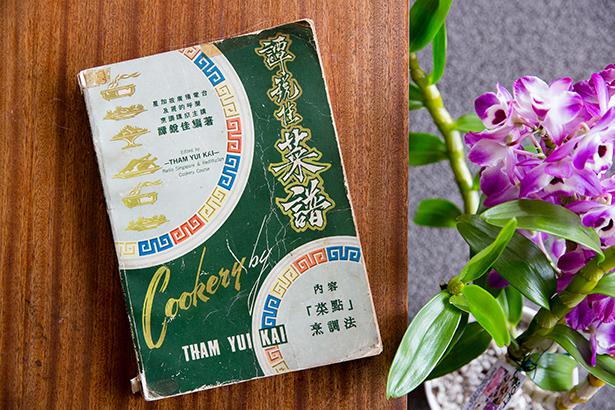 4. Cookery by Tham Yui Kai, 1975
An OG recipe book, given to me by my Gu Po (grand aunt). She is one the most important elders in our family and an incredible cook. This is one of the books she learnt from, so it was a true honour to receive this from her.
She doesn't speak a lot of English (and I don't speak Cantonese or Mandarin) so food and cooking is how we connect. The book is translated into both Chinese and (hilarious) English — there a lot of secrets hidden within its pages.
5. Antique enamel plates
I bought these from a very peculiar man in Taiping, Malaysia. The lychees are definitely my favourite. There's a truly unique vibe and aesthetic in Malaysia that you won't find anywhere else in Southeast Asia.
These plates take me back and are a beautiful symbol of where my maternal family are from. It's really hard to find original plates like these anymore so that makes them all the more special to me. I'd like to do something more with them one day.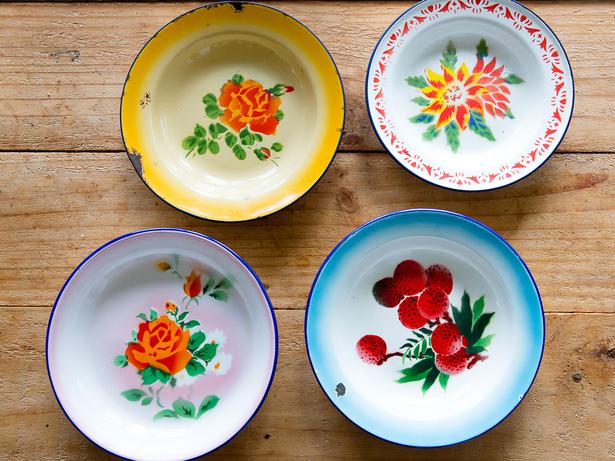 Share this:
More At Home / Features & Profiles