New Zealander Charlie McCormick's English Garden
Why preserving one of England's treasured institutions, the English garden, is a labour of love for Charlie McCormick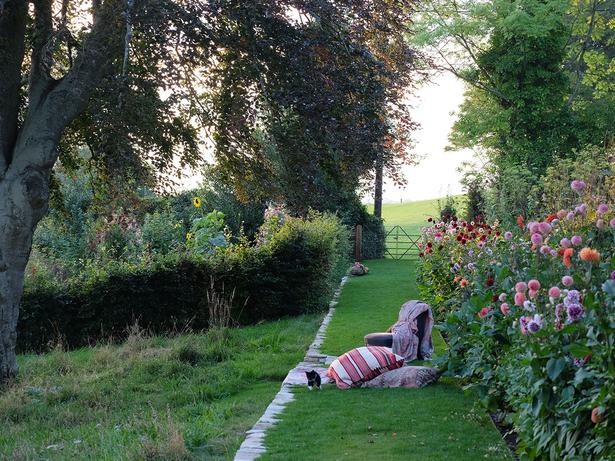 Wednesday Nov. 23, 2016
Gardens are an oasis of natural wonder, idyllic calm among the chaos and tranquil respite from the drudgery of modern life. From the biblical Garden of Eden to the ancient Hanging Gardens of Babylon, the mystique behind gardens is often romanticised for their beauty and associations with rebirth and renewal come spring.
In Frances Hodgson Burnett's turn-of-the-century masterpiece The Secret Garden, the book's protagonist, the orphan Mary Lennox, proclaims a sense of euphoria when she reconnects with her cold and distant uncle Archibald Craven, aided by the blossoming private garden she'd secretly been replanting. It celebrated the peaceful effect gardens have on strained relationships and why humans are compelled by the pursuit of beauty.
"The spell was broken. My uncle learned to laugh, and I learned to cry. The secret garden is always open now. Open, and awake, and alive. If you look the right way, you can see that the whole world is a garden."
The garden as a metaphor for optimism in trying times couldn't be more relevant today, in a world not always known for being pretty. For New Zealand-born florist and gardener Charlie McCormick, the English garden in particular is an institution and cultural heritage worth maintaining, its individuality a stark contrast to the symmetry of the French garden or the highly abstract Japanese garden.
"I love the English culture. There's something so unique about English country life that you just don't get anywhere else," says the 26-year-old. "I'm so passionate and interested in the history, it's such a way of life. Creating the perfect English garden you just immerse yourself in it. I love being here, in the valley with all our dear friends, going to church on Sundays, tea and cake in the village hall, cricket on the best pitch in England. It's a ritual you feel has been going on for decades, and to be part of it is really special to me."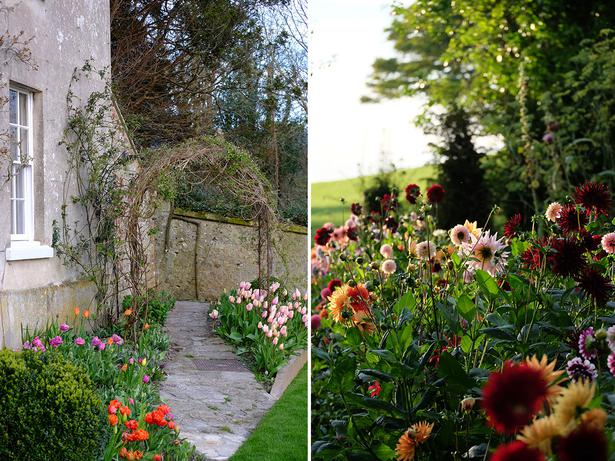 Encouraged from an early age by his grandparents, whose own garden blossomed with vibrant roses and delicate rhododendrons, Charlie's natural love of the floriferous world perfectly suits his life in England.
"I'm from a farm in mid-Canterbury so there was lots of space, animals and big gardens. My grandparents were the most inspirational; they are some of the best gardeners I know," Charlie recalls. "My grandad has the most amazing knowledge of plants and trees and knows both Latin and common names. I also loved A&P shows and entering flower classes there from a young age."
READ: Easy Tips for Garden Novices
Like many New Zealanders who make the pilgrimage to London in their early 20s, Charlie settled into London life in 2010, finding work as a nanny. A few years later he met his English husband, the celebrated architectural and interior designer Ben Pentreath, who counts celebrities and aristocracy, including the Duke and Duchess of Cambridge as clients.
Both share a love of gardening and interiors (Ben released a book last month about English homes and interiors), and enjoy dividing their time between a stylish flat in Bloomsbury with its own contained balcony garden, and a sprawling property and surrounding valley in Dorset.
"We love just being at home, mostly just working but also at weekends we do try to go on trips, mostly to see houses and gardens."
Working on their Dorset property gives the couple, particularly Charlie, plenty of opportunity to leave the hustle and bustle of London life and exercise his green thumb. In 2008, Ben took over the lime-rendered parsonage built in 1820 in the quaint village of Littlebredy. He began restoring the property, until his own business began to take over, leaving less time to maintain the grounds. Not long after they met, Charlie took the opportunity to transform the garden into the dynamic one it is today. "Ben was more than happy when I started work on the gardens.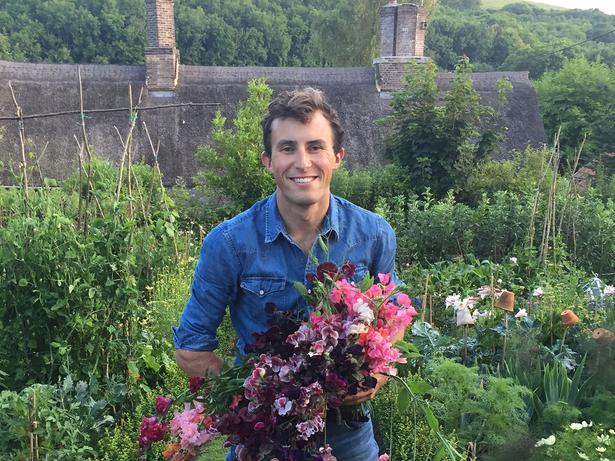 He had become extremely busy with his work and was not able to spend as much time as he liked in Dorset," says Charlie, who loves to spend much of the warmer months working on the garden, tending the intoxicating combination of flowers during spring and summer that include tulips, alliums, foxgloves, hollyhocks, delphiniums and Ben's favourite, the dahlia, currently taking over the border of the parsonage in a diaphanous display of type and colour.
"Dahlias just keep giving and are so cheerful. You can get almost every colour, size and each flower is completely unique. Many people think they're a granny flower, but it's my mission to make them something else, which I think I've have done with our dahlia border. I love all dahlias; Thomas Edison, Cafe au Lait and Jowey Linda have to be some of the best types of dahlias."
The garden is over an acre and in among the dense colour sits an equally fruitful vegetable garden spilling and tumbling with its own array of flowers. "The vegetable garden is currently growing kale, purple-sprouting broccoli, winter lettuces, pumpkins, other brassica crops, beetroot, chard, fennel and lots of parsley. There are also lots of bulbs for the spring and other cut flowers, and I'm about to plant the garlic and onions."
READ: The 16 Best Design Stores in London
Charlie works alongside their kittens Percy and Henry and dog Mavis. "They are mad, all of them; we love them. Wherever I am they are right there. Mavis does like digging the plants occasionally."
His environment, including the "flower room" at the Parsonage, is rich for daily inspiration. "The flower room almost has everything there, overflowing with books and vases I collect. I'm always at junk shops and antique fairs.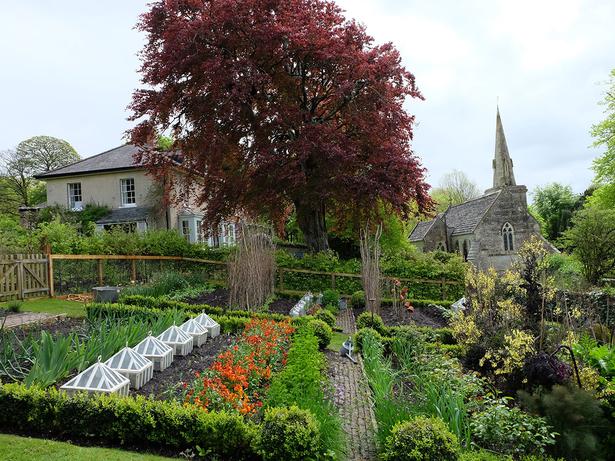 "At the moment it has 5000 tulip bulbs, which I'm sorting through, there is not much room to move. I like to have lots of things on the go at once; it keeps it interesting and a lot more fun. Every year, there also seem to be more harvest shows added to my list. The shows feel very real and back to basics, which I love. It's a day where the country comes to life with the best farmers and growers gathering, there is nothing like it. I love how it's like walking back in time. Heaven!"
Indeed, the garden at the Parsonage has taken on a life of its own thanks to Charlie's guiding hand, and despite its quaint sense of romantic nostalgia, has become a digital sensation, attracting a following of 27,000 followers on Charlie's Instagram account. The opportunity to share his passion with garden enthusiasts of all ages from around the world through social media is a powerful one.
"I use it to share our garden and life and connect with other people who have a love of similar things," Charlie says. "I want to make people happy when they see the garden. I don't use it to sell anything or promote my business; my website is there if anyone wants to look. The key for me is to post beautiful images. It has helped a lot with my business and profile. It allows people to see my vibe and aesthetic."
With a rise in wildlife gardening and emerging gardeners around the world seeing the importance, both ecologically and philosophically, of maintaining unique garden spaces in an increasingly busy world, Charlie's old-school approach is vital in keeping the art alive.
"I want to share what I have created, and how lucky we are to live in such a beautiful country. I want people to feel connected with the English countryside. I like to think I'm making people happy and responding to beauty not seen every day."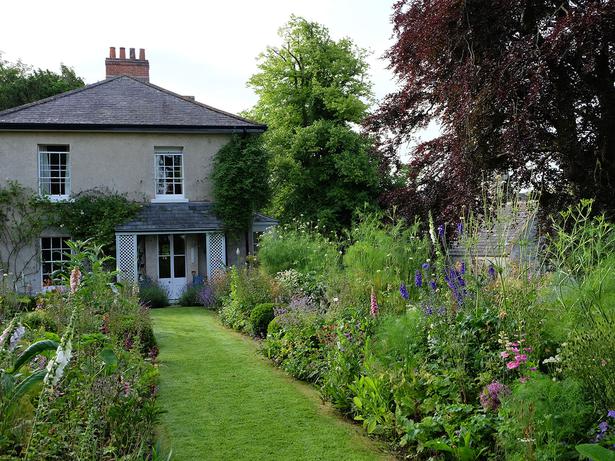 My summer read . . . Landscape of Dreams: The Gardens of Isabel & Julian Bannerman
Favourite film . . . Golly, that's hard. I don't think I have a favourite film. Notting Hill, The Secret Garden. There are too many good films to choose from.
The garden I most admire . . . Rousham in Oxfordshire is right at the top of my list by a long way.
If I wasn't doing what I was doing . . . I always like the idea of opening a cafe.
My summer gardening tips . . . Plant lots of annuals for picking, you can't beat them, they are so underrated. You can never have enough salad. Try some heritage varieties. And plant plenty of dahlias.
Share this:
More At Home / Features & Profiles