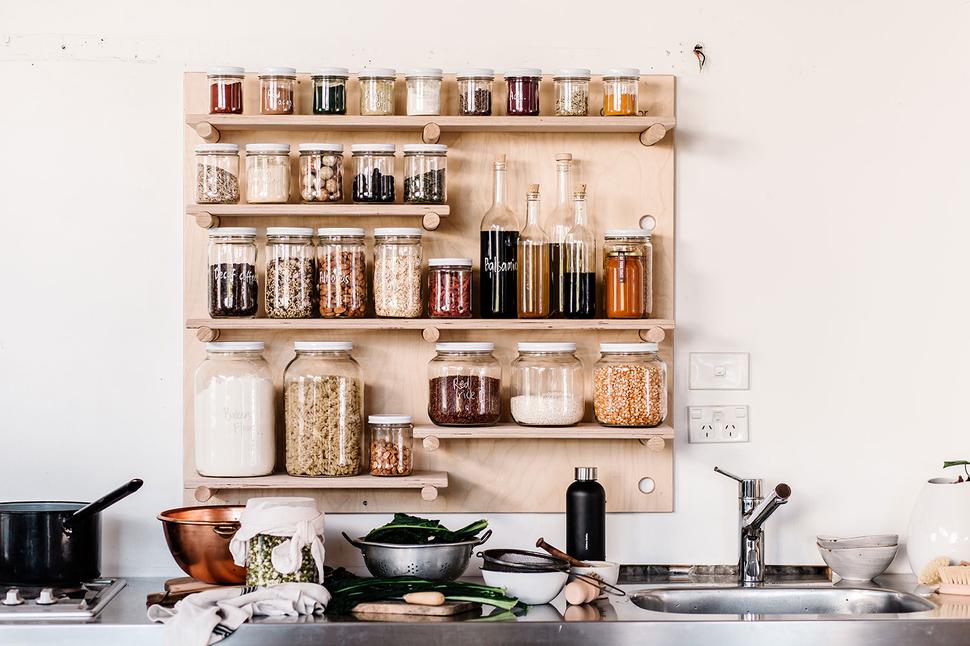 Could You Go Plastic-Free? Inside The Reality Of Ditching Plastic
Melinda Williams finds out why ditching plastic is harder — and better — than it sounds
Saturday July 28, 2018
Single-use plastic has emerged as the environmental conversation of 2018. Just last month, National Geographic's June issue featured a widely-shared, haunting image of an iceberg-like plastic carrier bag in the ocean, hinting at the unseen scale of the plastic problem.
This year's Earth Day in May was also devoted to the issue of plastic pollution, cautioning that only 10 per cent of the 300 million tonnes of plastic produced globally every year is being recycled or reused.
Here at home, in February, Wellington's Oriental Bay was identified by a US study as having some of the worst marine plastic pollution in the world, Greenpeace announced that one in three turtles washed up on our beaches have ingested plastic, and numerous news outlets reported on the growing piles of plastic being stockpiled around the country after China introduced severe restrictions on imported waste products.
Grim photos of the plastic-stuffed bellies of seabirds remind us where that bottle cap or bread tag can eventually end up.
As supermarkets jostle to announce "bans" on plastic shopping bags, only to declare they're replacing them, in some cases, with stronger plastic shopping bags, and the Government dithers over when they'll "phase out" the 1.6 billion carrier bags used in New Zealand each year, it's no wonder Kiwis increasingly feel the need to take matters into their own hands.
READ: Simple Ideas For Living With Less Waste
Plastic-Free July, an international environmental movement that started in Australia in 2011, challenges consumers to avoid the Big Four single-use plastics for one month — shopping carrier bags, disposable bottles, plastic straws and takeaway coffee cups (which are typically lined with plastic). More ambitious PFJers also eschew takeaway containers, soft plastics, and some even try avoiding plastic full stop.
Whether you dip your toe in the (microplastic-filled) water and refuse the Big Four, or go the whole hog, what Plastic-Free July really makes clear is that once you start looking for it, single-use plastic is everywhere, and it's very hard to completely avoid.
There are bread bags. And pasta bags. Rice bags. Cling film. Chip, cracker and biscuit packets. Bubblewrap. Open a box of cereal and there's a plastic bag waiting inside. Shampoo, conditioner and bodywash bottles. Almost everything in your medicine cabinet.
There's plastic tape wrapped around your Fair Trade bananas. Plastic milk, juice and cleaning product bottles. Frozen vegetables. Yoghurt containers. Little plastic seals around the tops of jam jars. Great swathes wrapped around toys or clothes ordered online. Ballpoint pens that are thrown away by the tens of millions a year. Once you start trying to do it, eliminating single-use plastics from daily life can seem Herculean.
But people are trying, and they're 'gramming their journeys. If you search the hashtags #zerowaste or #plasticfreejuly you'll find an endless stream of aspirational images of chic reusable coffee cups, tote bags, stainless steel straws, beeswax wraps (to substitute for clingfilm), pantries filled with matching glass containers of bulk ingredients, and mason jars stuffed with tiny bits of rubbish that represent months or in some cases as much as a year's worth of landfill waste for those who have committed fully to the cause.
READ: The New Zealand Filmmaker Tackling Our Growing Waste Crisis
Nicola Turner (@mainstreamgreen) knows first-hand how hard it can be to eliminate single-use plastic, and how rewarding it can be when you do.
The Cambridge-based mum of two left a 16-year career working in shopper insights for FMCG (fast-moving consumer goods) clients to become an advocate for waste minimisation and simple living. Through her company Mainstream Green, she offers workshops in home-based waste reduction using her own home as a model.
Is she atoning for her time helping supermarkets figure out how to sell people more plastic-wrapped convenience foods? "Pretty much," she laughs. "My job was all about driving consumption. I never really thought to question it. It's the way of the world."
Today, she's turned things around in her own life, producing just one wheelie bin of landfill waste a year for her family of four, decluttering 10,000 items from her home (passed on to second-hand stores and family and friends who wanted them) and using 300 fewer chemicals in her family's cleaning and personal care products every day.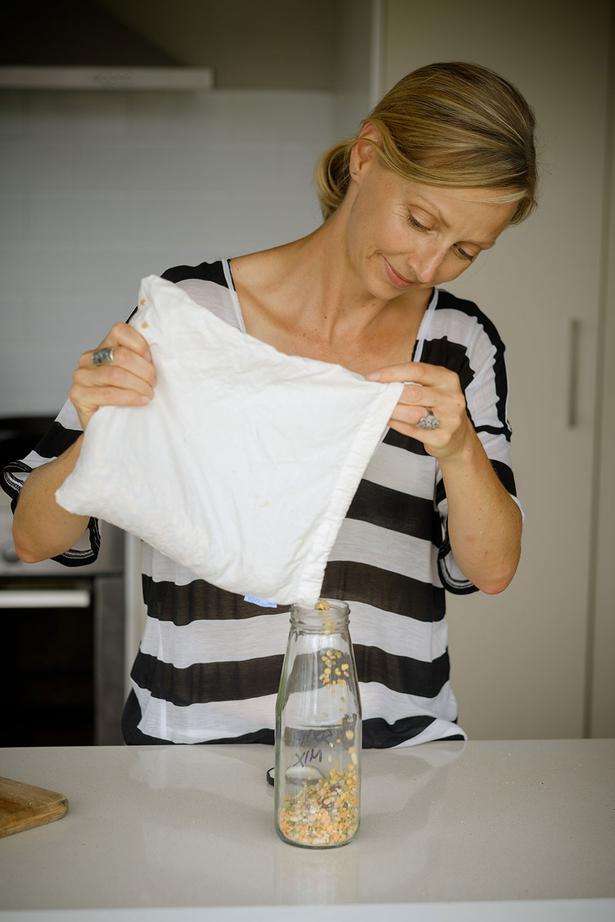 For her, the journey started seven years ago with a persistent patch of dermatitis on her husband's hand. After steroid cream failed to keep it at bay, she decided to try addressing the cause rather than the symptom, switching to more natural products.
"Every time we ran out of a product, we would ask ourselves 'Do we really need this product?' and if we did, was there a more eco-friendly alternative?"
Today she takes jars to bulk refill stores for everything from rice to Ecostore laundry detergent (there are refill stations at several chains, including Ecostore itself, GoodFor and Huckleberry, and Bin Inn stores offer a range of different bulk cleaning products), takes a plate or container to get takeaway sushi, DIYs her own candles and vanilla essence and feels a whole lot happier about how she lives.
"My family's life now is way simpler and we focus more on experiences over things, which makes our life feel fuller," she says. "They say with every possession comes responsibility, which I think is true. We have so much choice in our modern lives that it's overwhelming.
"In the supermarket game, there's an experiment where you put people in front of a supermarket bay with 15 products, and in front of one with 100 products. People always feel like they have more choice in the bay with 15 products, because you can navigate it." That's an experience that anyone who's spent half an hour scrolling through Netflix, unable to decide what to watch, can identify with.
She doesn't see it as a life of sacrifice. "I always say that if change doesn't feel good, we're not doing it right. For me, it's about finding solutions that suit you and your lifestyle. And it's about cutting yourself some slack sometimes.
READ: Where To Find: Earth-Friendly Stores To Shop Sustainably
I will buy a packet of chips — sometimes, because it's about keeping it real. But there's a change in thinking in terms of instant gratification to just stopping and taking a micro-pause and asking yourself, 'Do I really need this? Do I really want it? Is there a better option?'"
Minimising waste before it comes into your home is the key to solving to the plastic problem says Paul Evans, CEO of WasteMINZ, a not-for-profit organisation that works with local government, central government and community organisations to get better waste outcomes in New Zealand. WasteMINZ recently brought the French zero-waste guru Bea Johnson, of Zerowastehome.com to New Zealand to talk to a sold-out audience.
"As consumers I think we think, 'We're recycling, we're doing our bit', and once it's in the bin, it's out of sight, out of mind," he says. "But recycling is just 'less bad'. You can't recycle your way to a better planet."
That's because plastics can typically only be recycled a handful of times before they degrade to such a degree that they have to be landfilled. Worse still, if plastics are contaminated by food waste, dirt or even too many other non-recyclables (like biodegradable cups, or plastics that can't be locally recycled) in the same load, recycling isn't even an option — it's straight to landfill they go.
"Don't get me wrong, recycling is important," says Paul. "But rather than jumping to an end solution, people need to look further up the chain. We are doing okay in New Zealand, but we can do much better. New Zealanders throw 153kg of trash into landfill every year. That's 2kg a day for the average person."
He agrees with Nic Turner that living simply isn't restrictive. "People think it's about depriving themselves, but it's not. I have an 8-year-old daughter, and I don't buy her toys because it's crap that she's going to use three times and then forget about. People ask, 'Is that hard?' and I say, 'No, because she's been to 20 countries.'
"We do experiences, cool stuff. She doesn't go without, and when she's 25, she won't remember that she didn't get a Barbie, she'll remember that she went diving with turtles."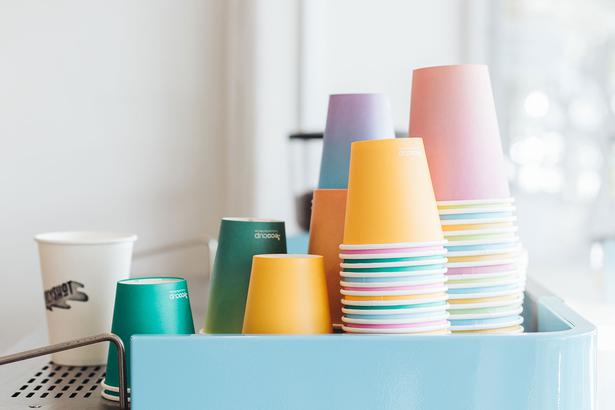 PLASTIC-FREE ALTERNATIVES
Instead of takeaway coffee cups
Melbourne-born KeepCup is the original reusable coffee cup, or try the locally-made Ideal Cup. Ecoware cups, found in many cafes, are takeaway cups made from plant-based plastic, which have a lower production footprint than conventional plastic and can be commercially composted. Just don't throw them in the recycling — they'll contaminate the load.
Instead of clingfilm
Try beeswax wraps — LilyBee Wrap, In My Kitchen and Honeywrap are three local companies. Or just put a bread plate over your bowl of leftovers.
Instead of shampoo, conditioner and body wash
Try beauty and haircare bars, which are packaged in paper. Lush, Dirty Hippie, Aoraki Naturals and Ethique make well-reviewed ones.
Instead of plastic toothbrushes
Try a bamboo brush from Toothcrush and Ecobrush (who also make plastic-free floss) or Ecostore's plant-based plastic brush that can be returned to them for recycling when it's past its best.
Instead of plastic clothes pegs
Your granny had it right — old fashioned wooden clothes pins are still available from Briscoes, or try bamboo ones from the Eco Warehouse. Bento Ninja do a great set of hardy stainless steel pegs (as well as excellent segmented stainless steel lunchboxes).
WHAT ARE OUR BELOVED BRANDS DOING?
We asked three of New Zealand's best-known brands what they're doing to reduce the plastic waste they create. Their answers were a mix of positive steps forward, and vaguer promises that they're "working on it".
My Food Bag
One of the most frequent complaints made about the popular meal ingredient delivery service is the amount of plastic packaging it uses: on average, a delivery contains 35 ingredients, many in plastic packets, which My Food Bag says is to ensure food safety.
They say they do try to use packaging that has "had a life" or can "have a life" after they deliver it. This includes 50 percent recycled cardboard boxes and "Woolcool" insulation packaging, which they pick up from customers and reuse, their "Plantic" meat and fish trays (which can be recycled) and their pottles, which can be reused as pantry storage containers.
They try to keep their plastic packaging to the minimum needed to hold the ingredients. They've recently removed plastic packaging from cucumbers and spring onions, and say they're working on recyclable ice-packs, recycled plastic recipe card folders and removing plastic windows from bags.
READ: Eco Alternatives For Your Work Bag
Air New Zealand
In October 2017, Air NZ began redirecting 40 types of products (such as plastic cups, lids and sugar sticks) from incoming international flights to be reused on future flights if they are sealed and untouched (previously they went to landfill). In the nine months since, this has diverted 132 tonnes of waste from landfill.
They're promoting Plastic-Free July to their nearly 12,000 employees globally, and running a "Refuse Reuse Plastics" campaign to encourage their people to think about how they can personally reduce their single-use plastic waste — which is a good step, but perhaps pales in comparison to the waste that's generated on Air NZ flights every day. They say they "expect to be able to share more around our progress in this space later in the year".
Whittakers
The foil wrap on Whittakers chocolate blocks can't be recycled in New Zealand (though may be able to be recycled overseas, which Whittakers is discussing), but the outer paper covers can be recycled. Plus, the plastic wrappers and bags used for multi-packs of mini Whittakers bars cannot be recycled here either.
Whittakers says they are "trialling and reviewing a range of options for more sustainable packaging solutions for the future. It is a complex and lengthy process to work through to ensure we get it right".
Share this:
More At Home / Features & Profiles